Geopath Launches New Learning Lab!

The training curriculum will serve to educate members on the new Geopath Insights.

Geopath is excited to announce the launch of its new online learning platform in preparation for the upcoming release of the Geopath Insights on October 1st. The set of training materials have been developed internally, with the full curriculum vetted by Geopath's Futures Council. Our ultimate goal was to create a comprehensive, yet flexible and easy-to-use training platform for all of our members.
The curriculum was designed to be beneficial to all members whether they are brand new to the OOH industry, or have been in the industry for years and just want a refresher. It covers three key learning tracts that allow members to learn more about the fundamentals of OOH media measurement, how to use our new tools, as well as how to apply all the new insights available through Geopath.
The Measurement Fundamentals tract is designed to increase knowledge of Geopath Audience Measurement and gain a better understanding of the basic building blocks of media measurement, audience segmentation, and measurement across different channels. The Geopath Insights Suite tract will allow you to learn the layout and functions of the Insights Suite, and become more comfortable with each of the modules. Finally, the Applications of Geopath Insights tract will walk users through real-life, member-driven use cases to show practical uses of the new Insights data.
Members can take all three tracts, or only those that are relevant to their role. It will take approximately 4 hours to complete all three tracts within the Learning Lab. So, in one morning, you can get certificates in all-things-Geopath!
Click here to access the Geopath Learning Lab and to start learning or go to our website. You can log into the Learning Lab by using your existing Geopath credentials. If you, or anyone on your team, do not currently have a Geopath username and password, please reach out to us at geekOUT@geopath.org. Click on the image below to see an introductory video on how to use the Geopath Learning Lab.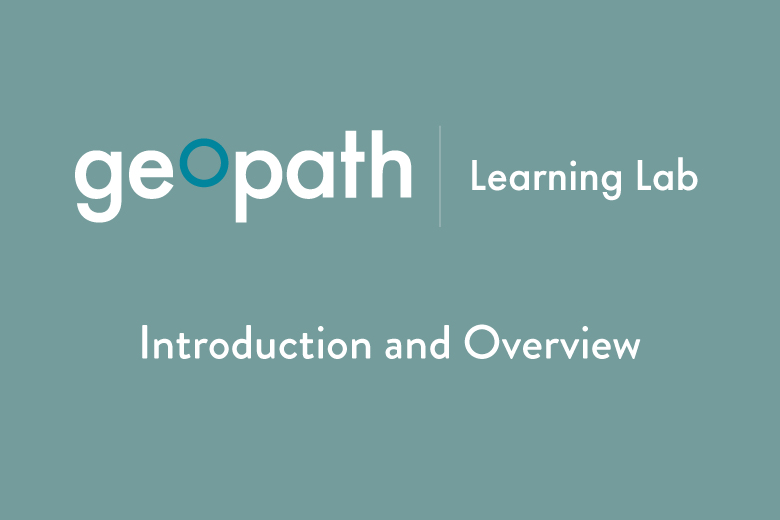 We hope everyone is as excited as we are about the release of the Geopath Learning Lab and the upcoming launch of the new measurement system. For more information about the Geopath Learning Lab, or the release of Geopath Insights, please contact geekout@geopath.org.
---