Widening OOH Landscape

Friday Fast Fact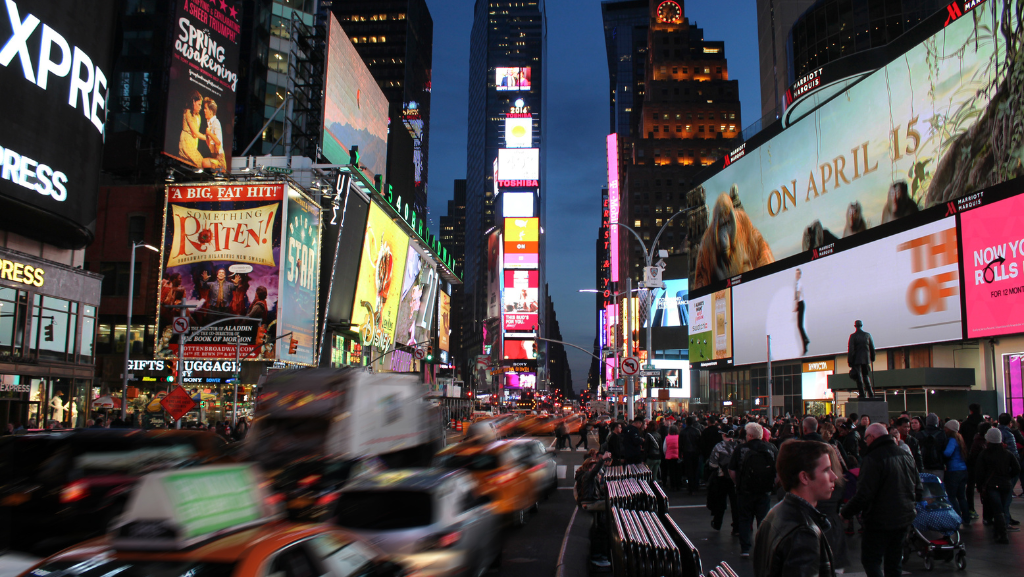 In many ways, the OOH media landscape has never been wider or more varied. Geopath measures more formats today than we ever have; in fact, the umbrella of "OOH" covers everything from traditional signs to AOOH (place-based audio advertising) to wrapped buses and electric vehicle charging stations, and so many things in between. 
With this expanding landscape of our medium, there too opens up the potential for near-limitless creativity in advertising – this is proven time and again at each year's OBIE awards.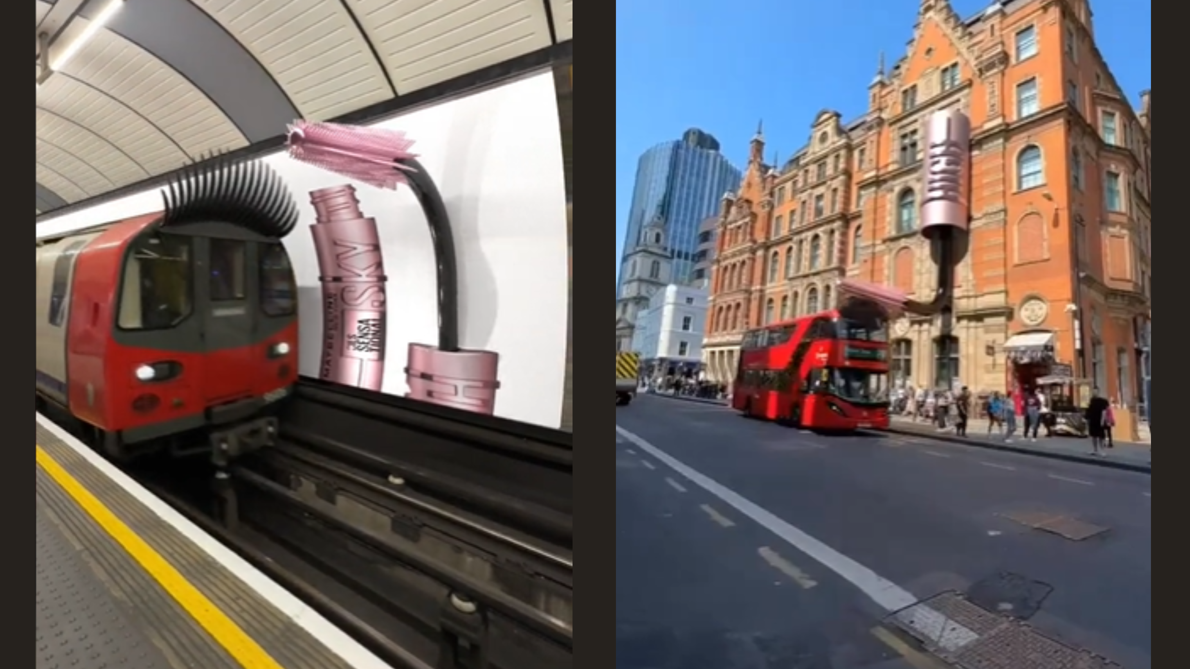 In a recent Insider Intelligence article about creative OOH activations, eMarketer covered some interesting use cases of the medium (including the use of EV charging stations). In the article, they referenced a recent video utilizing CGI and London transit vehicles that has been catching viral attention. The video, screenshot shown below, uses a combination of real train and bus video and CGI lash/brush elements to give the appearance of mascara being applied to eyelashes on the front of these vehicles. 
While this fake OOH hybrid campaign is not the first to utilize the concept of mixing physical and digital elements, the larger-than-life combination of the two has led to global attention, especially on TikTok. This virality illustrates something we know well, despite the campaign not being real; social media can be a great complementary channel to OOH, with campaigns often picking up additional steam from online sharing of the OOH installation. With the popularity of this idea, and the ever-growing access to talented digital artists, I think we can expect to see many more hybrid campaigns like this in the coming few years.  
In a different example of blurring the lines between physical ad space and digital content, the use of 3D OOH displays has soared globally over the past couple years. 3D anamorphic content has made news in New York, London, Tokyo, Copenhagen, and more.  
Let's take a look at footwear brand HOKA, who has been making serious strides in brand recognition, reputation, and sales over the last handful of years.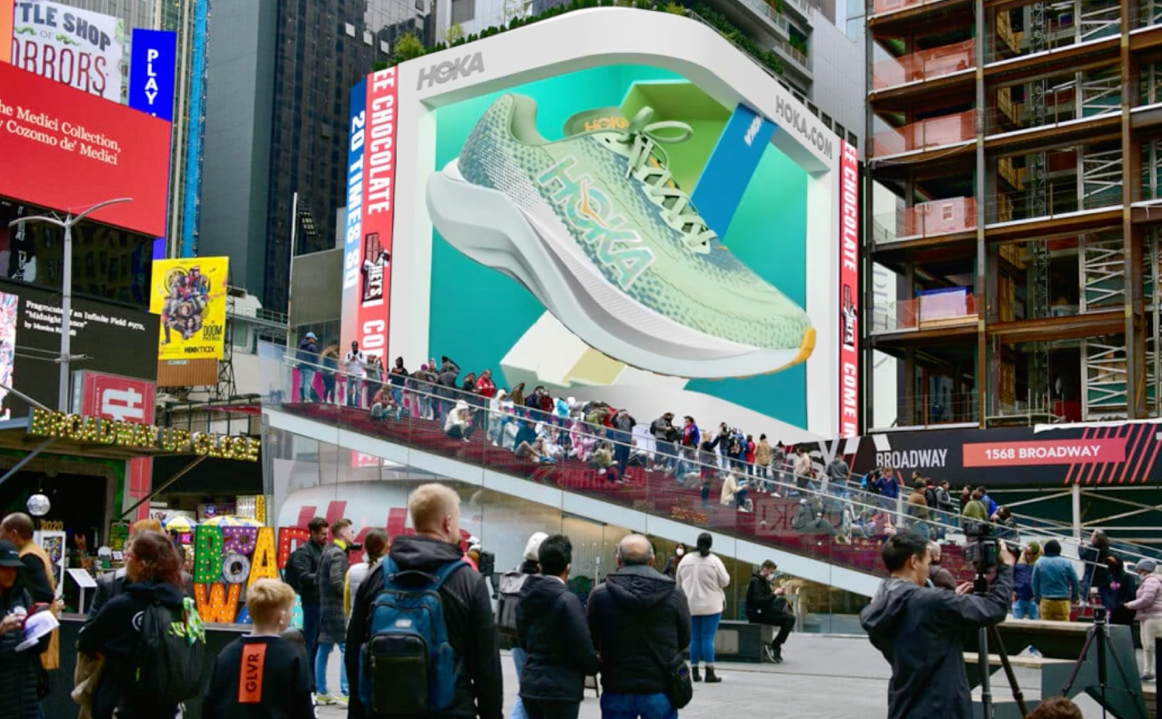 In a collaboration between ClearChannel, Mofilm, and Jellyfish, HOKA has utilized CCO's 3D Times Square board to announce the launch of a new sneaker in their "Mach" line.  
This newest placement is part of HOKA's "FLY HUMAN FLY" campaign. According to Richard Russell, VP of Omni Marketing at Deckers Brands, "The 'FLY HUMAN FLY' campaign is designed to deepen brand love and accelerate awareness… The prominent location and high-impact format of the campaign means that not only will we be able to engage with our primary runner and fitness audience, but we'll also reach the wider consumer market". 
This sentiment is something that HOKA understands well, and is something that OOH is particularly well-suited to achieve. According to SGB Media, HOKA has delivered revenue growth above 50% for the last 4 consecutive years. Based on insights from Business Insider, consumers ages 18-34 drove the largest YoY growth for HOKA in Q3 of 2022. Above, we see HOKA's "FLY HUMAN FLY" campaign utilizing some of JCDecaux's unique displays in the LAX airport.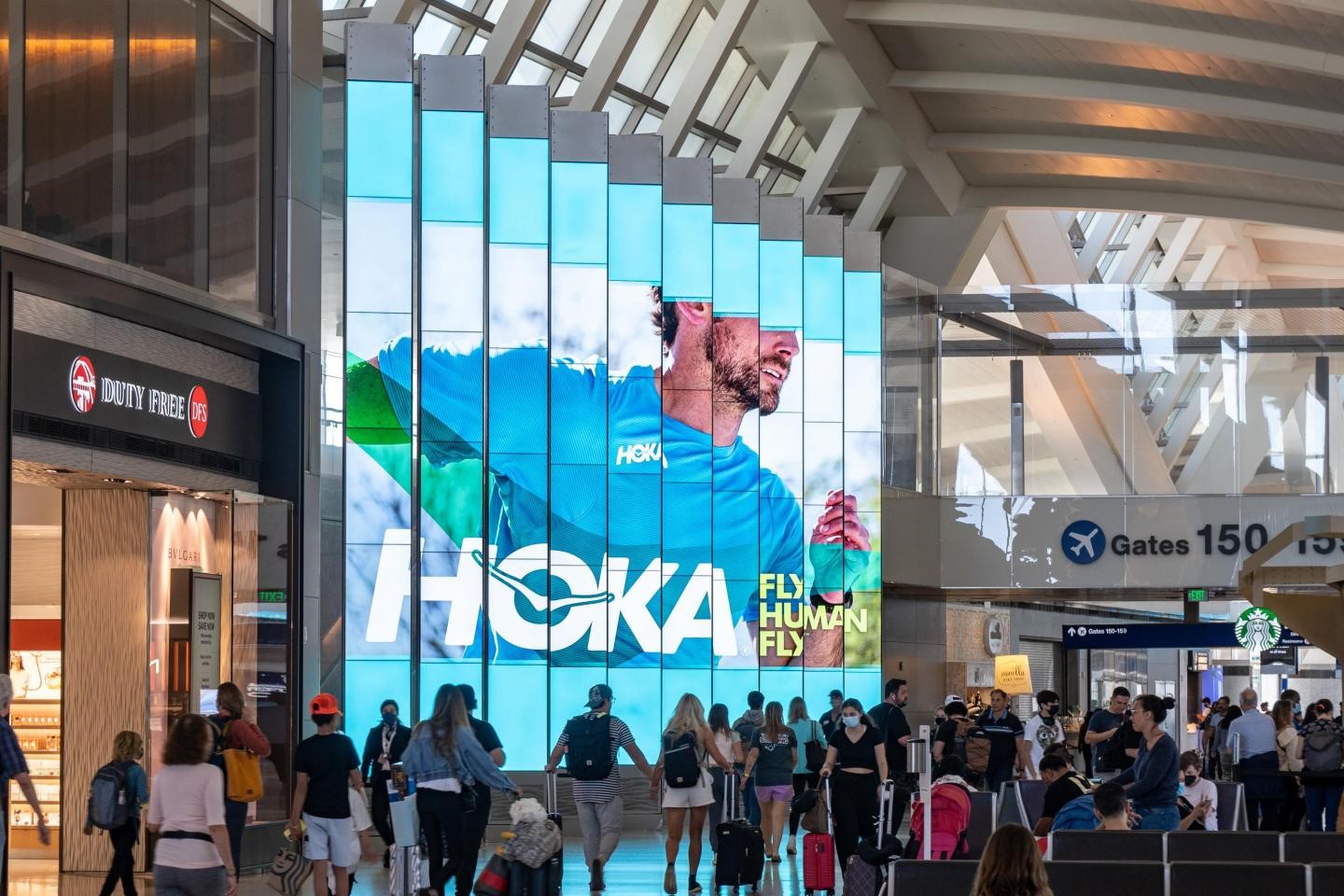 In a space as crowded as the athletic footwear category, it takes a serious effort (and a product to back it up) to achieve significant market share. Word of mouth has been a huge factor for HOKA – it's how I first learned about their shoes, and from multiple people in the same time span. Word of mouth is a powerful force for a brand, but one that generally works at a small scale. As HOKA understands well, impactful and creative OOH advertising provides virtually unmatched visibility, allowing for extremely effective increases brand recognition and general awareness. 
---