Geopath President Dylan Mabin's Speech at the 2023 OAAA/Geopath OOH Media Conference

Wednesday, March 29, 2023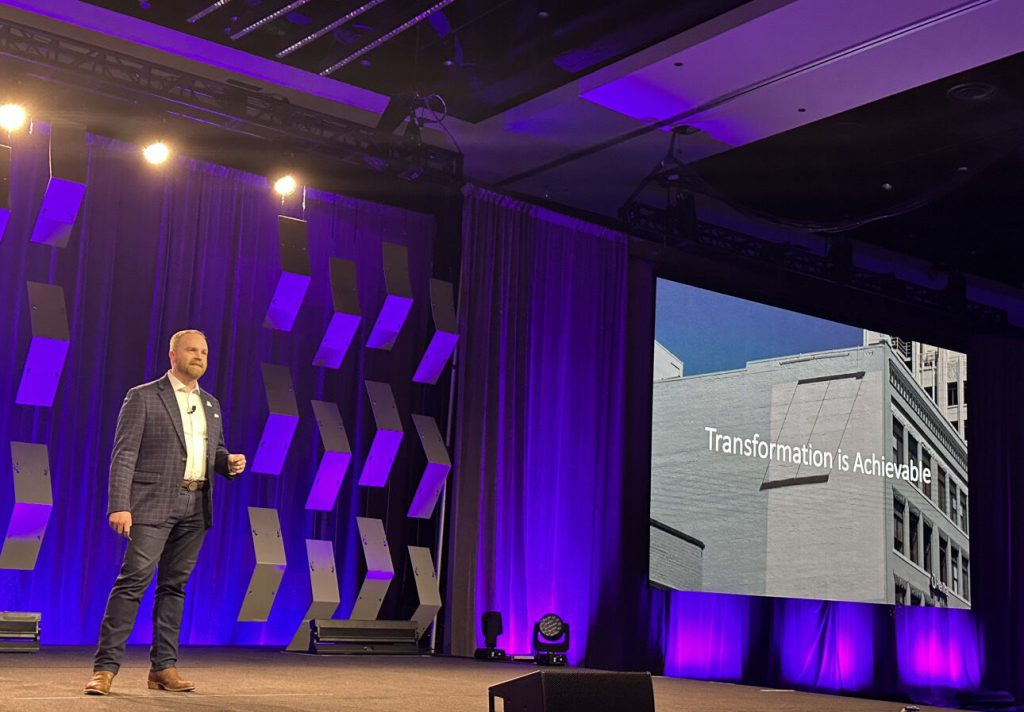 Good morning, everyone.
It's wonderful to see so many faces this morning after such a wonderful first day of content, spirited conversations, and fantastic social gatherings. I've been in this industry for 15 years and every single year I look forward to this event to see all of you.
I'm sorry.
Y'all. No. All y'all.
I believe that's the plural.
Thank you to the Lamar team for an incredible post OBIE celebration. Once again, you outdid yourselves. And lastly, congratulations to the OAAA for putting together a great program.
One of my favorite themes from yesterday was about industry transformation and alignment and how technology is driving growth and innovation in OOH rather than causing disruption as it is in other media channels.
I'm going to talk about this theme today as well. About how we have an opportunity to breakthrough and command a larger share of ad dollars and continue to increase the value of the medium we all know and love.
However, if there's one thing that you take away from me today, it's that this momentous industry transformation is truly achievable.
This is not some unattainable goal.
This isn't some futurist's idea of what might happen.
Transformation is Achievable
Yesterday Tyler Hubbard talked about his transformation to being a solo country superstar. Something no other male country singer had ever done.
Do you remember what he said made it possible?
He attributed his successful transformation to the fact that he was able to focus on himself rather than the dynamic of a band. He was true to himself. He marketed himself. Faults and all.
He was Authentic.
Our task isn't to overhaul the entire media ecosystem.
It is to transform the OOH industry.
Our Industry.
We have the agency, the ability to drive change, to control our destiny in our space. And the payoff, when we align all of OOH as a united front, is that we can bring OOH into the media mix as the behemoth it is.
You heard this fact yesterday, that we reach 90% of adults in 1 week. Over 230 million individual adults in a single week. I'll talk about this in a few minutes, but in our newest data release, the full catalog of Geopath Audited Inventory delivers 60 billion impressions to adults every week. 60 billion.
When I say behemoth.
I mean it.
I want you to get excited by the transformation.
Get hyped up.
Be yourself.
Be OOH.
Ten months ago, I stood on stage at this conference for the first time in my new role as President of Geopath. It was our first major, in-person industry gathering since the massive disruptions of Covid. I, along with many other speakers, talked about the remarkable resilience of OOH and the perseverance of our industry members to overcome challenges we never could have imagined. We powered through an incredibly difficult time and undoubtedly emerged stronger as a result.
Today we're back together, this time in Nashville, following a year that saw OOH make a full recovery. Variants still lurk around, but the impact of Covid on our day-to-day lives has more or less abated. Traffic has returned pre-Covid levels. In some markets, traffic has in fact exceeded what it was before the pandemic. Consumers are out with a renewed appreciation for the ability to travel or simply just go to a restaurant for a meal. I think we all have learned to not take travel for granted and we all see our time out-of-home as precious.
OOH continues to be a stable, trusted medium, and the only remaining media channel with mass reach. Yes, our industry is benefitting from the fragmentation of competing media channels, but our success is also a direct result of significant advancements in technology and innovations made by industry members and the continued embrace of digital and programmatic. Programmatic efficiency has advanced the way OOH is bought and sold, generating $200 million in sales in 2022 alone.
Digital continues to power growth, as it now accounts for 30% of all OOH sales. New formats, incredible displays, contextual audience targeting, better audience insights, and real-time dynamic creative – all of it is lifting the industry and changing the way that marketers view OOH while also underscoring the importance of having contemporary audience delivery metrics.
OOH has a virality all its own. Imaginative, comical, off-color, and sometimes even controversial billboards get covered by the media, further extending the value of the OOH buy. The bottom line, we're making great strides in capturing a greater share of marketing dollars, earning a seat at the table at major holding companies, and demonstrating the true value of OOH.
We have momentum.
But we still need to transform.
Now.
The window of time to capitalize on that opportunity is closing.
There is a reason I am bullish about transformation.
For our industry to take full advantage of the opportunity now before us, there are three critical areas in need of attention:
First, we need to get OOH properly valued as a medium. OOH ads have an average CPM of about $5. We can all agree that is not nearly enough.
Second, we need to continue working to integrate OOH into overall strategic and tactical planning tools. Too often OOH is an afterthought for the largest media budgets, Sure we get a consistent share of ad dollars, but we need to be a part of the core media strategy conversation happening at the investment level at agency holding companies and brands.
And third, we need to align around innovation as an industry. We must cooperate to fully capitalize on the opportunity to breakthrough and demand a significant share of media spend. Innovation in OOH media measurement is happening at an incredibly rapid pace. Innovation is great, but without alignment, it will create chaos and will waste time.
I want to talk to you today about what we're doing at Geopath to advance each of these areas and facilitate industry alignment and standardization.
Properly Value OOH
First, the fact is OOH remains an undervalued medium.
As an industry, we have the lowest CPM and we continue to garner about 4% of media budgets. Much of that can be attributed to the fact that, as we all know, OOH has been more challenging to measure as compared to other media counterparts.
We can increase our value by measuring and proving our effectiveness. Other channels, like TV or print and even digital, have more consistent standardized media formats and metrics that are inherent in the delivery mechanism. This makes measurement much easier for these channels. OOH, however, is a one-to-many media.Thankfully, it has a much more diverse array of media products and seemingly incalculable number of factors impacting how a consumer engages with each message.
To properly value OOH media, OOH must be able to standardize and deliver a consistent set of metrics across a single catalog covering ALL OOH media.
Not DOOH.
Not pDOOH,
Not MVOOH
OOH
Last year, I stood before you highlighting how imperative this goal was. I'm thrilled to stand before you today to update you on the progress we've made. Our latest data release last month increased the footprint of audited media by over 50%, from roughly 950,000 to close to 1.5 million media locations.
You often hear people primarily talk about the impressions and media ratings that Geopath provides. But I'd like to highlight not just the importance of consistent audience measurement, but the underlying audited inventory catalog itself. The auditing of inventory is a crucial product and service in and of itself. Even without measurement.
Attribution has never been the domain of Geopath. However, a comprehensive catalog of accurate and precise inventory is absolutely necessary for quality attribution. If you're trying to connect the dots to find out what helped drive the success of a campaign, it is imperative that those dots be in the right place.
Consistency is key for measuring the effectiveness of campaigns. Better attribution will lead to confidence and informed planning decisions the next time around.
Integrate OOH Into Strategic Planning
As the foundational source for OOH measurement, Geopath is working to make it easier to integrate OOH data into the strategic planning forecasting and measurement tools used by the broader media community. With cookies going away, new privacy safeguards emerging, and social media platforms under more regulatory and governmental scrutiny than ever before, the timing for OOH could not be better.
We've done the legwork and laid the groundwork. And I'm happy to say that we have made, and are continuing to make, great strides. As one of our Board Members recently said, "this is a journey." There is always room for improvement and that's what we are committed to.
Members are currently adopting and integrating the new data into their business systems and platforms.There will be questions. This is the first time that members are utilizing the current generation of transit and scheduled fleet media. This is a lot of change.
Geopath is working closely with our members to answer those questions and support change over the coming weeks. What you're seeing is Geopath transform how it operates. Progressing rapidly AND transparently as our industry moves forward together.
For example, we've made major strides in the way we calculate reach and frequency. For those with technical curiosity, I'm happy to dive into the granular details. But for this session, the simplest way to say it is we have the data to back it up! We are using observed data from a range of sources, including smartphone applications and connected cars, to understand how audiences build over time for different types of inventories across markets.
Having observed data to build national and market level reach curves is a game changer for OOH and something we could have only dreamt about just a few years ago. Taken all together, the consistency and standardization we are working to establish across OOH will serve the dual purpose of establishing a cohesive language within our industry while also increasing OOH's appeal to omnichannel marketers and buyers.
Align and Advance the New Dynamic
Third and final.
The ability to elevate the value of OOH media, gain traction across the general media landscape, and earn greater standing among brand marketers starts with the people in this room – our industry colleagues.
It starts with understanding the new data and how to access it, embracing a new way of thinking about media measurement, and working collectively to ensure we're speaking the same language and pulling in the same direction. It won't happen if we are moving in different directions with everyone doing their own thing.
Coordination, consistent adoption, and application of foundational data is key to the success of OOH. Geopath as a foundation is not a new concept, that's what the organization was founded to provide. The Traffic Audit Bureau for Media Measurement was founded in 1933 to provide a catalog of OOH media and traffic metrics used in the buying and selling of OOH. The charter hasn't fundamentally changed.
However, the reality of the modern marketing, adtech, and data landscape requires OOH to reinforce that foundation. Not to launch planes, but to launch rockets. Fun fact about rocket ships. Rocket ships don't have rear view mirrors.
You've heard others say it before, but we must prioritize quality standards, definitions, protocols, and best practices across all of OOH.
Align OOH first. Then Integrate OOH in its entirety.
My ask to you is this.
Get involved in working groups. Enroll in training on marketing tools, on data and methods so you can be equipped to highlight the value of OOH to achieve your clients' goals. For our members, we have increased our efforts to arm you with the knowledge you need to showcase the value and impact of OOH to your clients. I believe it is critical that our members can explain how Geopath data is generated and how it can be used during your planning and inventory selection processes. Most importantly, we want you to be able to explain how that data will ultimately help your clients achieve their campaign goals.
To that end, we are continuing to refresh, update, and create new materials that are easily accessible to all members. We are hosting webinars and offering direct support in the form of "office hours" to ensure our members are not only equipped with knowledge but can easily convey it to clients and partners. We want to make sure you are supported with all the resources you need as we work to elevate and standardize OOH measurement.
Transformation is Achievable
Here's the point – We're getting it right. I say that both with confidence as well as with the receipts to back it up.
Prove it.
You owe it to your clients.
We owe it to you.
We've been charged by you, our members, to be the authority on OOH inventory and audience measurement.
We are tackling that challenge head-on with discipline and purpose. We can't rest on our laurels.
We're preparing for a future of constantly evolving data, with more frequently published forecasts that more accurately represent the ebb and flow of population movements at a given time or season and reflect the constantly changing traffic patterns of the world in which we live.
In addition to reinforcing the platform, we've also reinforced our organization with key positions on the Geopath leadership team with the talent and skillsets needed to support the industry today and well into the future. And to ensure that Geopath will be available to support our members now and in the future, we are exploring changes to our services and membership structure that will ultimately align value for our members while enhancing our sustainability as an organization.
We recognize that our members use our data in distinct ways. We are working towards realigning our service model to satisfy the diversity of need while ensuring all members, from media owners to agencies of all sizes, can easily access the planning and measurement data they need.
Change is not always easy. The onus is now on you, me, us, our members, to overcome inertia or any barriers to change and embrace the new dynamic. Take the time to familiarize yourselves and educate your teams. Integrate the new metrics into your platforms and operations.
Take advantage of our webinars and training sessions, including the remaining session we are hosting here in Nashville at 1:00.
We're here to help. You look to us, not to be authoritative, but to be an authority. We are here to give you the information you need in a very accessible and organized way. 
So that you can transact confidently.
The OOH industry is better positioned than ever to have its breakthrough.
Transformation is Achievable.
We. We are the ones that will make it happen.
---