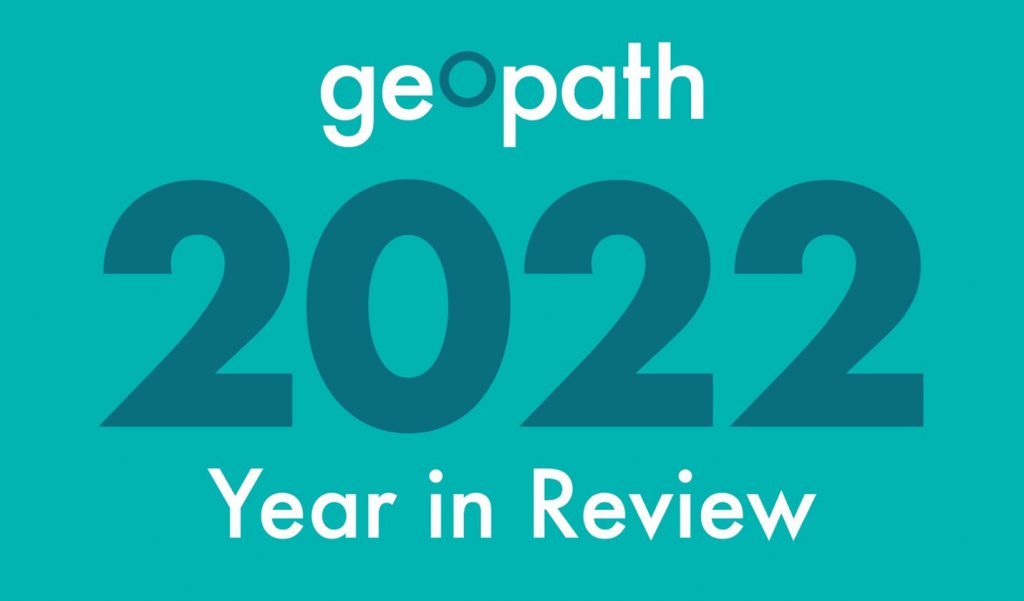 A Message from Geopath President, Dylan Mabin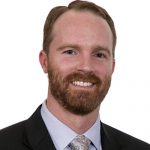 The past three years have been an epic journey for the OOH industry. We saw monumental shifts in consumer behavior at a scale likely never to be seen again in our careers. Through it all, Out of Home advertising persevered, adapted, and continued to perform well. 2022 epitomized OOH's strength. In fact, eMarketer projected total 2022 U.S. OOH spend to hit $9.22 billion, surpassing the 2019 pre-pandemic level of $8.65 billion.
For this upward trend to continue and for OOH to earn an even larger slice of the advertising pie, the industry must continue to reinforce its foundation for measuring the value of OOH inventory. It needs one catalog of audited inventory and quality audience delivery metrics. This information needs to be centrally and readily accessible via systems used by OOH media owners, planners and buyers, and clients.
Throughout 2022, Geopath laid the groundwork for what is sure to be a transformational year ahead. We made significant strides towards realizing our future vision and strategic roadmap where media owners, agencies, platforms, and marketers can look to Geopath as the foundational source of truth and a driver of OOH's continued success and growth.
Over the past several months, we have been hard at work developing and validating the 2023 Annual Forecast. We know our members have been eagerly awaiting this release and we thank you for your continued support. We are confident that we have built an infrastructure that delivers more stable forecasting as well as a best-in-class approach to measuring reach and frequency that leverages observed mobile data rather than survey data used in the past.
In case you missed it, we recently announced February 27th, 2023, as the official release of the 2023 Annual Forecast with preview data available starting this week. The release will include new 2023 measures, our new reach and frequency approach for all audited inventory, and transit station and scheduled fleet media.
On a personal note, I was honored to be named President of Geopath during the annual OOH Media Conference & Expo in May. The conference itself marked a successful return to in-person events, with over 830 registrants and 24 exhibitor companies in attendance. I cannot wait to see you all in the new year and at the next OAAA/Geopath OOH Media Conference in Nashville this March!
I would also like to take a moment to welcome our 61 new members to the Geopath family and thank all our current members for their ongoing support of Geopath.
The future looks bright for Geopath and the entire OOH industry.
Best wishes for a happy and healthy 2023!
Sincerely,
Dylan
See below for more highlights from the past year.
The Year-in-Review | 2022 Highlights
Dylan Mabin Named President of Geopath
In May, Dylan Mabin, former Executive Vice President of Operations and Acting President of Geopath, was officially named President.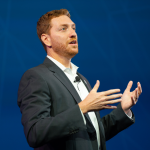 Michael Lieberman, Chairman of the Geopath Board and CEO US of Kinetic Worldwide, said, "Dylan Mabin is an exceptional leader who understands exactly what Geopath needs to do to support the OOH industry and expand its reach to more advertisers and more platforms. He will build on what Geopath does best while helping buyers and sellers transact more confidently with better data. I am excited to work with Dylan and know that his leadership at Geopath will help make this vision a reality."
Geopath's Vision: Strategic Roadmap Progress
Building A Foundation for the Future of Geopath
The strategic roadmap development work with PwC and Geopath members identified four clear imperatives for the growth and success of OOH:
Clear and comprehensive standards and definitions
Transparent, precise, and accurate impression measurement
Universal inventory database for all OOH media formats
Enablement of digital and programmatic systems
To ensure these imperatives will be met, Geopath established a new "vision" and created a strategic roadmap for advancing its position as the industry's trusted source for inventory auditing and audience measurement, guided by the following three core pillars:
Provide comprehensive cataloging and inventory auditing across all OOH media formats. Geopath is working to both extend the coverage of its universal inventory database to include all types of OOH media and expand the information available for audited media units to include viewsheds, opportunity-to-see exposures, audience exposure dwell times, audience impressions, and additional inventory properties.
Increase the precision and accuracy of planning and observed audience metrics. Geopath plans to provide seasonality within its audience delivery estimates by updating audience delivery estimates on a rolling basis, increasing accuracy and precision of observed audience metrics down to the individual media unit, and focusing audience reporting to universal demographics and necessary audience segments.
Facilitate data interoperability across OOH and the larger media ecosystem. Geopath is exploring strategic partnerships with best-in-class audience measurement and data providers to provide an interoperable data platform that will reconcile reach and frequency across all forms of OOH media.
Since the establishment of this new vision, Geopath has made great strides toward its goal of becoming a transparent, accurate, user-friendly, and trustworthy provider of OOH advertising data that both media owners and advertisers can view as the source of truth necessary to drive the industry's continued evolution.
Updated Reach and Frequency Model
Best-In-Class Approach to Measuring Reach and Frequency
Geopath's new Reach & Frequency approach is centered around observed mobile location data from smartphone applications and connected cars. Observable Reach metrics from mobile data provide a "ground truth" for Geopath to analyze and understand how Reach builds over time for different packages of real inventory, targeting various audiences across markets. These observed Reach datapoints can then be used with inventory attributes and unit level audience metrics to build and train Reach and Frequency models through machine learning. 
Additionally, Geopath's revised Reach and Frequency approach allows for greater precision at the package level, with regards to audience coverage and duplication. This precision allows buyers and sellers to better understand the ways that these metrics compile for different packages of inventory.
Membership Growth
A Diverse Mix of Organizations from Across the OOH Industry
In 2022, Geopath welcomed 61 new members, a 20% increase in membership from the previous year.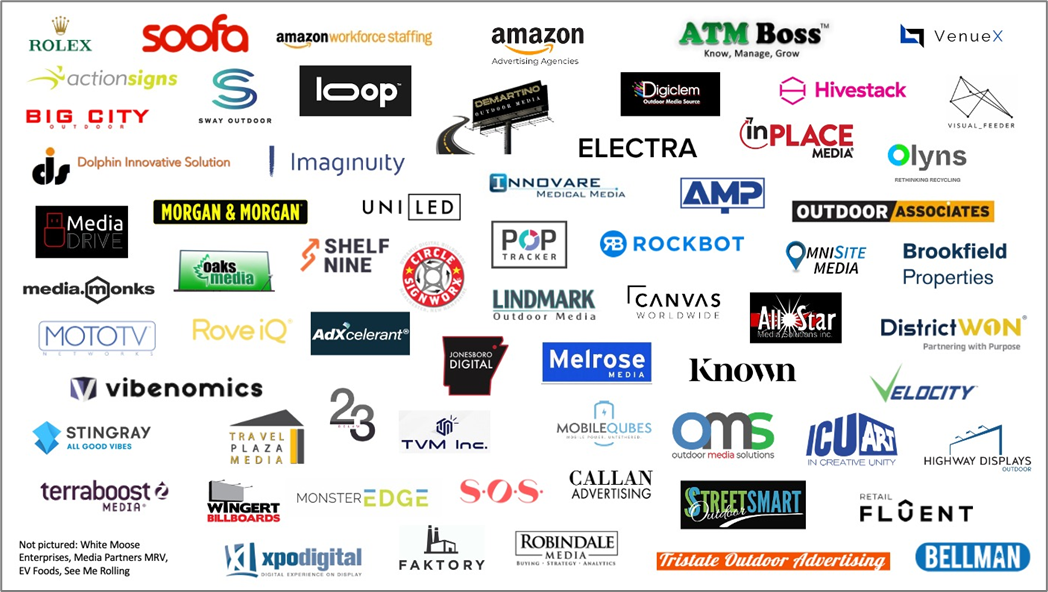 Board of Directors Update
New and Returning Board Members Elected
In November, Geopath held Board of Director nominations and reelections for a three-year term, ending on the date of the 2025 annual Membership meeting.
Newly nominated agency representatives included Hal Brown IV, Chief Executive Officer at Delta Outdoor Media, and Jill Schnitt, President of Outdoor Media Group.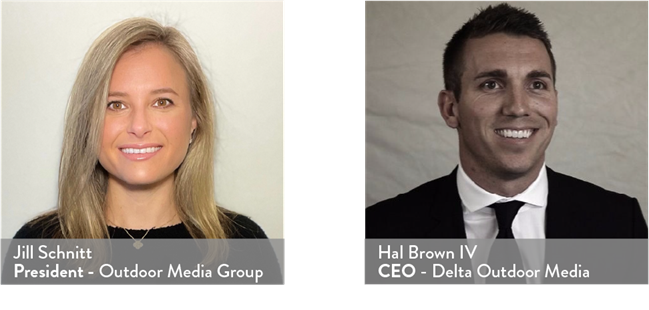 In addition, nine members were reelected to the Board of Directors this year, including Dan Levi, EVP and CMO at Clear Channel Outdoor, Billy Long, EVP, OOH Practice, Account Management at PMX, Publicis Media, Betsy McLarney, CEO at EMC Outdoor, Patrick O'Donnell, President at YESCO Outdoor Media, William Reagan, Chairman at Reagan Outdoor Advertising, Bernie Shimkus, VP, Director of Research & Consumer Insights at Harmelin Media, Jodi Senese, EVP and CMO at OUTFRONT Media, Scott Slater, SVP, Media Operations at Haworth Marketing + Media, and Keith Thompson, CEO at InSite Street Media.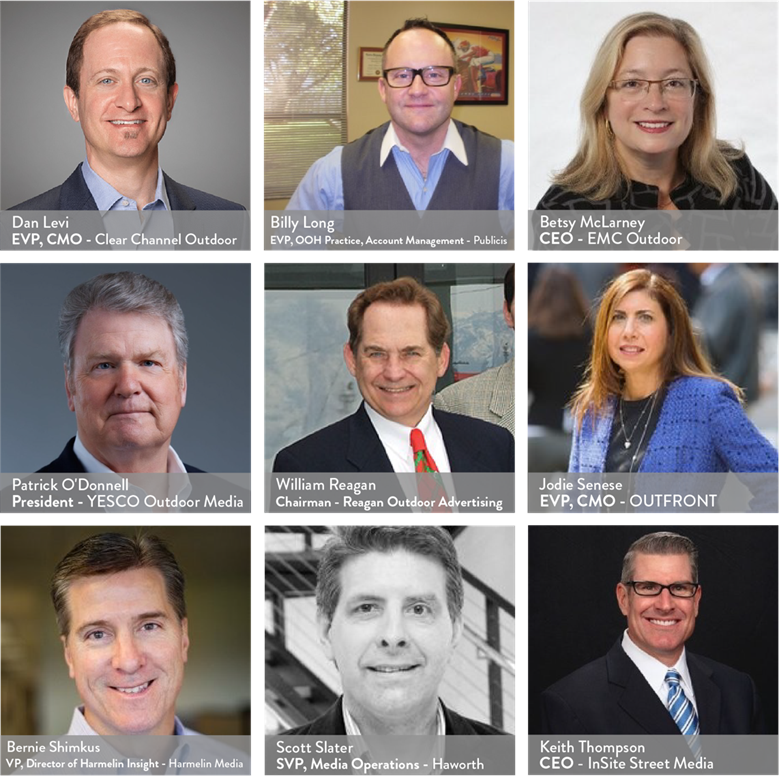 Staff News
Promotions
In addition to Dylan's appointment, Geopath announced the promotion of nine employees across various functions.
Scott Fiaschetti, EVP, Marketing. Fiaschetti was previously SVP, Marketing and Operations and has been at Geopath for 6 years.
Janna (Qiuju) Gu, SVP, Data & Technology. Gu joined Geopath 4 years ago and was formerly Lead Enterprise Architect.
Denis Khryashchev, Data Scientist. Khryashchev was previously a Data Science Intern and joined Geopath in 2022.
Tia Lamb, Senior Media Analyst. Tia was previously a Media Analyst and joined Geopath 2 years ago.
Jack McKivergan, Senior Media Analyst. McKivergan was previously a Media Analyst and joined Geopath 3 years ago.
Kevin Narine, VP, Operations. Narine has been at Geopath for 13 years and was formerly IT Manager.
Kevin Romero, VP, Media Operations. Romero, formerly Operations Manager, has been with Geopath for 10 years.
Brian Ryu, Senior Manager, Transit & Fleet. Ryu was previously Transit Manager and joined Geopath 14 years ago.
Tanjia Sarker, Manager – Roadside Media. Sarker was previously a Media Analyst and joined Geopath 3 years ago.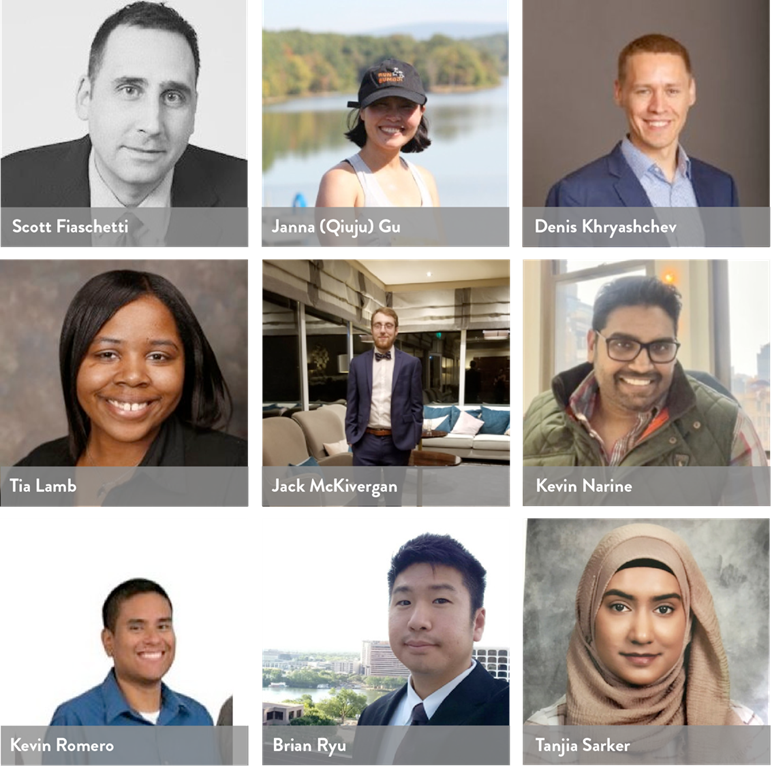 New Team Members Welcomed
Geopath also welcomed six new team members this past year, including Chris Luken as Senior Vice President of Product. Since joining Geopath in July, Luken has focused on accelerating and expanding the suite of OOH audience measurement solutions to better serve members within the OOH/DOOH marketplace.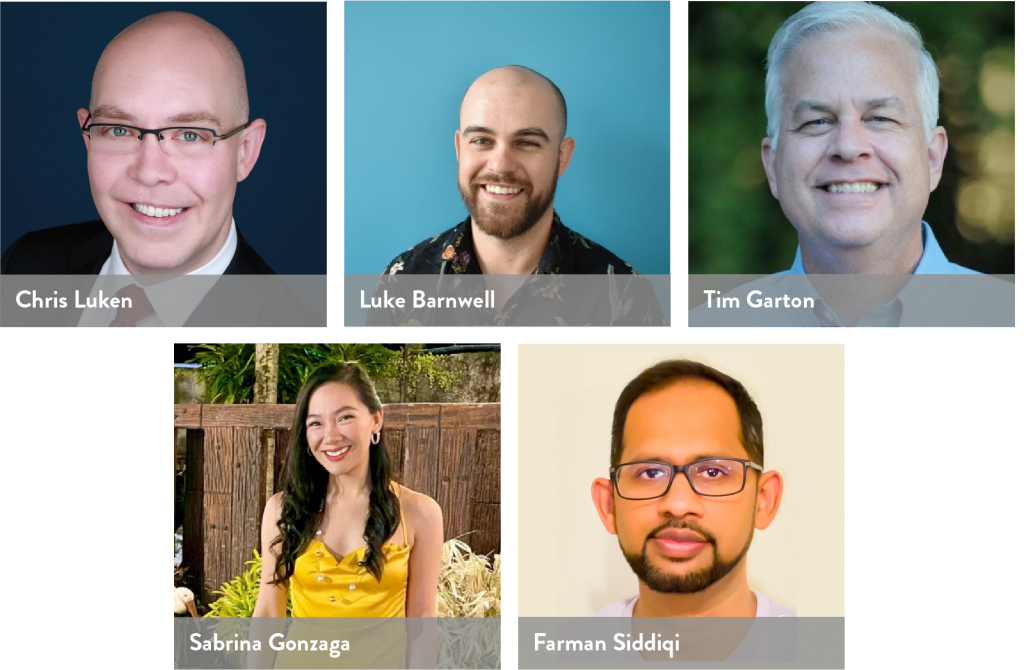 Additional employees joining Geopath in 2022 included:
Luke Barnwell, Marketing Associate. Previously, Barnwell was Content Manager at 24 Seven Talent.
Katie Casey, Media Analyst. Casey previously was a Team Lead and New Accounts Coordinator at Top Knobs (Not Pictured).
Tim Garton, Technical Product Manager. Garton was previously a Technical Product Manager at PatientPoint.
Sabrina Gonzaga, Media Analyst. Gonzaga was previously an Inventory Specialist at Solomon Page.
Farman Siddiqi, VP of Quality Assurance. Siddiqi was a Director of Global Quality Engineering at Comcast NBCU, and held roles in TVE, Local Stations, and DTC.
Geopath Insights Tools & Resources
National and Regional Reach Curves Released
In October, Geopath released national and regional reach curves which are the first solution that truly leverages mobile location data at the required scale to measure the full potential of all OOH advertising formats in the media mix. Geopath's enhanced audience reach data now enables national advertisers to measure the incremental reach OOH adds to any omnichannel media plan. Media planners can now confidently and strategically plan across multiple advertising channels. OOH's true contribution and value can now be precisely reflected in media allocation tools. Click here to learn more about how these reach curves are changing the industry.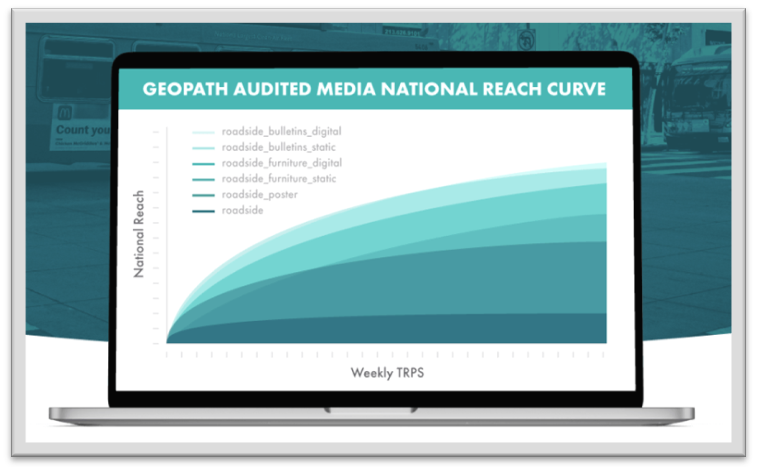 Place-Based Inventory added to Impression Variation Dashboard
In March, Geopath added place-based media inventory to the Impression Variation Dashboard within the Insights Suite, enabling buyers and sellers to analyze how their placed-based media plans are performing, as compared to actual observed impressions.
This was a great advancement for Geopath's fastest-growing OOH inventory type that includes airports, retail stores, shopping malls, health clubs, offices, bars, restaurants, and more.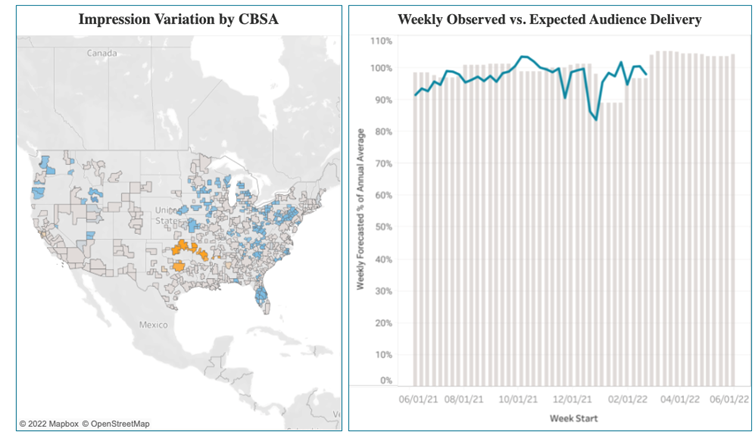 Geopath In the News
Press highlights from 2022
Geopath was featured in more than 130 articles this year, both among OOH Industry outlets as well as the greater advertising industry. These articles may be found on the Press page of our website or click the image below to view a downloadable list with links to each article.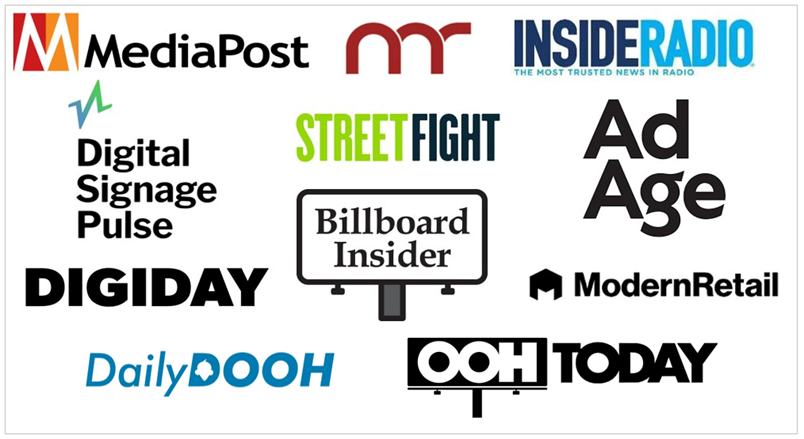 2022 GO A Success
Industry Comes Together for The First In-Person Conference in More Than 2-Years
On May 16-18, Geopath and the OAAA welcomed over 830 registrants and 24 exhibitor companies to the annual OOH Media Conference & Expo at the JW Marriott in Marco Island, Florida.
Guided by the themes of "Connect, Collaborate, and Create," the event covered a range of topics and issues including driving incremental growth, the future of measurement, and enhancing multicultural/multidimensional diversity to create a more inclusive culture.
The agenda featured a fantastic lineup of speakers from companies representing all facets of the industry including Clear Channel, Lamar, OUTFRONT, The Trade Desk, Yahoo, VaynerMedia, and Volta, to name a few. The agenda also included appearances from Bob Woodward, soccer star Abby Wambach, and Publicis Groupe advisor Rishad Tobaccowala.
Save the Date!
See You All in Nashville!
The 2023 OAAA/Geopath OOH Media Conference will take place March 27-29 in Nashville, TN!
The industry's premier conference will once again bring together a stellar line-up of brand and agency executives and industry thought leaders, all of whom will explore how OOH industry breaks through the noise, breaks down the physical-digital divide, and breaks up obstacles or misconceptions.
The initial speaker roster of OOH pros and brand and agency execs was recently announced for the 2023 OAAA/Geopath OOH Media Conference! The roster includes speakers from organizations like Gopuff, Diageo, goodr, Zelle® & more.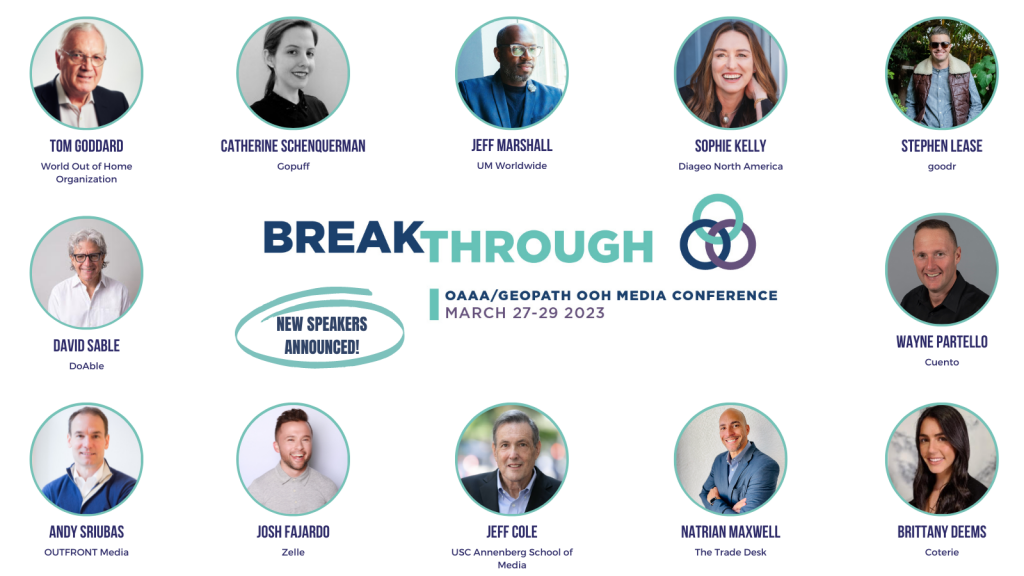 For more information and to register, visit: https://oaaa.ooh2023.com/home.
---