Geopath Member Spotlight | Innovare Medical Media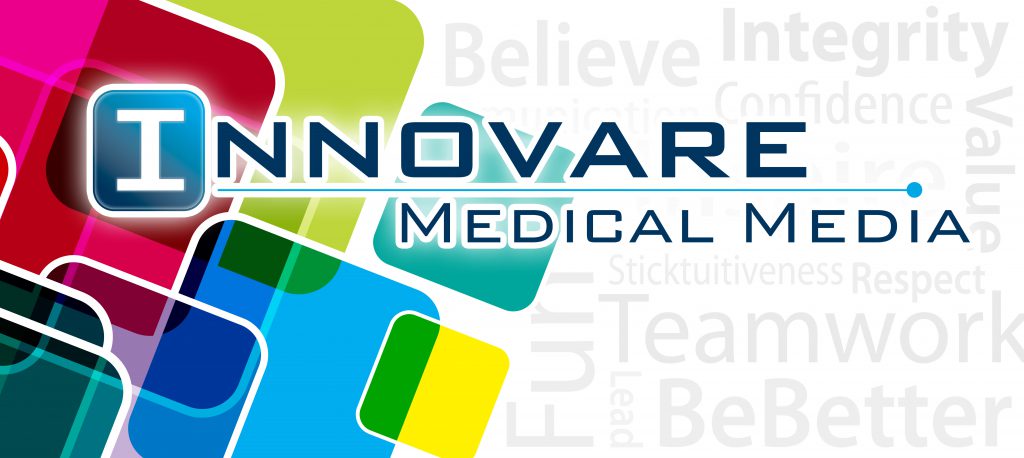 A conversation with Michael Ricciardi, Co-Founder/Managing Partner, Innovare Medical Media.
Q: What was your path to Innovare?
Prior to co-founding Innovare Medical Media, I held various roles at Pfizer across sales, training, and marketing. Through a mutual friend, I was introduced to my now business partners, Mark, and Nick Lieberman. 
Mark and his family owned and operated Interspace Airport Advertising, an airport media services company, which had concessions in over 200 airports worldwide – with about 150 airports here in North America and the rest positioned throughout Europe, Australia, New Zealand, and Central America. Interspace was a successful small media business and was sold to Clear Channel in 2006. Mark had stayed on for a few years, and meanwhile as I was finishing up my MBA and looking to explore new opportunities, our paths crossed.
A mutual friend introduced me to Mark and his son, Nick. They were looking to utilize the successful proprietary airport media model in another sector. Even though we didn't previously know each other, we had similar interests and backgrounds. We began to pursue opportunities within the healthcare space (Hospital Placed Media) and in 2010, we started Innovare Medical Media (Innovare).
Q: What has driven your recent company success?
When we started in 2010, the initial months were extremely challenging. This entrepreneurial concept was new to hospitals. Nick and I were seeking to find the first hospital to give Innovare a chance and help pioneer this platform. In the beginning there were only three of us and Hospital Placed Media didn't really exist, but in March of 2011, Winthrop-University Hospital in NY (now NYU Langone Hospital – Long Island) became Innovare's first hospital partner. Two hospitals chose to partner with Innovare in 2011, then we grew to add five in 2012, slowly growing to 20 in 2013, paving the way to what is now 165 hospital partners and more than 400 digital screens across the country.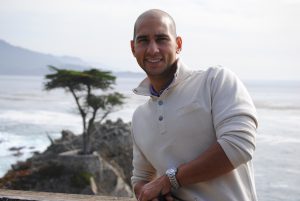 Innovare was built like an airport concession on a hospital campus. It would feature various, impactful signs — whether it be digital or backlit — in high-traffic or long dwell time areas within the hospitals: cafeteria, waiting areas, or a main lobby setting as well as some parking garages. Over time, Innovare's hospitals began requesting additional services from Innovare to support patient experience and staff satisfaction. Innovare then created strategic cellphone charging solutions, custom designed for the hospital with digital media platforms. This was a home run for our hospital partners. As Innovare would launch one hospital in a particular market, other hospitals would hear about the model and become more interested. We discovered that as leading hospitals launched the program, others in the market would follow, thus creating an impactful media marketing bundle of high-valued impressions for advertisers. Innovare's growth was super-charged by leading progressive health systems that launched one hospital venue and then rolled it out across their entire system. For example, we started with Northwell Health in 2012 at their two main properties and now we have grown to service the entire health system, deploying signage across their entire network.
All of that is to say, three main factors have fueled our achievements as a business. First, the success of our work with leading health systems proved the model effective and has led them to choose to expand the project within their own networks. The second was the introduction of the digital signage charging stations and third was our ability to contribute significant revenue back to our hospital partners. We are thrilled to have exceeded $4.5 million in hospital contributions.
Q: What strategies have been successful in reaching target audiences with these place-based screens?
With the target audience being niche, understanding the demographics definitely needs to be part of the planning. A typical hospital is going to be one of the leading economic engines in that community and one of the biggest employers. 
A major component of this target audience is healthcare professionals who comprise a demographic of high household income. Inherent in the very nature of their jobs is that they value education and fall within age groups with strong buying potential. Moreover, hospitals are very busy venues; there is major value in the impression data that Geopath provides as the cost per thousand is extremely affordable relative to other OOH or place-based options. 
Prior to becoming a Geopath member, trying to calculate the impressions and really quantify the value of this niche audience was very difficult. For a small media business, working exclusively with hospitals, there's really no audit for point of care. Hospitals are appropriately extra sensitive to data as it relates to patient confidentiality and privacy. Therefore, prior to Geopath, when we would try to quantify the numbers, we had to simply utilize whatever public data was available, such as the number of employees, the number of admissions or ER visits, parking lot usage or the number of criteria meals served throughout the day. We used all these different data sources to build a rate card and quantify our audience and calculate the cost per thousand. It was incredible to see leading local, regional, and national businesses investing in Hospital Placed Media across our network. What is more encouraging is that the newly audited and published Geopath data proved to be even better at showing more impressions and making the CPM more affordable for advertisers.
This really helped us as we started to expand our business, working not only with bigger brands and national agencies, but as we entered the programmatic arena. As we looked at opportunities to sell inventory programmatically, Geopath's data helped create more credibility around our audience. The value of the demographic is a no-brainer, but now, the precision and credibility of Geopath impression counts adds even more value to Innovare's Hospital Placed Media offering. 

Q: Where are the market opportunities that exist for you today?
We have hospital partners in 25 different states in many of the top DMAs, working with leading systems that are progressive and entrepreneurial. The majority of our hospital partners are in the Northeast: New York, New Jersey, Connecticut, Pennsylvania, Massachusetts. Though there's a bit more commercialization in the Northeast, it has been interesting to see our ability to develop top notch advertising concessions in other markets such as Kansas, Missouri, Florida, California, Arizona, and Washington to name a few. 
Hospitals perceive our offering as a concession that is built out for their locations and provides a marketing platform for their own services plus generates incremental revenue – it's a no-brainer for them to roll us out across their networks at a fast pace.
Q: What are other ways you've seen your business — and the place-based screens you deploy — play a valuable role across hospital networks?
We continue to work with thousands of advertisers, and as we experienced the pandemic and challenging times of COVID, it was heartwarming to see most of these advertisers change their strategy from a product, promotion, or a price-based ad to content geared toward thanking healthcare workers. It was really gratifying to see advertisers quickly deploy messaging to encourage healthcare professionals in different areas throughout not only their hospital networks on our screens, but across the country on billboards, etc. We had the great majority of our clients stay with us throughout that time to utilize the platform and continue to invest in Hospital Placed Media with encouraging hero content. Coming out of that time, we then observed a gradual transition back to their typical ad content.
Hospitals themselves are constantly changing their creative message at no cost as they typically occupy 20% of the inventory for their own marketing content geared toward both employee and patient communications — from service lines to upcoming events or specific initiatives. Hospitals have a lot to communicate to patients, visitors, and staff. Being able to market these messages on campus with Innovare now helps them really strengthen their communications to their ideal target audiences.
Q: What is the best OOH ad you've ever seen?
At my core, I am an athlete, but I do have nerdy tendencies, so as a place-based geek, one of the best OOH ads I've seen was this summer for the promotion of ESPN's Derek Jeter documentary. It was just so clever. They bought a billboard across from Fenway Park in Boston and it had a picture of him with the title "The Captain" on it. It was so simple, but it stood out to me as such a perfect and strategic use of place-based OOH. The right message, in the right place, to the right audience is a win-win-win.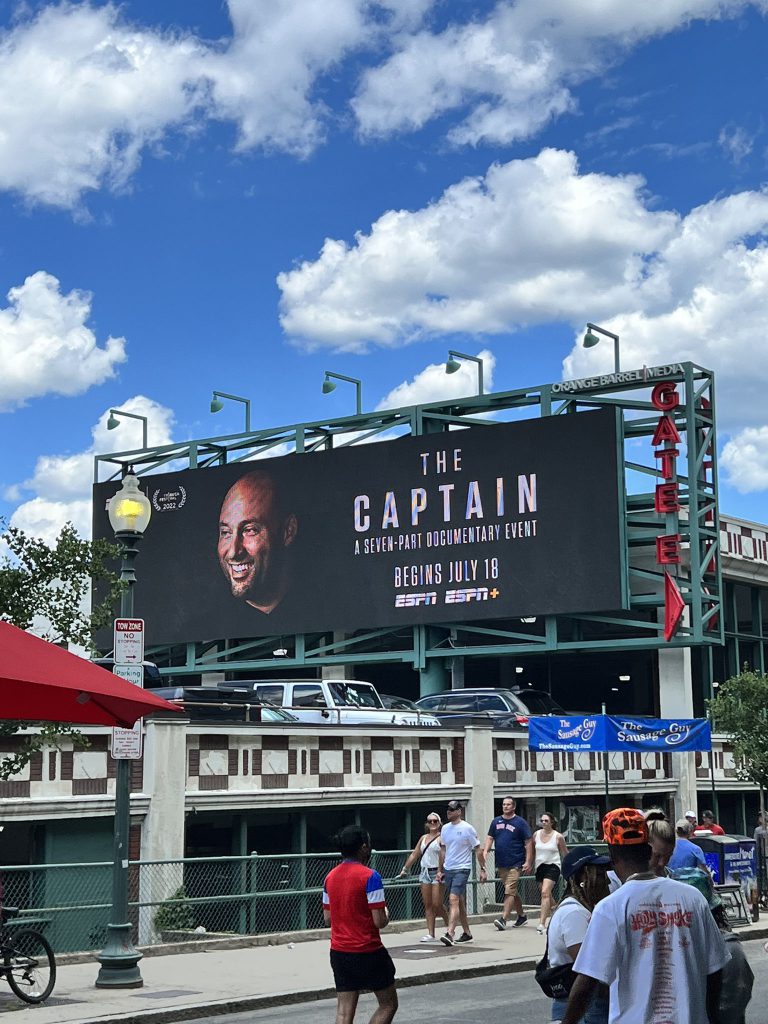 ---