Dylan sits down with Jim Johnsen to discuss music, future of Geopath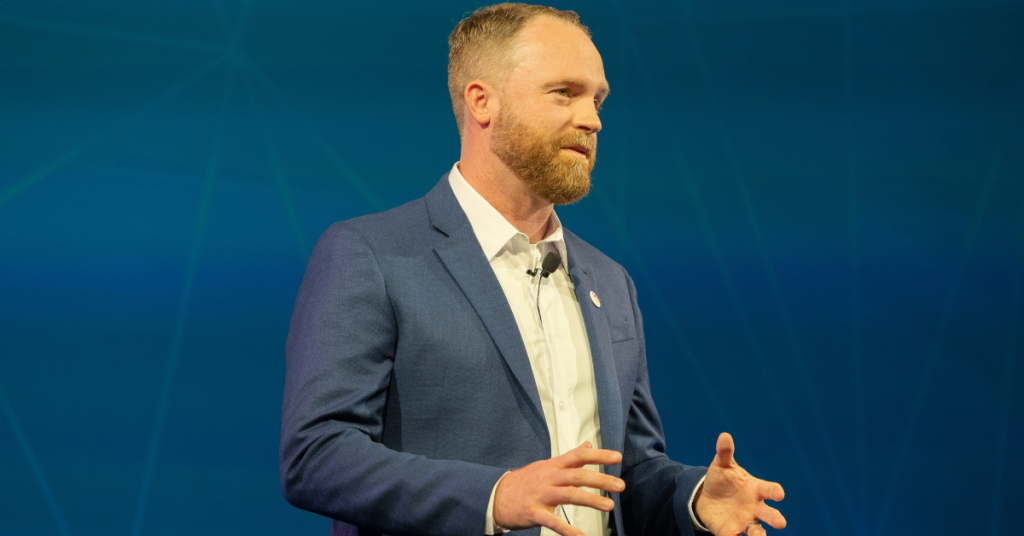 by Jim Johnsen,
Managing Director, Johnsen, Fretty & Company
Sunday Best
Sunday Best click here⇒  https://youtu.be/_83KqwEEGw4
Nick C. beat me to the punch!  All the same it was a good article and shed some light on our one and only Dylan Mabin.  No, not the guy that plays cornerback for the Saints…the guy that is going to unbind Prometheus and steer our "currency" into the next generation.   We have a lot riding on Dylan…
So with that said, I thought I would fill in where Nick left off.  Behind that calm, cool, collected and intellectual veneer, Dylan is both creative and a visionary.  Dylan was very kind to lend me a little time.  Here is the main to Nick's appetizer:
1. What was the first album you ever bought?
The first album I ever bought was Ten, the debut studio album of the iconic grunge band Pearl Jam. It was 1991, I was 9 years old living in Manhattan Beach, California, everyone was into surfing, skating, and volleyball. I still have the cassette tape, but unfortunately, no tape player. The album ended up being genre-defining and I'm sure it shares a special place in the hearts of many people of my generation (note to readers…I owe Dylan a "tape deck" as we called it in our day).
2. Do you play an instrument?
I used to! I played the trombone, and I was quite serious about it! I was a total band geek in high school. I played in the orchestra, the wind ensemble, and occasionally the marching band. My most public performances were when I was around 15 years old, living in Virginia, when I played in the St Thom Cats Swing Band. Our bandleader was a clarinet player named Easy Smith, and he was a World War II paratrooper and used to play with Benny Goodman.
3. Is there any music from the past 3 years that you like?
I listen to a lot of contemporary music. Lately, I'm into psychedelic funk. Here are a few random recommendations for your playlist:
Khruangbin– a cool group from Houston that blend global music influences. Listen to "Time (You and I)" – you'll recognize it.
Mdou Moctar– an amazing Nigerian guitar player. Check out his song, "Chismiten"
Surface– also a band from Texas. Listen to "Sunday Best," you'll like it.
And, I've been listening to a lot of Charley Crockett lately, he's a very talented blues guitar picker.
4. If Geopath was a song, which one would it be?
The first song that comes to mind is the Beatles song, "The Long and Winding Road." But that's too easy. How about Daft Punk's "Harder, Better, Faster, Stronger?" or "Impressions" by John Coltrane.
5. Five years from now, what will Geopath be doing that it currently isn't (okay here is the important part…I urge you to read it twice)?
Five years from now, Geopath will be more integrated in the media ecosystem than ever, with a Geopath metric used in every single OOH transaction.
Five years from now, Geopath will have mapped the entire U.S. OOH market, measuring over 2 million OOH locations nationwide.
Five years from now, the entire OOH industry will know exactly what and where their inventory is and where it can be seen from.
Five years from now, Geopath will be seen as a major reason why OOH is easier to plan and transact.
Five years from now, Geopath will be the catalyst for tremendous innovation in measurement and attribution, with others adding their insights on top of our foundation.
And five years from now, Geopath will celebrate OOH achieving an industrywide 10% share of all media spending in the US.
6. If you weren't President of Geopath, what would you be doing?
I've thought about this one. I'd open my own biodynamic farm-to-table restaurant and estate brewery in Upstate New York. Is that specific enough for you?
---