Show Your Support for DE&I in OOH!

Join us in the OOH UNITED Lounge at 2022 GO.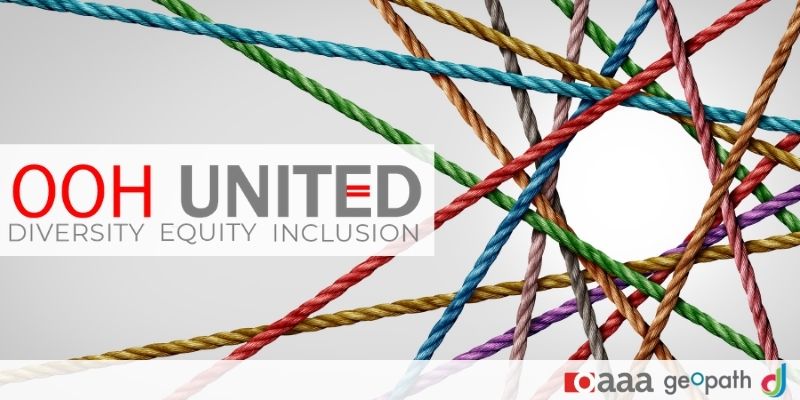 Show Your Support for DE&I Iniatives in OOH!
The 2022 GO Media Conference and Expo will feature a comprehensive program of diversity, equity and inclusion (DE&I) content that includes a mainstage presentation by diversity and inclusion thought leader, media contributor, award-winning business owner Dee C. Marshall, CEO of Diverse & Engaged, as well as a series of presentations, workshops and learning opportunities in the OOH UNITED Lounge.
The OOH UNITED Lounge will be an open space for anyone that wants to learn how to implement these initiatives in their organization, find out about mentor/mentee opportunities, or to pledge their support for OOH UNITED and DE&I in OOH.
We can't truly connect, collaborate, or create as an industry until everyone is included. You can show your support for the continued expansion of DE&I efforts in the out of home industry by sponsoring the OOH UNITED Lounge. Multiple sponsorship opportunities are now available, but act soon, as these are sure to fill quickly!
Reach out to Larry Hennessy for more information on sponsoring the OOH UNITED Lounge and other remaining sponsorship opportunities.
---

About OOH UNITED
OOH UNITED is an industry alliance between Geopath, Our of Home Advertising Association of America (OAAA), and the Digital Signage Federation committed to advancing a culture of Diversity, Equity, and Inclusion (DE&I) throughout the out-of-home industry.
The vision for OOH UNITED is rooted in our Six Pillars for Success. Each letter of the word UNITED represents a pillar used to build a strong, sound, safe, and harmonious plan for inclusion.
U – Understand: Only by understanding how each individual contributes to a stronger OOH industry, is it possible for a culture of DE&I to thrive.
N – Nurture: Nurturing promotes the professional development of future leaders within the OOH industry.
I – Involve: Involving individuals across the OOH industry improves overall understanding about DE&I and encourages personal commitment and actions that are more inclusive.
T – Transform: Transformation is the resulting outcome when individuals commit to DE&I actions.
E – Engage: Engagement through internal and external communications ensures the ongoing exchange of ideas and encourages collaboration.
D – Develop: Development is accomplished through ongoing training, recruitment, and education.
As a committee of veteran industry leaders, we are standing united to advance the out of home industry's commitment to diversity. What we have set out to accomplish under the banner of OOH UNITED is not only an important undertaking, but a vital one. The formation of OOH UNITED is where we start as an industry to move the needle on diversity.  Find out more about OOH UNITED by clicking here.
---