Geopath 2021 Year in Review

A message from EVP of Operations and Acting President, Dylan Mabin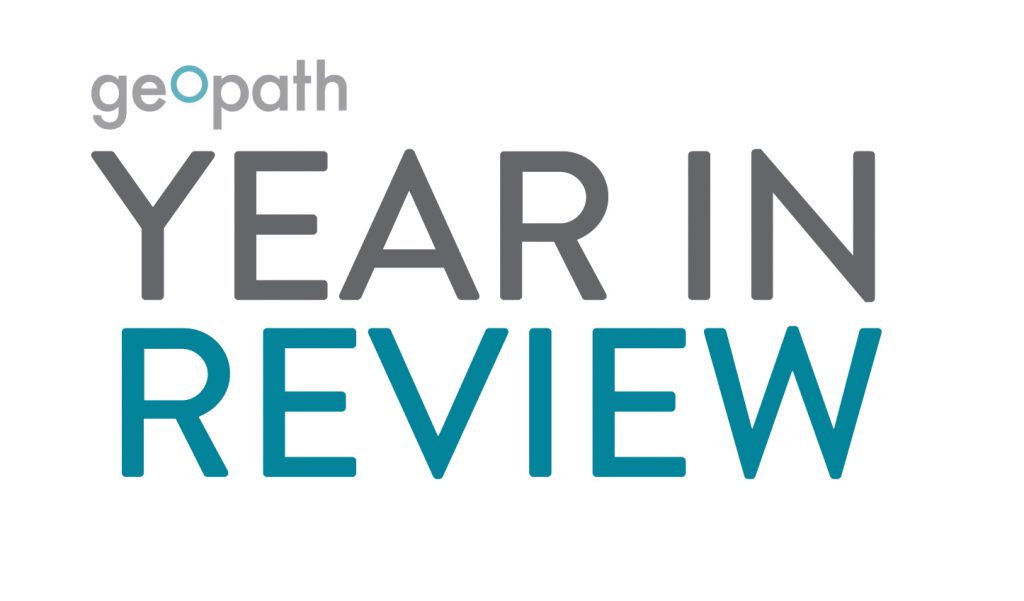 A Message from Dylan Mabin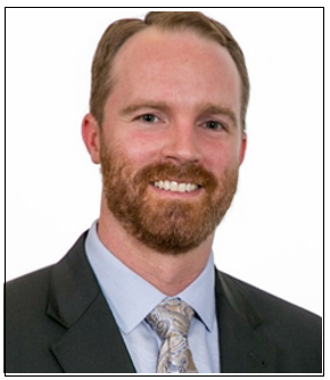 All of us entered 2021 with a bit of fear and trepidation for what the second year of COVID might look like. Now, with 2021 behind us, I am pleased to look back at a year that has given me hope. Though we are still navigating a horrific surge in cases with the latest variant, the increasing rates of vaccinations and levels of community immunity are moving us all closer toward a safe future. I hope that 2022 brings a period of healing to those of you that have lost and struggled throughout.
When I stepped into my new role as EVP of Operations and Acting President of Geopath this past fall, it was reassuring to see the industry's unwavering commitment to come together to create a shared vision for the future. The resilience and resolve our industry has shown over the past two years has been inspirational and has allowed Geopath to build an incredible and purposeful foundation for the future.
It has been rewarding to conduct the strategic vision work in such close partnership with the Board of Directors, additional industry thought leaders, and our consulting group to articulate how the organization can best support its members now, and in the future. The collaborative experience has been incredibly rewarding for everyone involved, and I look forward to sharing the strategic roadmap with everyone in early 2022 upon completion.
Geopath strives to echo the industry's commitment and we will utilize our unique position to help the OOH industry achieve the full potential for growth. We have an extraordinary opportunity to enable marketers to connect with consumers by leveraging out-of-home media like never before.
Geopath is prepared to expand the near real-time data infrastructure it has been building over the past few years to improve the granularity and frequency of its forecasts and observed measurement.  Bringing this level of functionality with nationwide consistency of precision and accuracy will be a first for the industry.
With improved inventory auditing and mapping capabilities, advancements such as this will also assist in the growth of the industry by helping to facilitate the increasing number of programmatic transactions. Furthermore, marketing success is being measured by performance more than even and these improved capabilities will allow OOH to more easily be included in media mix and attribution models.
We will certainly have a lot to showcase and discuss in 2022. I cannot wait to see you in-person in the new year, particularly at the upcoming GO OOH Media Conference in May, hosted by Geopath and OAAA. Until then, be safe.
Best wishes for a happy and healthy 2022! I am thrilled to see what the future brings for you, Geopath, and the entire OOH industry.
Sincerely,
Dylan
P.S. See below for more highlights from the past year.
---



The Year-in-Review | 2021 Highlights
The Future of Geopath: Looking Ahead
In September, Dylan Mabin was promoted to EVP of Operations, and Acting President, responsible for overseeing the administration, programs, and strategic plan of the organization.
John Miller, EV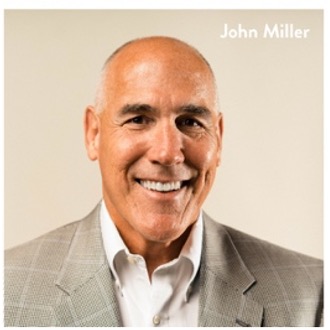 P Sales and Marketing at Lamar Advertising and Secretary/Treasurer of the Geopath Board of Directors said at the time, "Dylan has been an integral member of the Geopath team since he joined. For the past 13 years, he has guided Geopath to a more advanced measurement using geolocation data, modern technology, and improved methodology. With his audience measurement expertise and passion for the industry, there is no better candidate for this position. I look forward to seeing the impact he makes within the organization and broader OOH industry as we explore the best path forward for Geopath to take its place as a leader in media measurement."
Dylan has been with the organization since 2008, when Geopath was the Traffic Audit Bureau (TAB). Since then, he has held a variety of leadership roles across the data and insights, research, and product teams. Additionally, Dylan has been the main architect of the new Geopath Insights and the visionary behind the ongoing evolution to a more granular measurement solution for the OOH Industry.
Strategic Roadmap Development
In October, following Board of Directors approval, Geopath began work with a globally recognized consultancy, who has specific experience in helping drive organizational and industry-wide change. They are working to develop a long-term vision for Geopath, to ensure its future stability and value.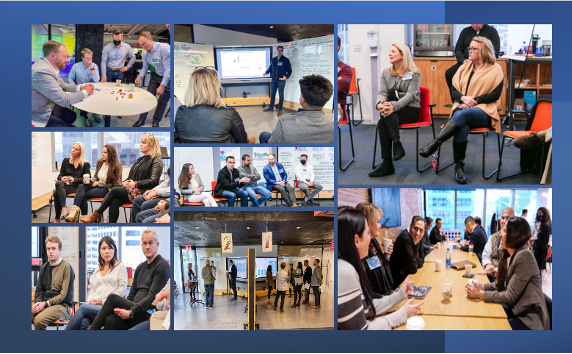 This project is focusing on the development of a roadmap for how Geopath can support its members now and in the future, as they work to grow the OOH industry to be a highly integrated part of the media mix used by marketers and advertisers.
The consultancy was chosen after a rigorous vetting process conducted over the past several months by Geopath and a 16-member taskforce. This was done to ensure that the roadmap project's goals, vision, and requirements are aligned with the long-term needs of the organization and the industry.
The strategic roadmap is expected to be completed and released in Q1 2022. Thank you to all of those that participated in helping us to shape the future of Geopath and the entire OOH industry! We look forward to sharing the results soon!
Geopath Releases first Midyear Annual Forecast
Given the success of the vaccine rollout and the overall pace of the recovery, Geopath issued an updated annual forecast in June 2021. The midyear forecast is a 12-month forecast that reflects the expected audience delivery from June 2021 through May 2022.
Update on 2022 Forecast Release
While releasing a midyear forecast was a first for Geopath and the OOH industry, it aligns with Geopath's goal of introducing more frequent, more granular forecasts, which reflect changes in the marketplace as they happen.
Since its release in June, the 2021 Midyear Forecast has been trending very well versus the weekly observed data we are collecting, with 95% of markets within ±10% of the forecast.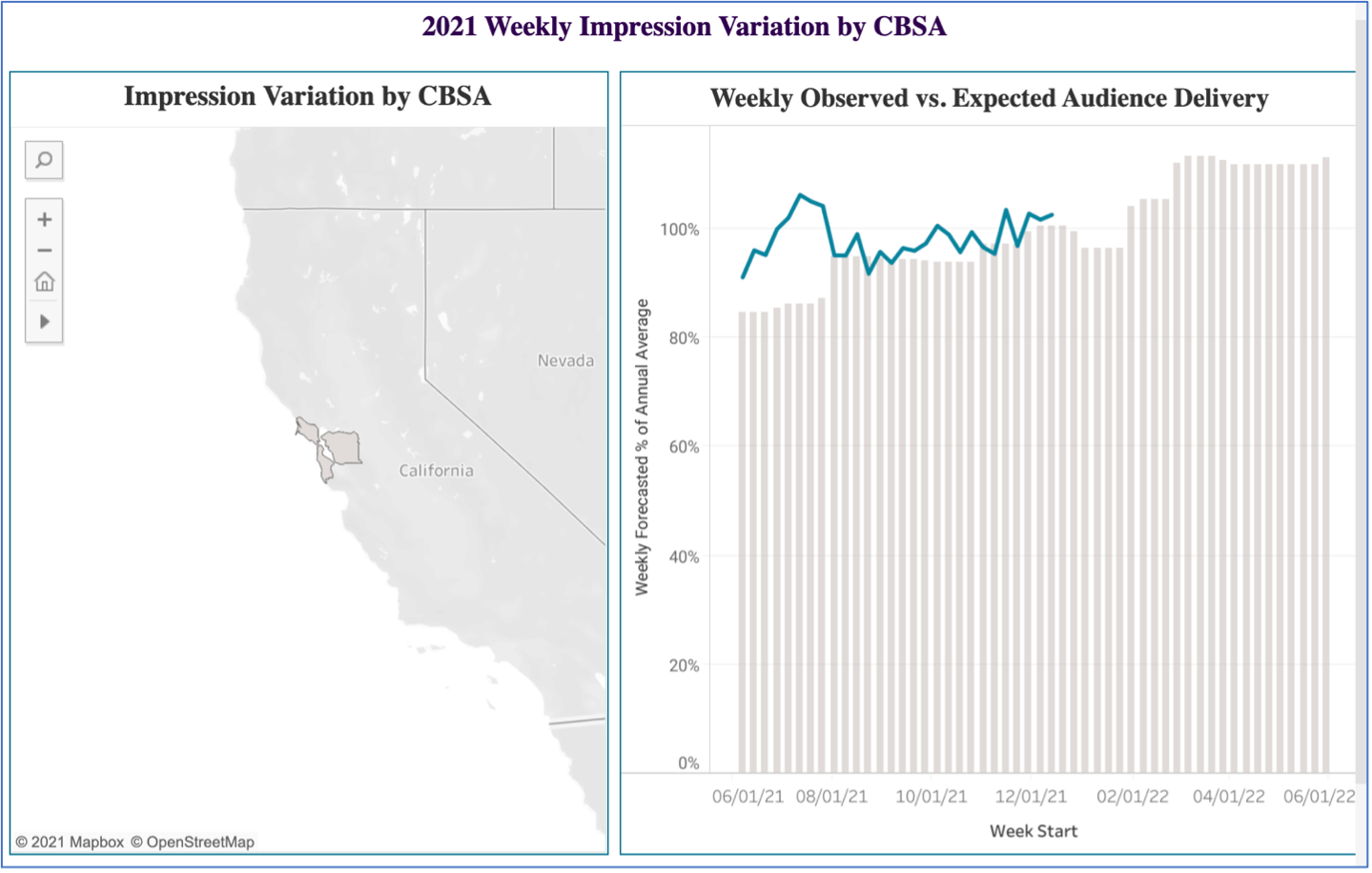 Given the strong performance of the midyear forecast, Geopath has postponed releasing an updated forecast until later into 2022, at which point we plan to release seasonal forecasts. In the interim, our members should continue to use the current forecast for all planning, buying, and selling.
The migration to a rolling forecast will provide the industry with a continually recalibrated forecast using the most current observed data, and will allow Geopath to incorporate seasonality, while continuing to track the impact of unexpected events such as the ongoing pandemic. An overview of the Annual Forecast and FAQs can be found here.
Board of Directors Update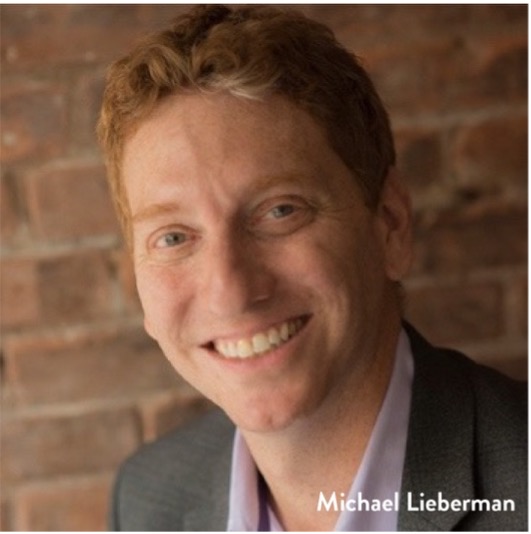 In December, Geopath shared that Michael Lieberman, CEO, US at Kinetic Worldwide was elected as Chairperson of the Geopath Board of Directors.
Of his election, Lieberman said: "I am honored to be selected as Chairperson of the Geopath Board of Directors and am excited to work with the talented group of individuals that make up the Board, as we look to drive advanced and flexible measurement that will pave the way for the continued and rapid growth of OOH."
Elected to the Board of Directors this year, we welcomed Vanessa Hartley, President at Outdoor Media Group, John Laramie, CEO at Project X/ADstruc, Jon Carmack, COO at Talon/The Buntin Group, Michael Provenzano, CEO and Co-Founder at Vistar Media, Lisa Licata, Director, Marketplace Connections at The Coca-Cola Company, John Miller, EVP Sales & Sales Operations at Lamar Advertising, Martin Porter, SVP, OOH Lead at Dentsu International, Gary Greenstein, CRO at Vector Media, Jennifer Seickel, Co-Founder and CEO at Sightline, and Dana Burleson, SVP, Research Director at Wilkins Media Company.
Bill Tucker, Group EVP Data Tech Measurement at ANA and Ashwini Karandikar, EVP Media, Technology, Data at the AAAA's (4A's) have also joined as Ex-Officio members of the Board.

Geopath would also like to recognize the valiant leadership from outgoing chairperson Jill Nickerson and thank her for guiding Geopath as Chairperson during her tenure.
Geopath Insights Tools & Resources Updates
Impression Variation Dashboard 2.0
The updated Impression Variation Dashboard 2.0 became available in the Insights Suite Reports Module in March. For 2021, the Impression Variation Dashboard analyzes a week of observed activity versus the forecasted monthly average.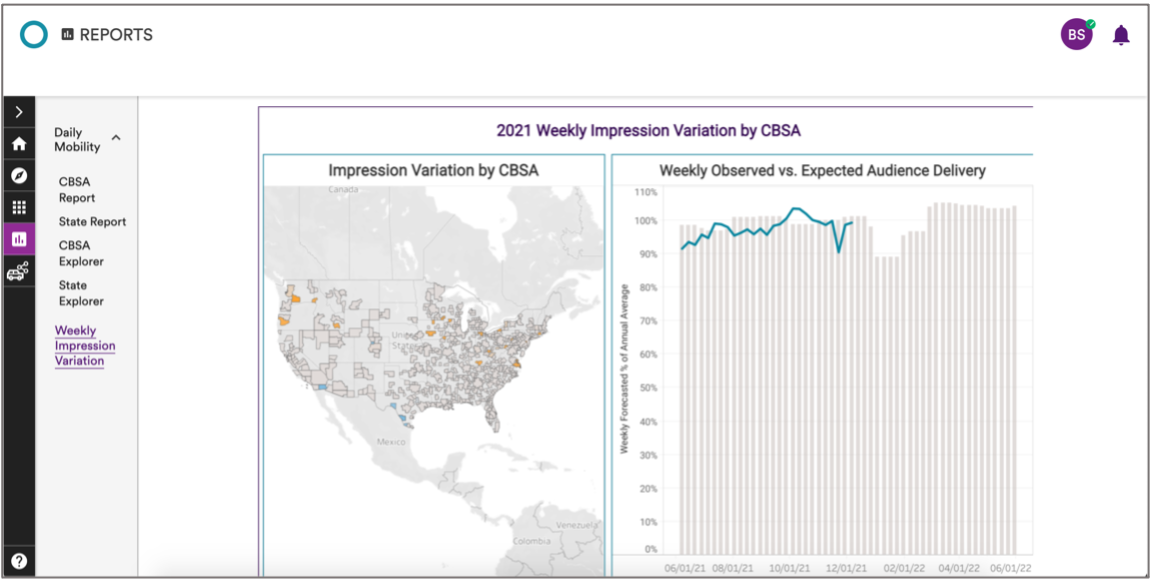 The new Impression Variation Dashboard also allows Geopath and our members to monitor how well the 2021 forecast aligns with the reality we are observing. Click here for more information on the most recent updates to the Impression Variation Dashboard and for some answers to FAQs.
Mobility and Spending Report
Over the course of the year, we continued to release weekly DMA and Mobility data updates, tracking the movement of people on roadways throughout the country. In addition, we also released quarterly OOH Spending reports through the year. All these reports, and much more, can be downloaded from our geekOUT Library!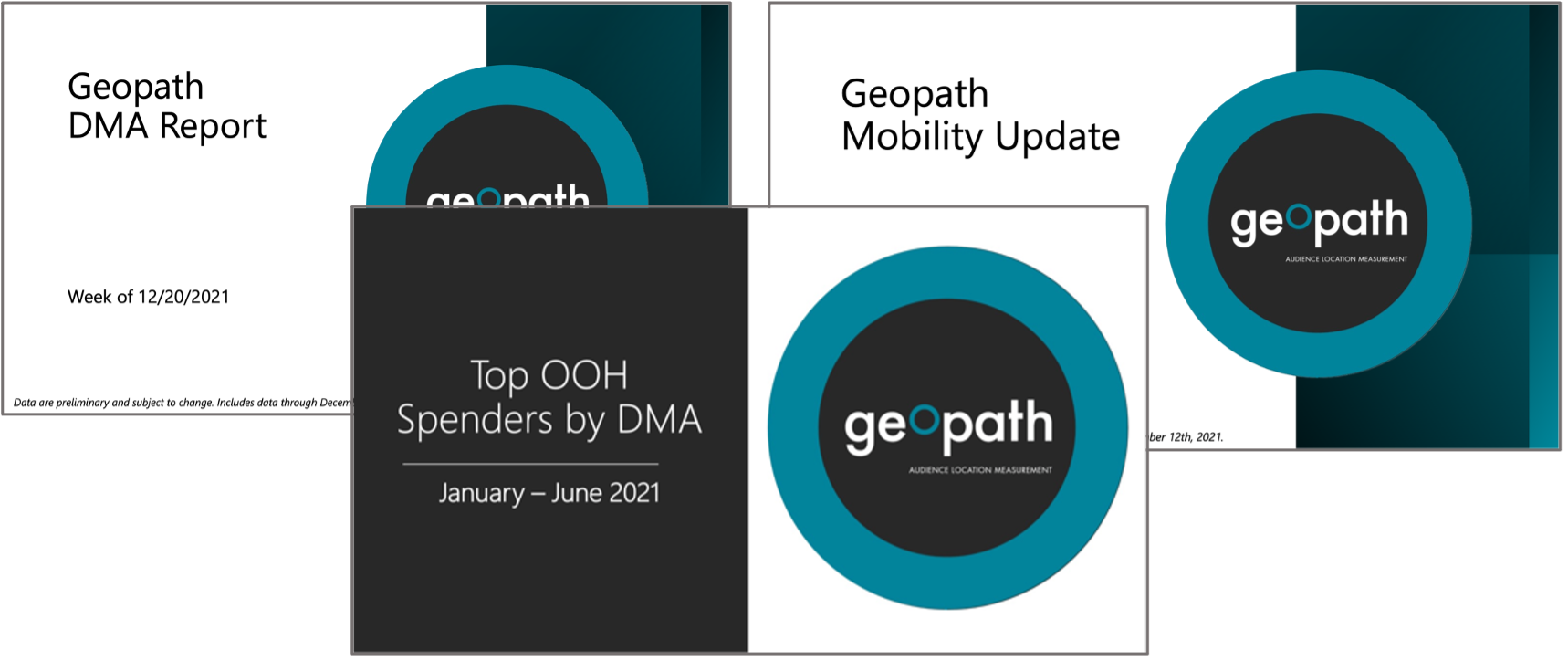 Learning Lab
Through the year, we updated content and added new courses in the Learning Lab to reflect changes to the Insights Suite. As of the end of 2021, there have been over 3,100 Certificates issued through the Learning Lab!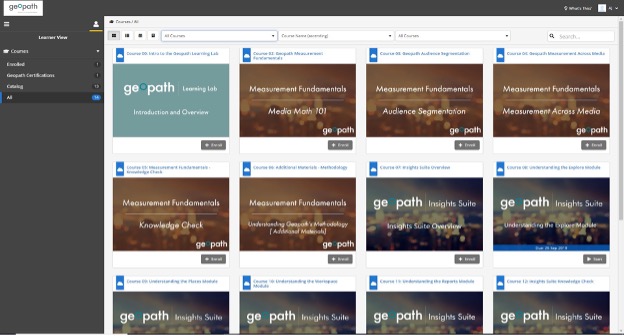 Insights Suite User Guides
In November, Geopath released four new Insights Suite User Guides. Working closely with our Futures Council, we are developing a series of step-by-step guides on some of the most common workflows in the Geopath Insights Suite.
User Guides currently available:
Using the Workspace Module
Assigning a Market in Explore
Combining Audience Variables
Using Places to Filter Inventory

These guides are all available right now in both the geekOUT Library, and in the corresponding courses in the Learning Lab, with more on the way.
Membership Growth
This year, Geopath welcomed 59 new members brining our total membership to more than 400! Our new members include organizations of all sizes from the agency, advertiser, OOH, and media industries, helping to bring more insights to markets big and small across the United States. We look forward to working with you all and expanding even further in 2022!
Our newest members: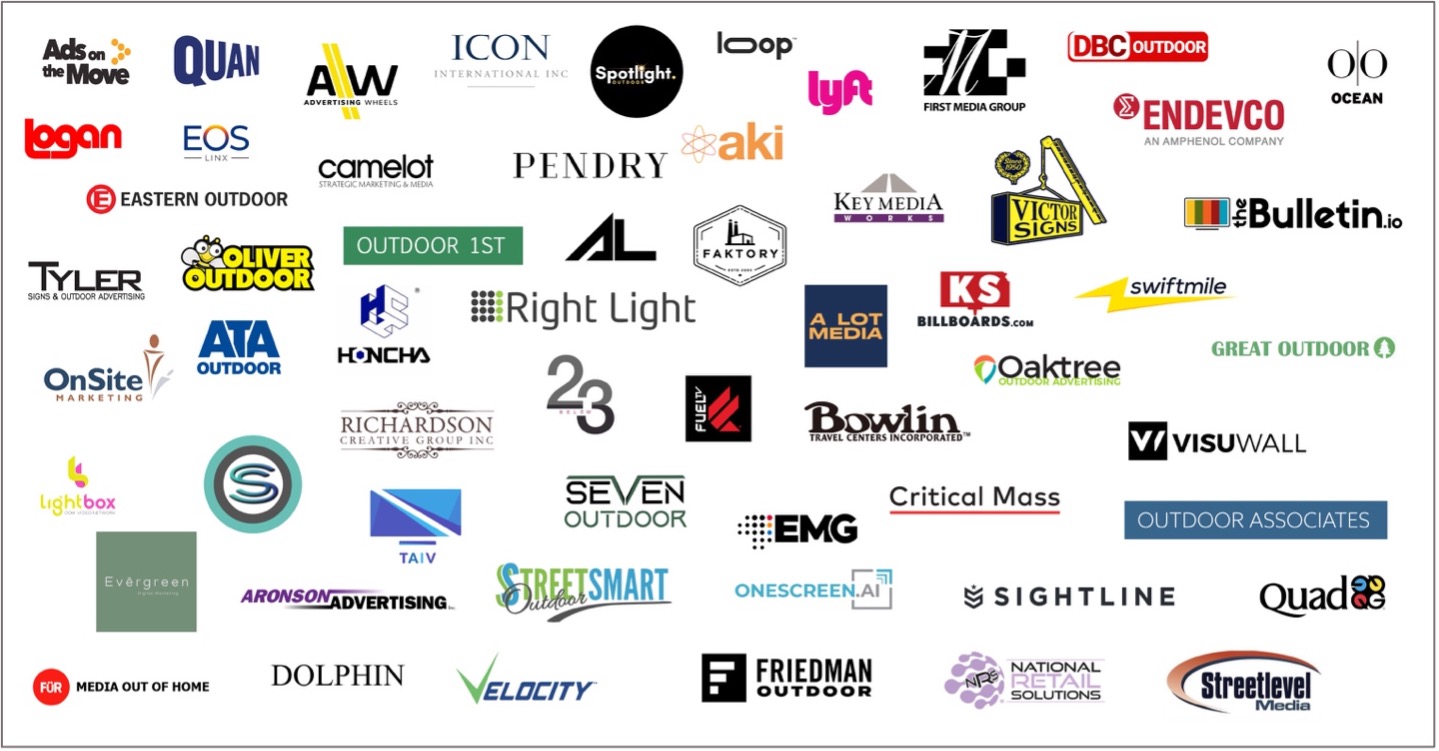 For more info on our member organizations, check out our recent Member Spotlights! If you are interested in participating in our Spotlight Q&As, please reach out to us at geekOUT@geopath.org.
OOH United
In February, the Digital Signage Federation, Geopath and OAAA announced a joint diversity, equity, and inclusion (DEI) initiative.

Named OOH UNITED, the new program was created to advance a culture of inclusion throughout the OOH industry. In addition to being guided by top executives from the OAAA, DSF and Geopath, OOH UNITED is managed by a leadership council, which includes some of the most well-respected names in the industry: Michelle Costa, Clear Channel Outdoor and the Foundation for Outdoor Advertising Research and Education (FOARE); DJ Duronslet, OUTFRONT Media; Marc Fenty, Horizon Media; Derek Haigler, Lamar Advertising; Kim Heintz, Clear Channel Outdoor; and Candice Simons, Brooklyn Outdoor.
Each letter of the word UNITED represents a foundational pillar used to build a strong, sound, safe, and harmonious plan for inclusion. The acronym's definition highlights:
U – Understand: Only by understanding how each individual contributes to a stronger OOH industry, is it possible for a culture of DEI to thrive
N – Nurture: Nurturing promotes the professional development of future leaders within the OOH industry
I – Involve: Involving individuals across the OOH industry improves overall understanding about DEI and encourages personal commitment and actions that promote and foster inclusivity
T – Transform: Transformation is the resulting outcome when individuals commit to participate in DEI actions
E – Engage: Engagement through internal and external communications ensures the ongoing exchange and flow of ideas while encouraging collaboration
D – Develop: Development is accomplished through ongoing training, recruitment, and education
The Committee established guidelines to assist organizations with developing a diverse college student internship program, which can be found here.
Press Highlights
Geopath was featured in a number of articles this year, both among OOH Industry outlets as well as the greater advertising industry. All of our press can be found on the Press page of our website.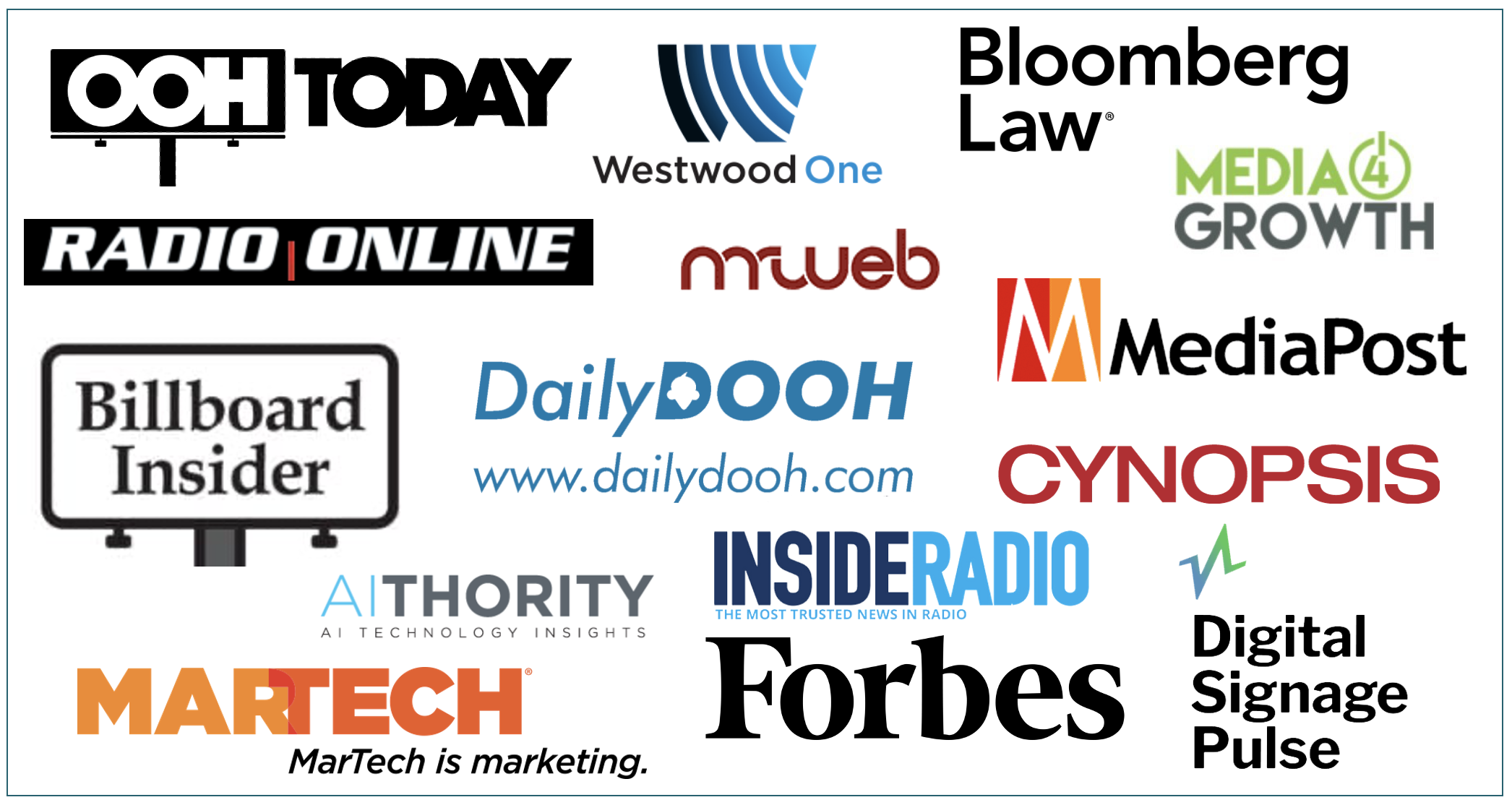 Click the image above to view a selected list with press highlight links.
Geopath Wins Patent Infringement Lawsuit Over OOH Methodology
In June, Geopath announced that U.S. District Judge Lewis Limin issued a judgement in its favor in the patent infringement suit filed by RDPA over OOH methodology.
The Court found that five of its patents are invalid because they are directed to an abstract idea. The claims of the patent-in-suit are ineligible under 35 U.S.C. § 101, because they are directed to the abstract idea of evaluating the effectiveness of advertising media by exposure and do not contain any inventive concepts.
Dylan said at the time: "We are pleased with the Court's decision. This is not only a victory for Geopath and the OOH industry but also a validation of our methodology. We will continue to vigorously protect our intellectual property for tracking exposure to outdoor billboards." 
Save the Date
The 2022 Geopath/OAAA Out of Home Media Conference will return in-person this year, with Geopath programming this year's event in Marco Island, Florida on May 16th – 18th.
The 2022 GO Out of Home Conference & Expo is the year's premier event in Out of Home as it brings together all segments of the industry…buyers, sellers, suppliers, and adtech. Don't miss it!
---
2021 Geopath Holiday Outing
Top Row (L-R): Kevin Romero, Tanjia Sarker, Rachelle McKinney, Dylan Mabin, Scott Fiaschetti, Michael Riccio, Brian Ryu Bottom Row (L-R): Brian Schopper, Jack McKivergan Not Pictured: Jie Chu, Sabrina Gonzaga, Janna Gu, Larry Hennessey, Tia Lamb, Kevin Narine, Ninel Roytman, Eitan Westrich, and Zhao Zhao
---
---