Geopath Market Spotlight | Buffalo DMA

GeekOUT Friday Fast Fact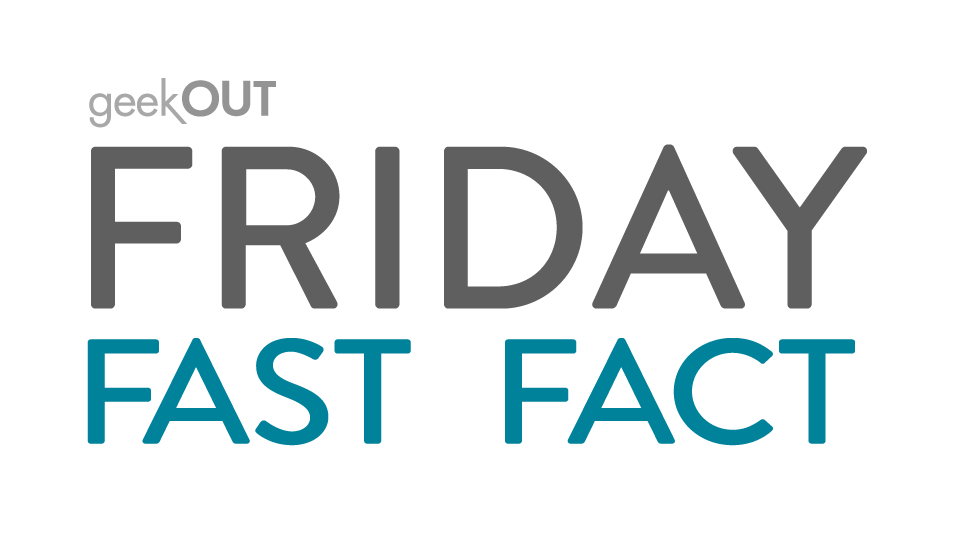 For today's GeekOUT Fast Fact, let's take a look at the market home to New York State's second-largest city – the Buffalo DMA.
Let's first look at who is spending in OOH within the DMA for Q2 of 2021.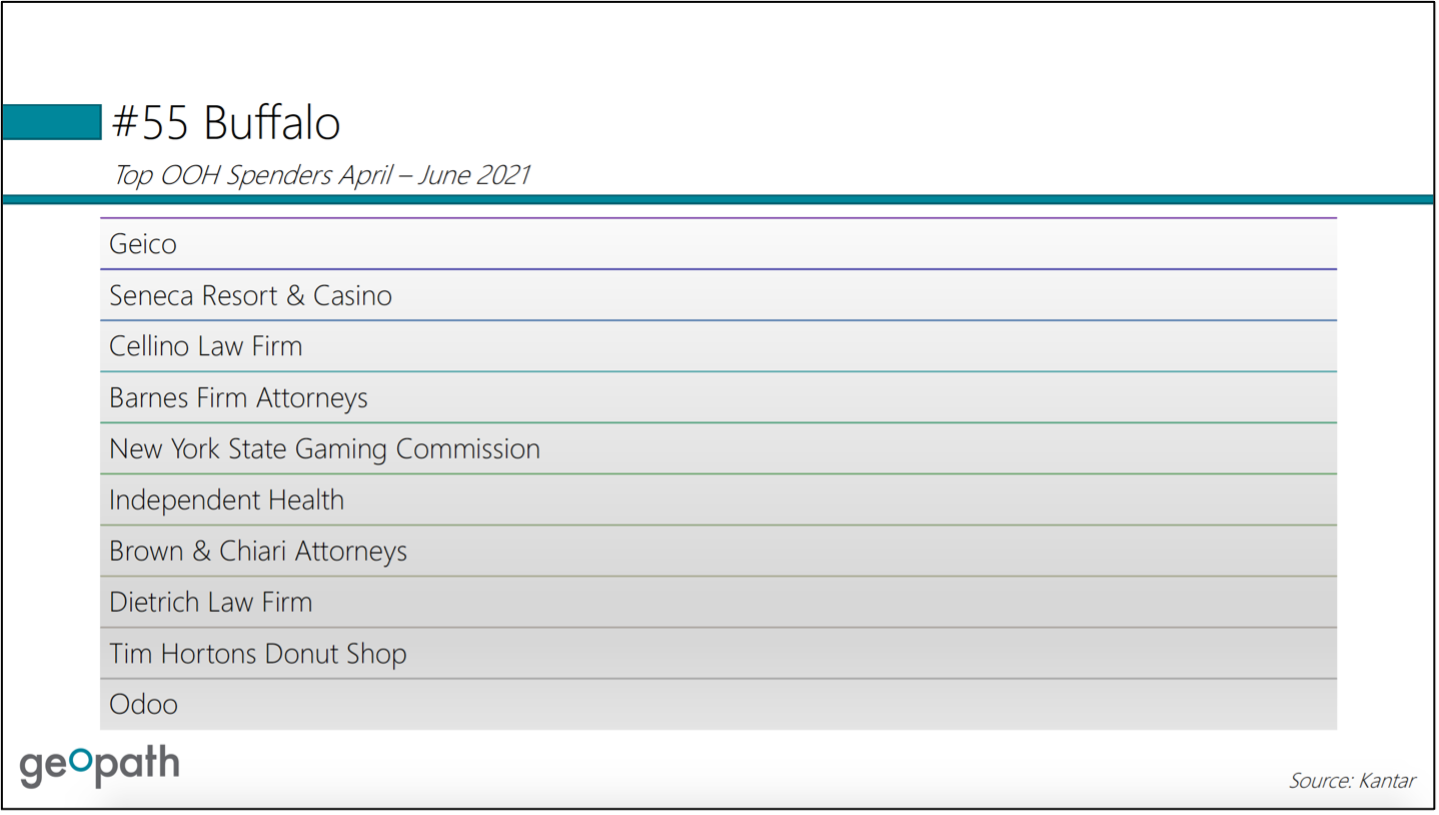 Like in many other markets, Geico takes the top spot when it comes to OOH spend. Interestingly, 4 of the top 10 spenders for OOH are law firms or legal services. Also worth noting, Buffalo's close proximity to our northern neighbors results in Tim Hortons, a Canadian staple, entering the top 10 spenders as well.
Geopath has compiled OOH advertising spend data for Q2 of 2021 sourced from Kantar for the DMA, as well infographics for this and all 200+ DMAs across the country. These insights, along with many more, are available to Geopath members in our GeekOUT Library.
Now, let's take a look at some more specifics about this DMA!
Buffalo is, of course, not without its own rich history and culture. The area is also famously home to Niagara Falls, one of North America's most iconic natural attractions. This draws millions of people to the Buffalo market every year. As both a large tourist destination, and a major city in its own right, Buffalo poses a unique opportunity to reach both visitors and locals alike. According to Geopath Insights, there are more than 3,000 spots measured by Geopath within the Buffalo market, which generate over 175 million impressions each week!
Additionally, with a population of over 1.5 million, and more than 1/4 of all commuting trips within the DMA taking 30 minutes or more, it is clear why advertisers are taking advantage of OOH in the market.
For more insights on the Buffalo DMA, please see our 2021 DMA infographic below.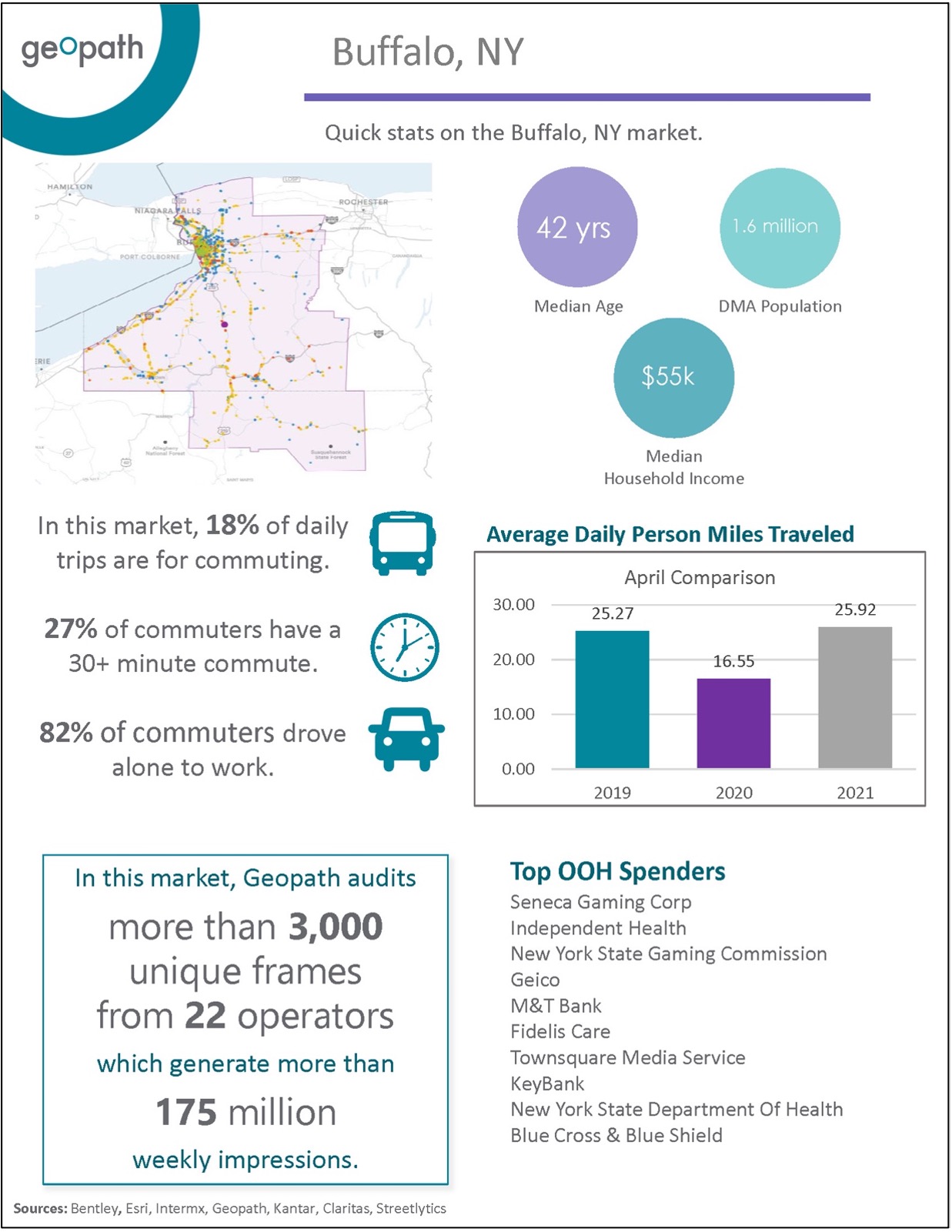 Both the OOH spending reports, and DMA Infographics can be accessed by Geopath members in our geekOUT Library. If you are not currently a Geopath member, please reach out to us on geekout@geopath.org to find out how you can access this information.
---