2020 OOH Advertising Spend – A Look Back at the Past Year

GeekOUT Fast Fact Friday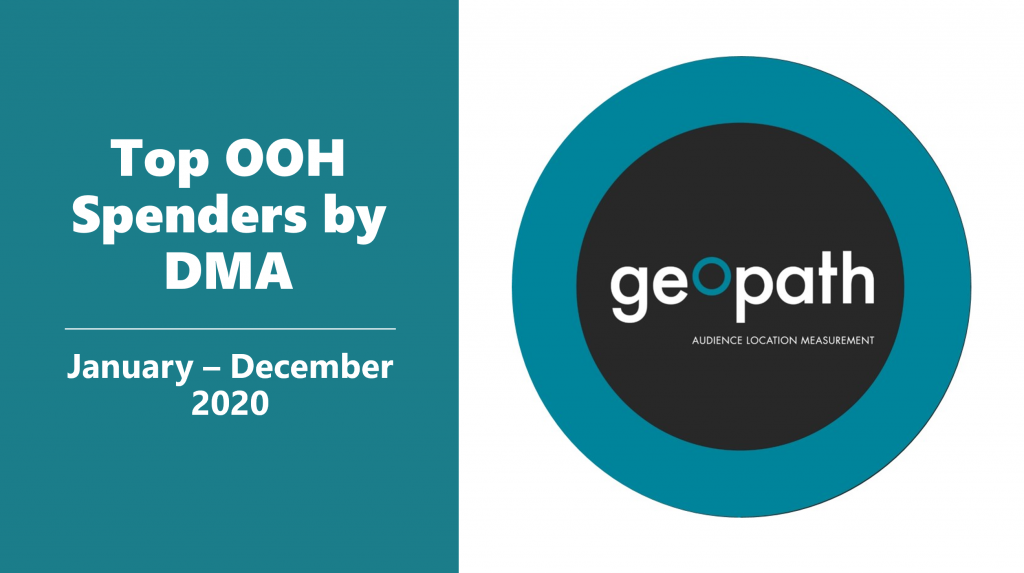 Now that 2020 officially over, we thought it would be a great opportunity to look back at which categories and brands were spending in OOH. Although the COVID-19 pandemic changed many aspects of our lives, advertisers were still spending, including in OOH! Can you guess which industry held over half of the top ten spots across the top 100 DMAs?
If you guessed the media industry, you would be correct! According to Kantar, brands like HBO, Comcast, and Netflix continued to leverage OOH throughout the year, winding up at the second, fourth, and sixth positions for top OOH spenders, respectively. With streaming service subscriptions on the rise, it shouldn't be a surprise to see names such as HBO, Netflix, and Hulu spending in many markets across the country. This is even more apparent in the Los Angeles DMA, where the top ten OOH spender list is dominated by the media industry. Talk about a competitive market!
Although the media industry held many of the top ten spots, they did not hold the top position. According to Kantar, Geico spent the most in OOH overall in 2020, and were among the top ten OOH spenders in 71 of the top 100 DMAs for the entire year! Additionally, Geico was the top spender for the entire year for ten of these markets, and in Charlotte, the brand topped the list in all four quarters of 2020!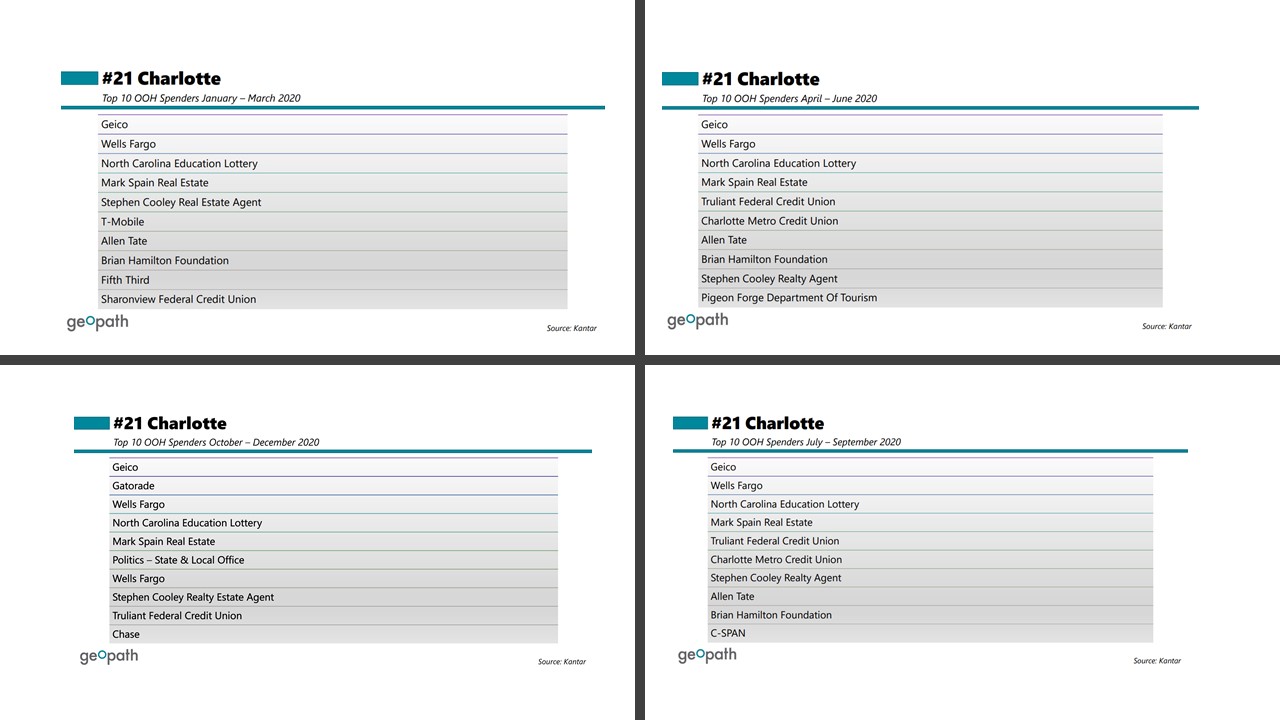 Geico wasn't the only insurance provider spending in OOH. AllState ranked third in OOH spending for 2020. The Insurance industry seems to recognize the power of OOH, and for good reason. According to Geopath Insights, the inventory we measure generates 6.6 billion weekly impressions for Geico customers, and 4.9 billion weekly impressions for AllState customers!
The Geopath team has now compiled reports analyzing the top OOH spenders in each of the top 100 DMAs around the country for all four quarters of 2020, and for the full year. Sourced from Kantar, these reports are available to all Geopath members via our geekOUT Library, and can be accessed by logging in with your current Geopath credentials.
---