2021 Annual Forecast Update

January 28th, 2021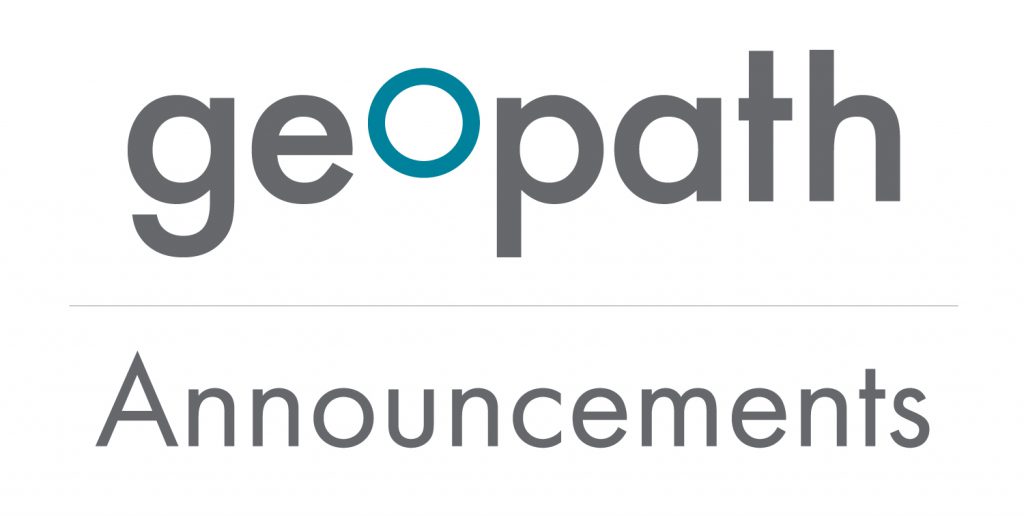 Due to significant changes in travel patterns resulting from the pandemic, the 2021 release of the annual update to audience delivery metrics is happening in stages. This year is unique in that this is the first year in Geopath's history where the travel behavior and travel volume of the US population has been dramatically different than any year prior.
Fortunately, due to enhancements put into place throughout 2020, Geopath is able to precisely and accurately measure these changing behavioral travel patterns by market throughout the entire United States.
A partial release of data for roadside inventory (including street furniture) was published into the Geopath API on Monday, January 11th, 2021 with core audience measures only (persons 0+, 5+, 18+, and 21+). The forecasted audience delivery metrics reflect the unique changes observed within each market and the expected recovery throughout 2021 as vaccines are distributed and people return to their normal lives.
These 2021 forecasted metrics include, target impressions, in-market target impressions, and TRPs. Note, reach and frequency metrics are not available for 2021 at this time and will be updated at a later date.
We expect that the initial rollout of the 2021 Annual Forecast will be completed by March 8th, 2021. In order to give our members time to implement these metrics into any of their proprietary systems, the 2021 release will become the official currency of the industry on March 22nd, 2021. On that date, the 2021 metrics should be used by all members for planning and transactional purposes.
Prior to March 22nd, 2021, members may still use the 2020 release for buying and selling purposes, recognizing that these metrics have not been adjusted to reflect the impact of the COVID-19 pandemic. As always, Geopath members should clearly disclose which data vintage is being used when sharing Geopath Audience Data with other members or clients.
Throughout the rollout, functionality will also be added to the Insights Suite to access the newest data. In the meantime, members can also reach out to us on geekOUT@geopath.org for an export of 2021 core audience impression data.

Rollout of 2021 Annual Forecast
As full functionality is added to the 2021 release, we want to make sure our members are aware of the expected schedule.

2021 Core Audience Measures (without reach and frequency)
As of January 11th, core audiences (persons 0+, 5+, 18+, and 21+) are available for roadside media (including street furniture).
On February 8th, core audiences (persons 0+, 5+, 18+, and 21+) will be available for place-based media (excluding transit station media).
The 2021 transit forecast (scheduled fleet and station media) will be released pending committee review.

Reach/Frequency
Geopath is updating its methods of calculating reach and frequency to reflect significant changes in travel patterns resulting from the pandemic.
Updated 2021 demographic audiences (previously available combinations of age, gender, ethnicity, household income) with unit level reach and frequency will be available in the API, and the Insights Suite Explore Module on March 8th.
Package level reach and frequency will also be available in the API, and Workspace Module on March 8th.

Impression Variation Dashboard 2.0
The Impression Variation Dashboard 2.0 will be available in the Insights Suite Report Module on March 8th. As noted previously, the impression variation for 2021, will differ from the 2020 version. For 2021, the Impression Variation Dashboard will analyze a week of observed activity versus the expected monthly average. This provides a more precise view of forecasted versus observed delivery because the variation is relative to the expected seasonality of the audience delivery of OOH media types in a market.
The new Impression Variation Dashboard will also allow Geopath and our members to monitor how well the 2021 forecast is reflecting the reality of what we are observing. If we see significant variation throughout the first half of the year, Geopath will review and update the forecast midyear.
Impression variation reports for additional media classifications (place-based and scheduled fleet) will be released as those media are added to the published database.

Additional Audiences
The remaining 2021 audience data (beyond core audiences) will be added incrementally throughout the first quarter to both the API and the Insights Suite.
Additional Resources
We hope this helps to answer any questions. We have also developed an overview document that includes more information on the development of the forecast as well as answers to some frequently asked questions. This document is available in our geekOUT Library, but can also be downloaded here for your convenience.
If you didn't get a chance to see our recent webinar on the 2021 Annual Forecast, or would like to watch it again, please click here.
We will continue to update our members if the schedule evolves. In the meantime, please feel free to reach out to us on geekOUT@geopath.org with any additional questions.
---