Geopath 2020 Year in Review

A message from Geopath President, Kym Frank

A Message from Kym Frank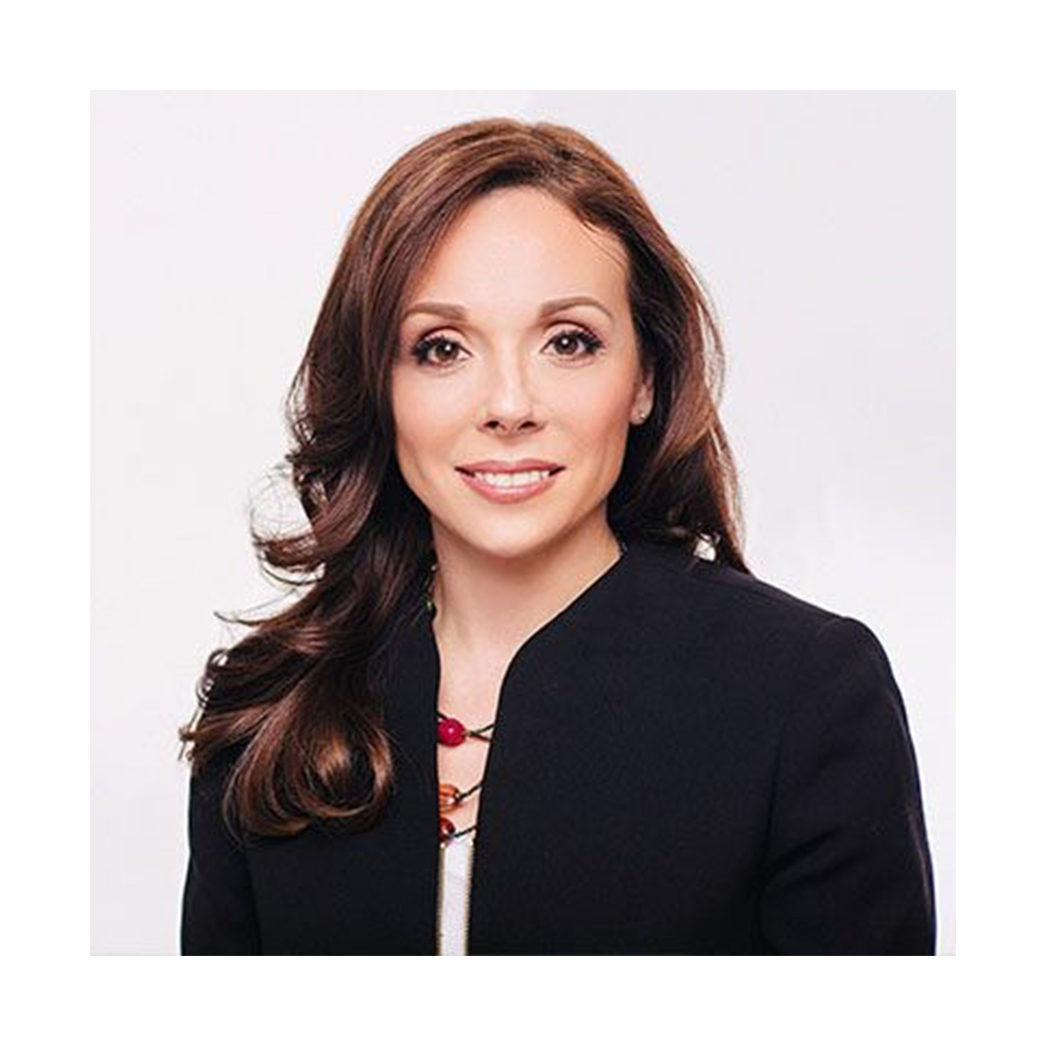 As we closed out 2019, eager to jump into 2020, no one could have predicted how COVID-19 would take hold and completely transform not only the advertising industry, but our everyday lives.
Personally, I was very much looking forward to 2020 – OOH's growth as a channel continued to skyrocket, Geopath's revamped Insights Suite and place-based measurement capabilities were taking off, and we were all ready to come together in April for the annual OAAA/Geopath OOH Media Conference.
Instead, we were faced with unprecedented challenges, had to rethink our strategies and met virtually instead of in person. Despite these challenges I have never been prouder to see an industry come together to support each other.
Beyond that, OOH became a conduit of important, emergency information for our healthcare heroes and other essential workers that were still out and about. While traffic was not as robust as normal, OOH was still a powerful advertising tool to reach those essential workers, and even served as a valuable way of offering thanks during an incredibly stressful time.
To truly evaluate the impact of the pandemic on OOH and other advertising channels, Geopath released near real-time mobility insights with our platform partner, Intermx, to evaluate traffic patterns and impression variations.
Even though most of us were staying home due to shelter-in-place orders, it still feels like we accomplished so much this year. Geopath membership increased 26% surpassing 400 member organizations, we welcomed wonderful individuals to our board of directors and worked on meaningful initiatives with our partners. Not to mention, so much has happened over the past FIVE years here at Geopath.
We're all moving so fast that we don't often take time to reflect on all the milestones and achievements. As such, we wanted to pause for a moment, to take a look at this year, and even back over the past five years, and to celebrate all that we have accomplished together to help Geopath and the entire OOH industry move forward. For more on the last five years, check out our Five-Year Retrospective overview and video we created. 
COVID-19 Response
Historically, Geopath impressions were used as a forecasting metric in order to predict the audience delivery of an out-of-home (OOH) campaign. They were not intended to provide insights into a campaign's performance mid-campaign, nor did they signal the final goal and subsequent end of an OOH campaign, as often occurs in other media.
When the COVID-19 pandemic began to impact traffic patterns, Geopath, our partners at Intermx, and our Insights Committee pivoted our work to focus on real-time travel data and the curation of real-time impression adjustments.
Unprecedented times required unprecedented solutions, and Geopath responded with two new data products developed over the course of just two months!
Travel Activity Dashboard
The data in this dashboard illustrate Daily Miles Traveled by CBSA for 2020. The benchmark for comparison is the Average Daily Miles Traveled for all of 2019.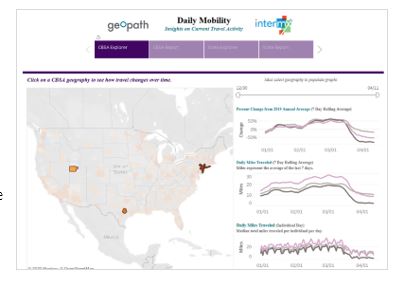 To do this, Geopath leverages mobile location data from multiple background SDK providers to determine the average distance traveled by a representative panel within each market. Mobile location data is analyzed across multiple days of the week and hours of the day to accurately calculate distance traveled as the population moves throughout the market. Distance traveled is reported as the median miles traveled every day, the rolling average of the median distance over 7 days, and the rolling average over 7 days as a percentage difference compared to the cumulative 2019 average daily distance traveled.
In order to help the entire OOH industry, this dashboard was made available for free, regardless of Geopath membership status. View the dashboard here: https://travel.geopath.io/
Impression Variation Metrics
Geopath's objective is to provide accurate and standard audience measurement for OOH advertising. Traditionally, this has been done through forecasting based on historical trends, which while highly reliable, does not account for the drastic shifts such as those resulting from the COVID-19 crisis. Geopath released impression variation reports to allow operators, agencies and advertisers to see and understand the directional impact of changes due to COVID-19.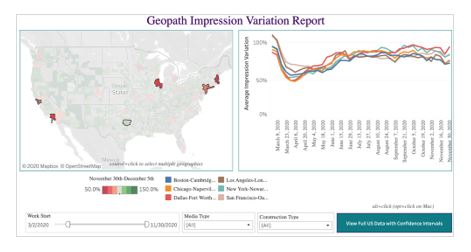 Geopath uses a curated panel of mobile devices to create a representative sample using near real-time device level activity data observed each week from mobile location services to provide average impression variation reports and confidence intervals by market and product.
The release of the Impression Variation Dashboard signified a significant achievement, as Geopath had not previously provided near real-time metrics. Curating responsible, accurate, committee-vetted metrics of this scale required a significant investment of time and resources. Thank you to all who helped!
For frequently asked questions, visit: https://geopath.org/wp-content/uploads/2020/05/Geopath_Impression_Variation_Report_FAQs.pdf
Geopath Insights Tools & Resources Updates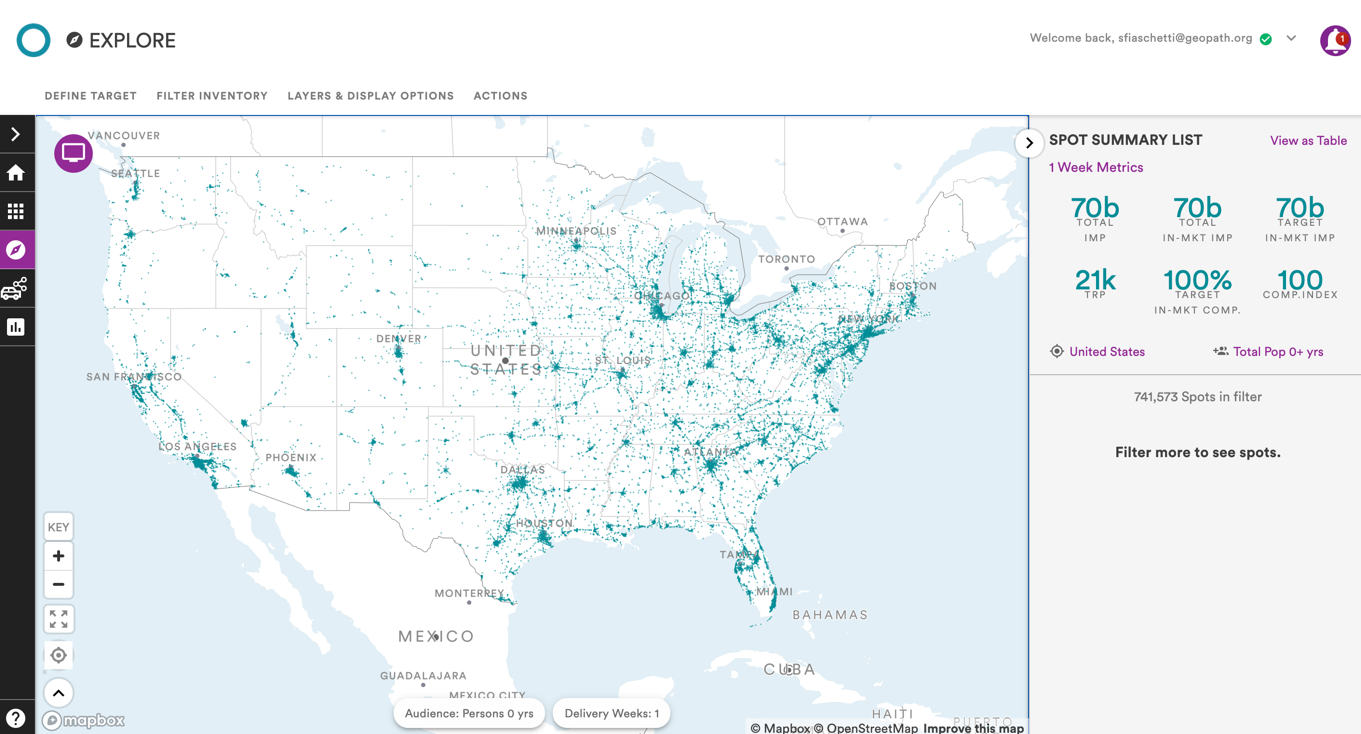 Place-Based Measurement
In September, the measured inventory available in the Geopath Insights Suite increased by 50% since the integration of place-based screens into the platform in April of last year.
With more than 50 place-based members to date accounting for hundreds of thousands of OOH advertising spots, Geopath's place-base measurement provides impressions, reach and frequency, across thousands of audience segments for place-based advertising, including signage in gyms, bars, amusement parks, stadiums, malls, airports, retail environments, cinemas, grocery stores and many other venues.
As the most comprehensive source of place-based measurement, Geopath allows buyers and sellers to have a more holistic view of the total OOH advertising ecosystem. With its partner, data enablement and processing company, Intermx, Geopath will add over 160,000 more place-based spots in the coming months.
Inventory Explorer
In January, we relaunched our enhanced Inventory Explorer platform. Originally launched in 2017, the Inventory Explorer updates reflect the improvements made in Geopath's Insights Suite over the past 12 months.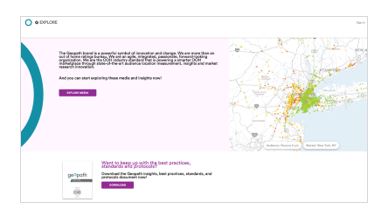 The revamped Inventory Explorer tool enables users to map and explore the locations of all of Geopath audited roadside and place-based inventory within any DMA, CBSA, County or ZIP Code across the U.S., with transit inventory coming soon.
Within the Inventory Explorer, users have the ability to:
Identify and explore OOH inventory in custom market areas
Filter inventory by operator and specific media type across the country
See an inventory's facing though Geopath's new directional iconography
Create and export custom maps with selected inventory and add points of interest
The Inventory Explorer tool is available to both Geopath members and non-members, and is accessible by visiting: https://explore.geopath.io/user/public
Learning Lab 
Geopath has issued more than 2,900 certificates through its online Learning Lab to date!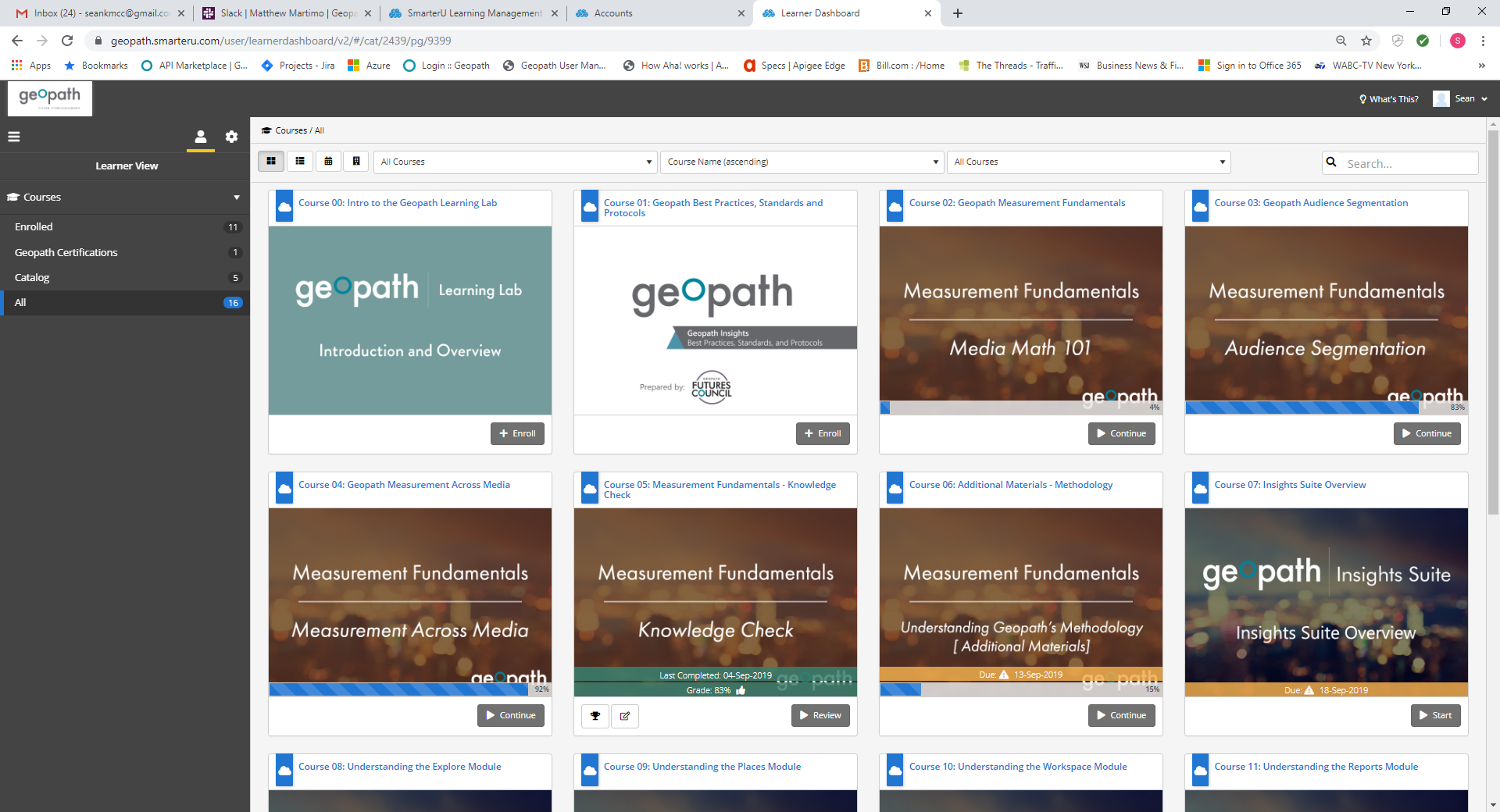 Introduced in September 2019 to support the launch of Geopath's new Insight tool, the Learning Lab is an online platform designed to be a comprehensive training guide beneficial to all members – both new or established in the OOH industry.
The Learning Lab curriculum covers three key areas:
Measurement Fundamentals – increases knowledge of Geopath Audience Measurement and provides a better understanding of the basic building blocks of media measurement, audience segmentation and measurement across different channels
Geopath Insights Suite – allows users to learn the layout and functions of the Insights Suite, and become more comfortable with each of the modules
Applying Geopath Insights – walks users through real-life, member-driven use cases to show practical uses of Geopath's Insights data
The complete Learning Lab curriculum, vetted by Geopath's Futures Council, takes about four hours to complete, though members can choose to take one or all tracks. An overview video explaining the training module in depth can be found on YouTube.
Membership Growth
Excitingly, Geopath welcomed 88 new members in 2020 pushing us past 400 member organizations! Now representing over 1,000 individual member companies, Geopath membership increased more than 26% from 2019.
A warm welcome to all our newest members!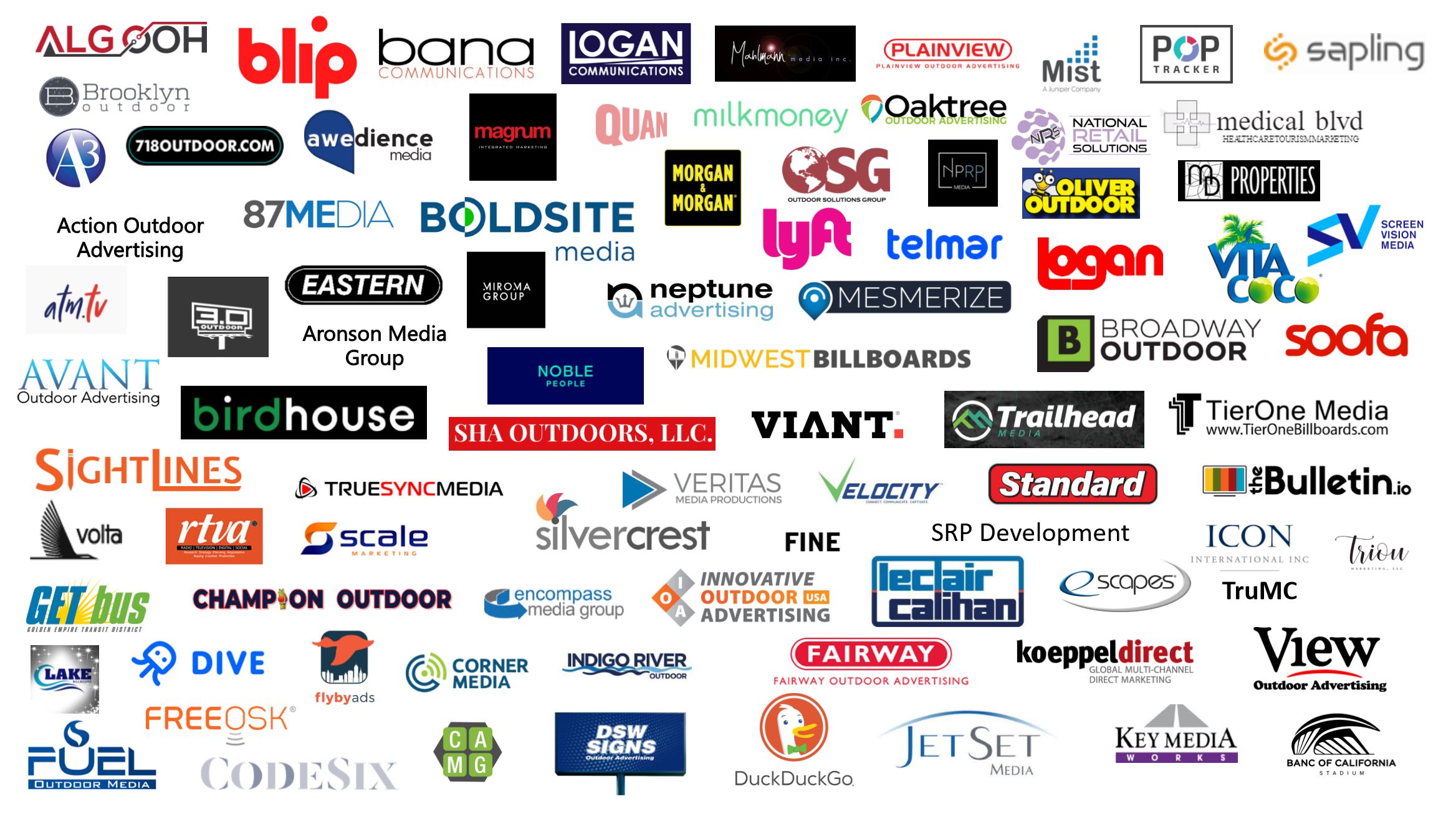 Check out our recent Member Spotlights to learn more about some of our members. If you are interested in participating in our Spotlight Q&A's please reach out to us at geekOUT@geopath.org. 
Board of Directors Update
Geopath elected two Executive Committee members and welcomed three new members to the Board of Directors during its Fall Executive Committee Meeting on October 5, 2020.
Newly elected to Geopath's Board of Directors Executive Committee were Joel Braswell, Sr. Manager, Connections Planning & Investment at The Coca-Cola Company, and Ryan Laul, President, OMNet at Omnicom Media Group.
Chris Olsen, President at Rapport U.S., and Christopher Grosso, COO at Intersection, were elected to the Geopath Board of Directors, and Jane Clarke, CEO and Managing Director at the Coalition for Innovative Media Measurement (CIMM), joined the Board as a representative from the Advertising Research Foundation (ARF), of which CIMM is an affiliate.

 "With a wide variety of data and measurement available for advertisers, OOH is a major player in the industry, so I am very excited to join the Geopath board and learn more about the data inputs and how a Joint Industry Committee operates. I also look forward to seeing how the OOH and cross-platform measurement ecosystems can gain insights from one another in order to make buying, selling and measuring advertising across all platforms a more seamless process for all." – Jane Clarke
Going Virtual
In true 2020 fashion, Geopath had to pivot in many ways – one of which was by going virtual.

In March, it became clear that due to the COVID-19 pandemic, Geopath would be unable to hold GO2020, the Geopath/OAAA OOH Media Conference and Expo, in April 2020 as planned. But given how close it was to the event, many of the speakers had already curated compelling content or took the time to submit interesting subject matter for our breakout sessions.
So, Geopath turned lemons into lemonade and released a portal with video content that would have been featured at the event. Consisting of thought leadership sessions, panel discussions, case studies and more, all content is free to everyone for the benefit of the OOH industry.
Sessions include presentations from Dunkin', Publicis, Stella Artois, Zelle, Horizon Media, Vita Coco and more. To date, the content has received more than 2,400 views!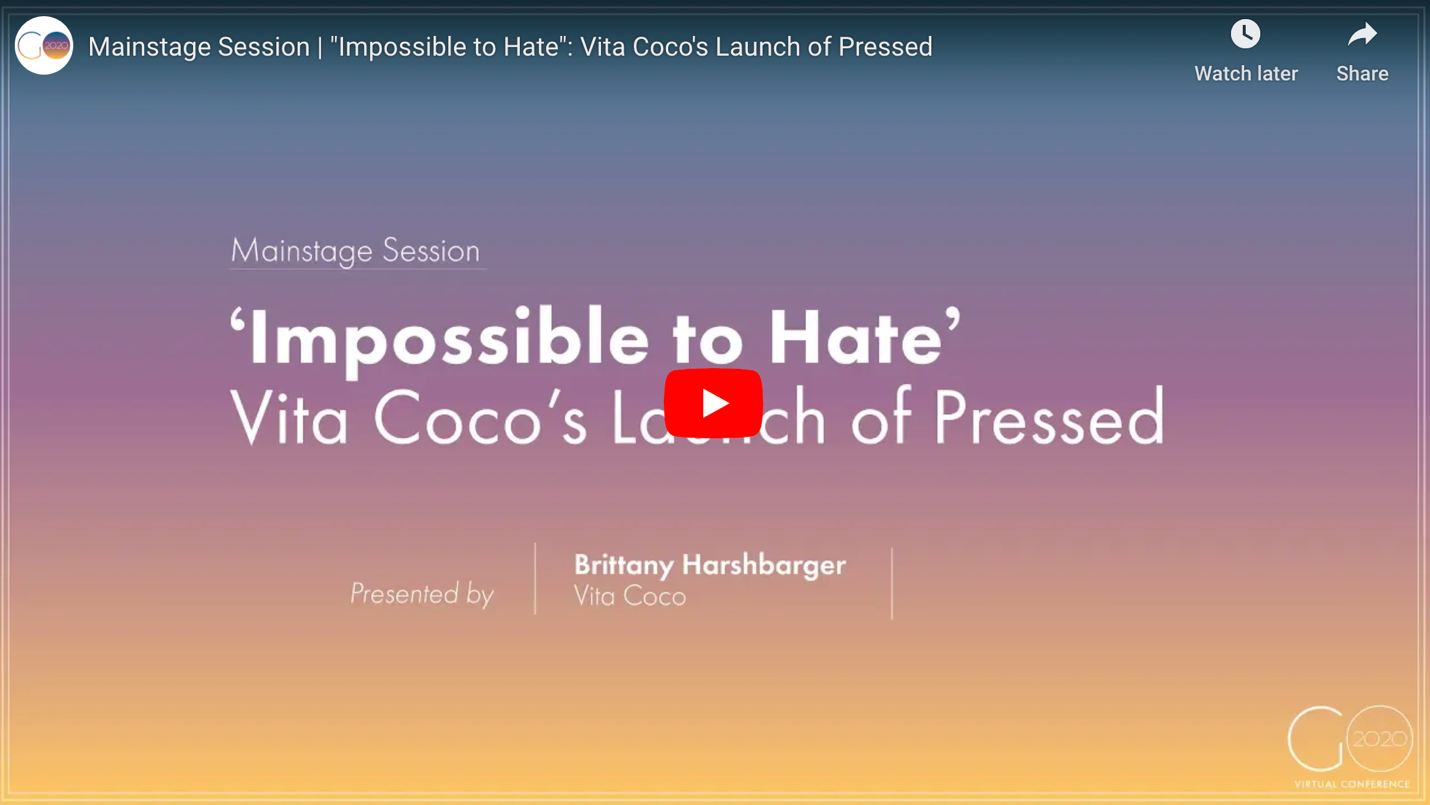 Visit  www.go2020ooh.com to watch all 36 sessions.
Speaking Frankly Webinar Series
In October, Geopath announced a new webinar series; "Speaking Frankly." Hosted by Geopath President, Kym Frank, the series consists of short interviews with thought leaders from across the advertising industry. The goal of these sessions is to foster insightful discussions on relevant topics pertaining to Out of Home, gathering perspectives from advertising, marketing, research, and sales leaders alike.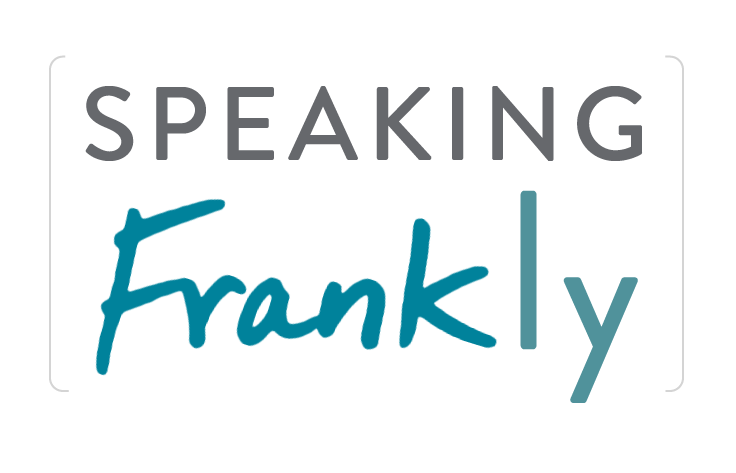 Stay tuned for more great conversations with industry leaders from ARF, ANA, and more in 2021.
Past Speaking Frankly sessions are available on Geopath's YouTube channel and on Soundcloud or by clicking the images below.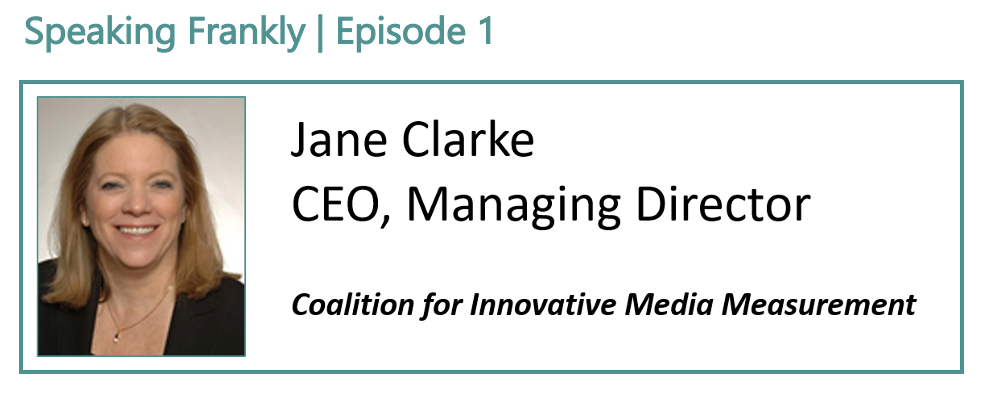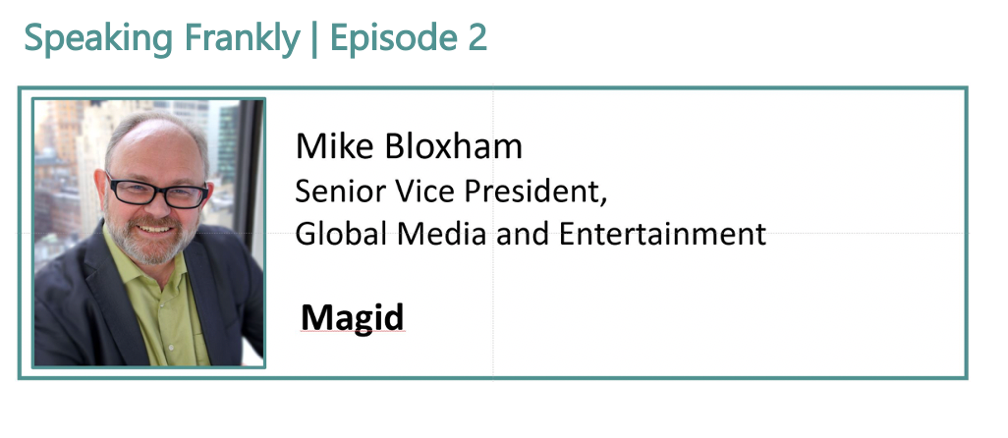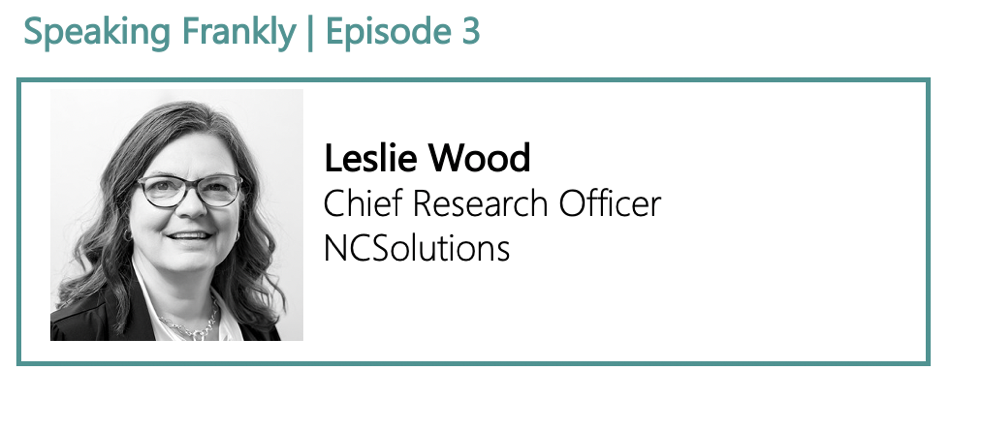 Networking Happy Hours
Geopath, in partnership with OOHToday, also began hosting weekly Virtual OOH Happy Hours & Networking Events. The free-form, social event started as a way to bring the industry together during the early days of the pandemic – and continued to be a success throughout the year – and a lot of fun.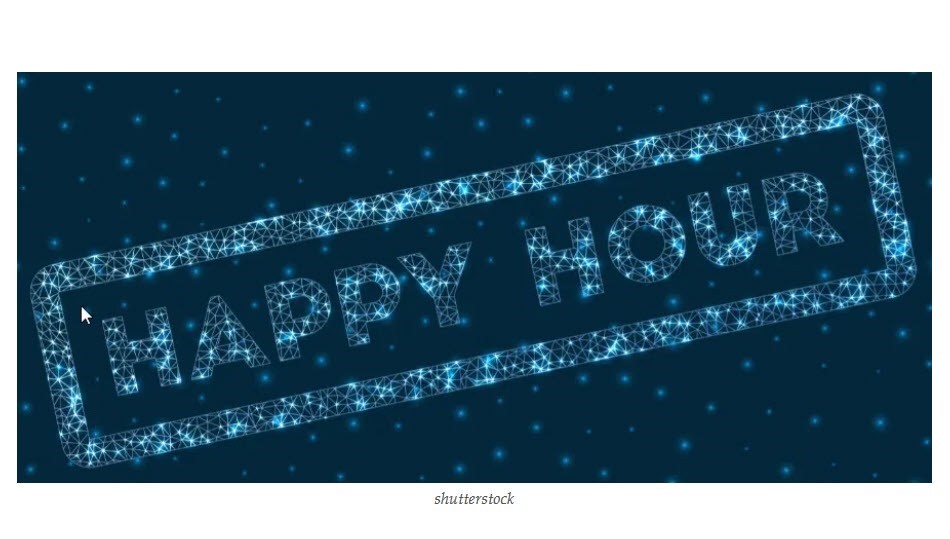 Recognition and Awards
Geopath is proud and honored to have been recognized with three award nominations in 2020!

Kym was selected as a winner in the Industry Leader category!

Geopath was named a finalist and received an honorable mention in the Outstanding Data Solution category for its two new data solutions in response to COVID-19.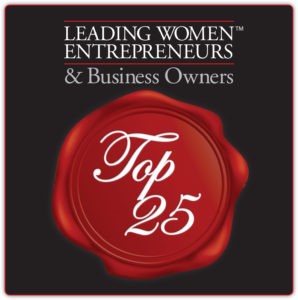 Kym was named to the 2020 Top 25 Leading Women Entrepreneurs, Intrapreneurs and Brand Builders list
Press Mentions
Geopath was featured in a number of articles this year both among OOH Industry outlets as well as the greater advertising industry. All of our press can be found on the Press page of our website. Some select mentions are also provided below.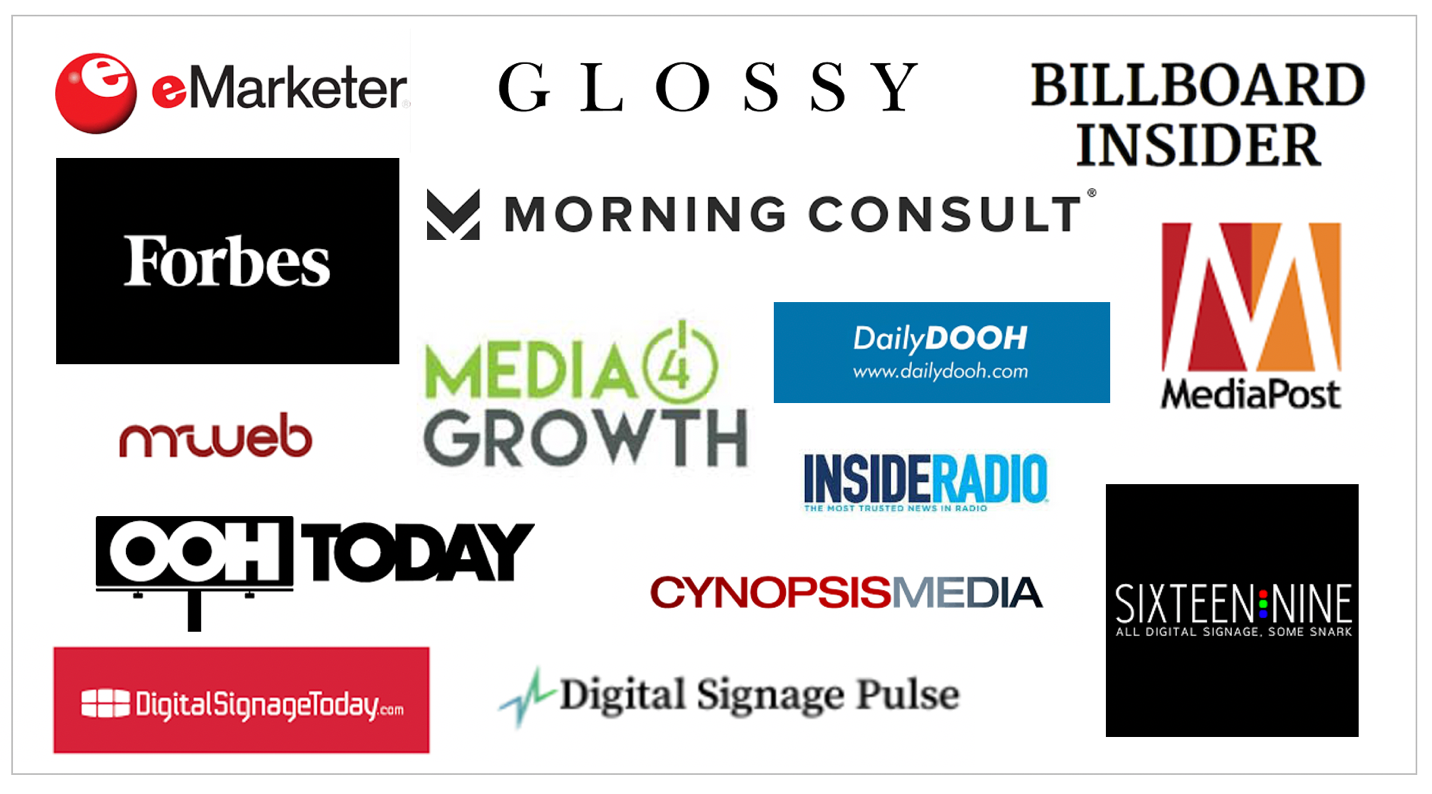 Cynopsis | Geopath Enhances OOH Inventory Tool
MRWeb | HERE Partners to Optimise Ad Placement
Billboard Insider | Geopath Issues 1,500 Learning Lab Certificates
MediaPost | Out-of-Home Media-Planning Data Reveals Americans Beginning To Travel More
Inside Radio | More Cars On The Road? Geopath Shows Daily Miles Are Up 5.7%.
OOH Today | It Is Now 8 Consecutive Weeks Of Travel Growth – A Whopping Increase Of 60%
Morning Consult | With Canceled Plans in the Rearview Mirror, People Are Tweaking Their Itineraries and Hitting the Road for Vacation
eMarketer | US Digital Out-of-Home Ad Spending 2020
Digital Signage Pulse | Industry Leaders from CIMM, The Coca-Cola Company, Intersection, OMNet, and Rapport Join Geopath Board of Directors
Glossy |  Glossier adds to rebounding OOH channel with new body-care campaign
Digital Signage Today | Clear Channel Outdoor Holdings, Inc. Reports Results For 2020 Third Quarter
Media4Growth | 'Apples-to-apples approach to measurement absolutely necessary'
Sixteen:Nine | Kym Frank On How Geopath Powers A Smarter Digital OOH Marketplace
Forbes | From The Experts: Media And Advertising In 2021
DailyDOOH | Simon Media & Experiences Partnership w/ @GeopathOOH
Save the Date!
The 2021 OAAA/Geopath Out of Home Media Conference will take place virtually from April 13-15!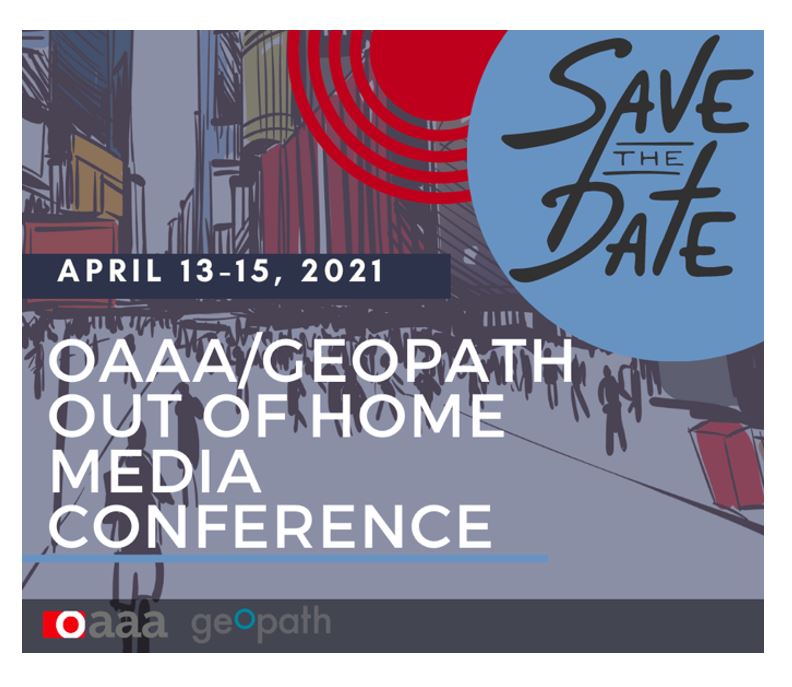 This not-to-be missed conference will bring together senior brand and agency executives to the stage, along with industry leaders, to discuss the monumental shifts in the marketplace and the opportunities for OOH. The event will kick off with the annual OBIE Awards ceremony, which celebrates the best of the best in OOH creative excellence, followed by premium programming over the next two days.
Sponsorship opportunities are available now by contacting OAAA's Marci Werlinich at mwerlinich@oaaa.org. Event registration will open in early 2021.
---