Sitting Down with Out of Home

GeekOUT Friday Fast Fact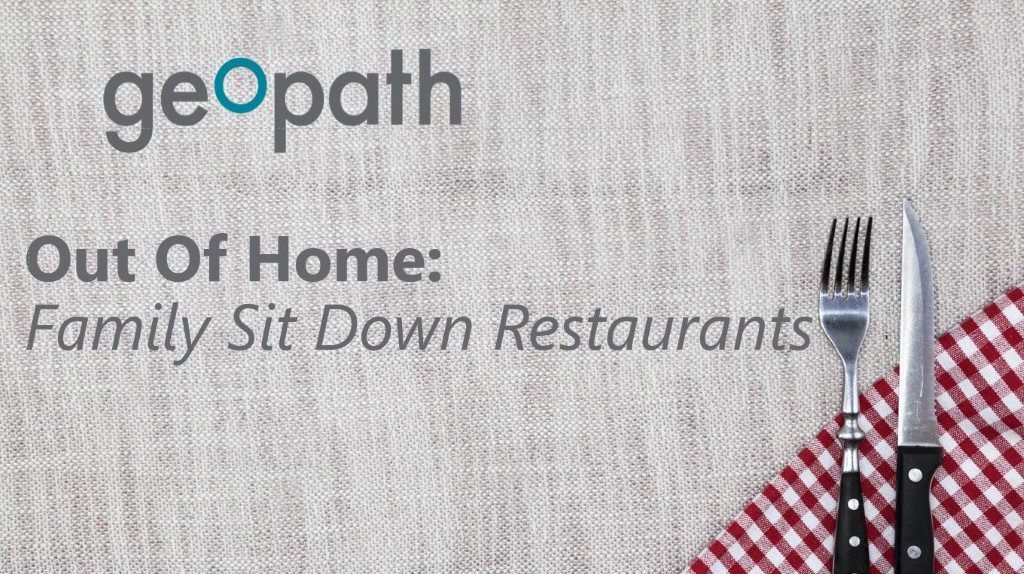 Family dinners are a staple of many of our lives, and if you have younger children, it can sometimes be a difficult process. Planning ahead on what to make, finding the time to start cooking, and then corralling the whole family — which can be an event of itself. Even if you live and eat on your own, the process can be exhausting as well. Sometimes, the temptation to forego the preparation and just eat out can be too tough to ignore.
Family sit down restaurants have always been an affordable, convenient alternative to cooking at home, or stopping by the fast-food joint on the way home (not that there's anything wrong with that!). For today's Friday Fast Fact, let's dive into a recent report that the Geopath team put together on family sit down restaurants, and see how customers of different chains engage with OOH advertisements as well as other media (sourced from the Simmons Spring 2020 NHCS Adult 12-month study).
The family sit down restaurant space is very competitive, with many options for family seeking a meal out. Bringing customers into their restaurant is critical, but what media format reaches their audience most efficiently?
According to Simmons, more than 6 out of 10 customers who have visited a family sit down restaurant report they typically avoid, mute, or change the channel during TV commercials. However, among this same group, 73% report they have noticed an OOH advertisement in the last 30 days!
When it comes to customers of specific chains, the story and data is much the same. Those that may enjoy the breadsticks at Olive Garden can't say the same about TV commercials, with more than half reporting they typically avoid watching TV commercials. However, almost 4 out of 5 report that they have noticed an OOH ad in the last 30 days – 12% more likely to than the total population!
With that said, it's easy to understand why OOH is a great medium for reaching those who are looking to eat out of the home!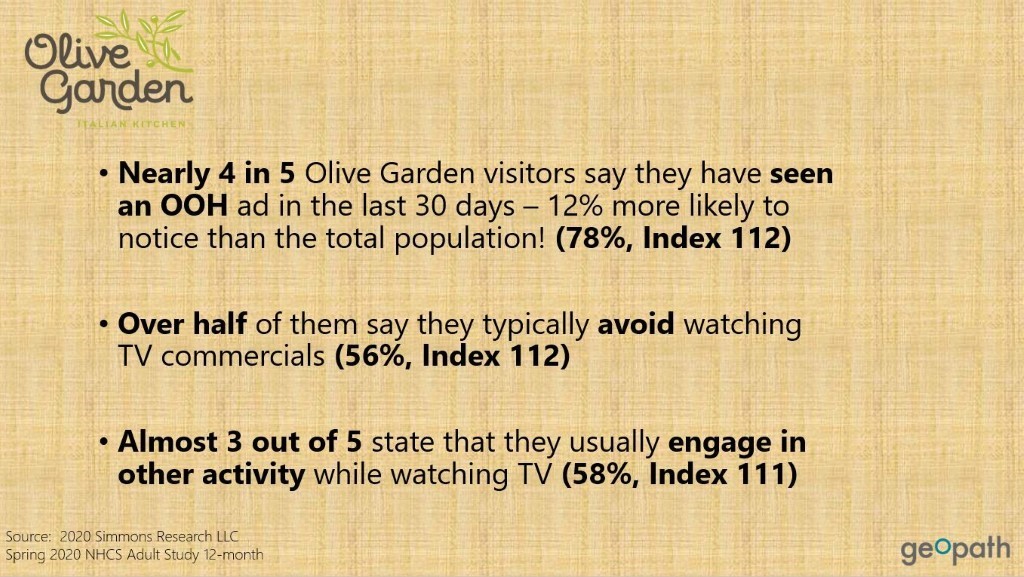 The full report on numerous sit down restaurant customers and their media habits is available to all Geopath members via our geekOUT Library, and can be accessed by logging in with your current Geopath credentials. 
Reaching Sit Down Customers With OOH
While this data helps to showcase how OOH is a great medium to reach family sit-down restaurants across the country, how can you determine the best OOH inventory, markets, or formats to reach these shoppers? Well, Geopath can help. Whether you are an agency, operator, or advertiser, Geopath's database of audited inventory can help you identify the best units for reaching these customers.
For example, according to Geopath Insights, the roadside and place-based inventory we currently measure across the US accounts for 8.9 billion weekly impressions for those that have eaten at an Applebee's in the last 30 days, and 4.8 billion impressions for those that have visited a Red Lobster during this time period!
These two audience segments are just a sample, as there are much more relating to restaurants and dining within the wide selection of consumer profiles within the Geopath Insights Suite. Want to check some audiences out for yourself? Just log in with your current Geopath Credentials and explore tons of different research content!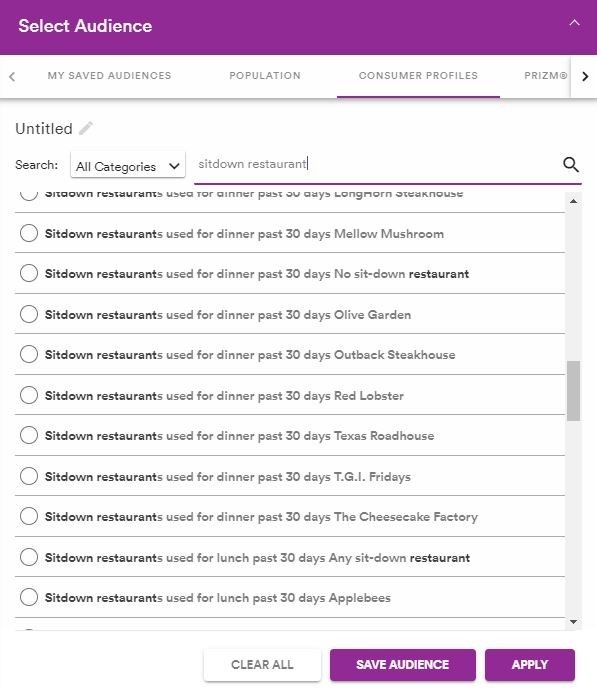 ---