Geopath Issues More Than 1,500 Learning Lab Certificates

The training curriculum serves to educate members on the recently launched Geopath Insights

 New York, NY, February 7th, 2020 – Geopath, the not-for-profit organization that provides the industry-standard currency for out-of-home (OOH) advertising, today announced that it has issued more than 1,500 certificates through its online Learning Lab.
Introduced in September 2019 to support the launch of Geopath's new Insight tool, the Learning Lab is an online platform designed to be a comprehensive training guide beneficial to all members – both new or established in the OOH industry.
The Learning Lab curriculum covers three key areas:
Measurement Fundamentals – increases knowledge of Geopath Audience Measurement and provides a better understanding of the basic building blocks of media measurement, audience segmentation and measurement across different channels
Geopath Insights Suite – allows users to learn the layout and functions of the Insights Suite, and become more comfortable with each of the modules
Applying Geopath Insights – walks users through real-life, member-driven use cases to show practical uses of Geopath's Insights data
"We are so excited by how much the industry has embraced the Learning Lab," said Scott Fiaschetti, SVP, Operations & Strategy at Geopath. "It is a great way for all of our members to better understand both the fundamentals of OOH measurement, and how to use the new Geopath Insights to address their clients' needs."
The complete Learning Lab curriculum, vetted by Geopath's Futures Council, takes about four hours to complete, though members can choose to take one or all tracks. An overview video explaining the training module in depth can be found on YouTube.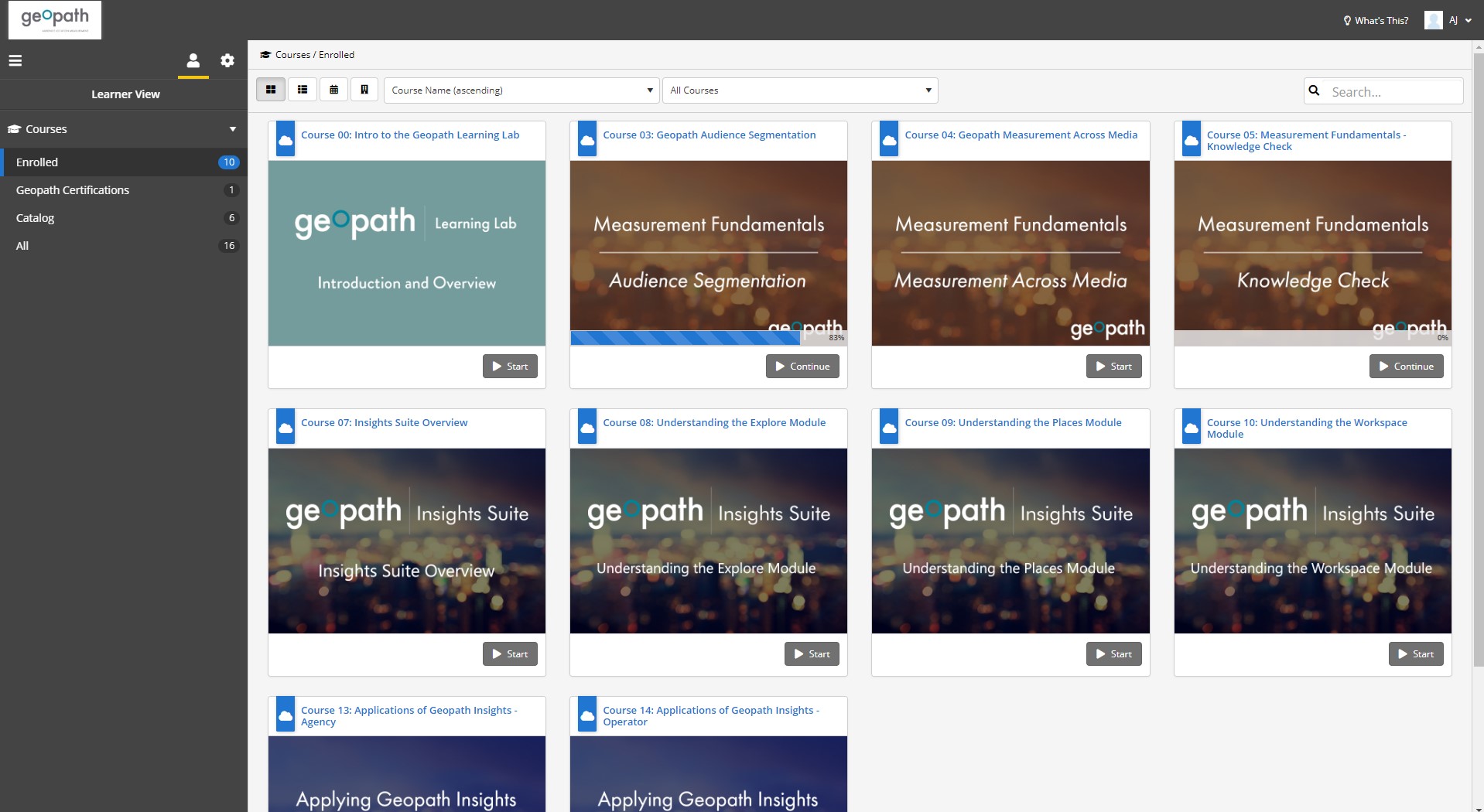 ABOUT GEOPATH
Founded in 1933, Geopath is the industry standard that powers a smarter OOH marketplace through state-of-the-art audience location measurement, deep insights and innovative market research. The organization is headquartered in New York and governed by a tripartite board composed of advertisers, agencies and media companies spanning the entire United States. For more information, please visit http://www.geopath.org.
---