Geopath 2019 Year in Review

A Message from Geopath President, Kym Frank

                                                                               A Message from Kym Frank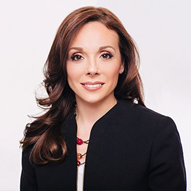 Out-of-home media is increasingly important in the media mix as evidenced by its consistent year-over-year growth, and we at Geopath are thrilled to continue making it one of the best measured channels for advertisers. 2019 was an exciting year, not only for the industry, but for Geopath too.
With the announcement of Geopath Insights as the industry standard currency, we want to take time to reflect on what an incredible year it was and thank you all for being a key component in making this past year a success.
After seeing our membership grow 25% in 2018, we were excited to see this trend continue in 2019, as we welcomed 74 new members. Our new members encompass agencies and operators of all sizes as we look to reach and represent more of the OOH industry.
For members old and new, I was especially excited to create the Futures Council under the leadership of Scott Fiaschetti, Geopath's SVP of Operations and co-chairs, Gina Stratford of YESCO and Matthew Noll of EMC Outdoor. The Futures Council, comprised of some of the smartest, most forward-thinking thought leaders in the industry, is steering the future of the OOH industry as it navigates its way through the increasingly complex advertising ecosystem. Safe to say, our future is bright with this group!
Lastly, through our various initiatives, including the integration of place-based measurement and enhancements to Geopath Insights, we continue to deliver more granular datasets to the industry with the hopes of making it easier to plan, buy, and sell inventory.
We couldn't be more grateful for your continued support and expertise and here's to another great year with all of you in 2020!
An Update on the Geopath Insights Suite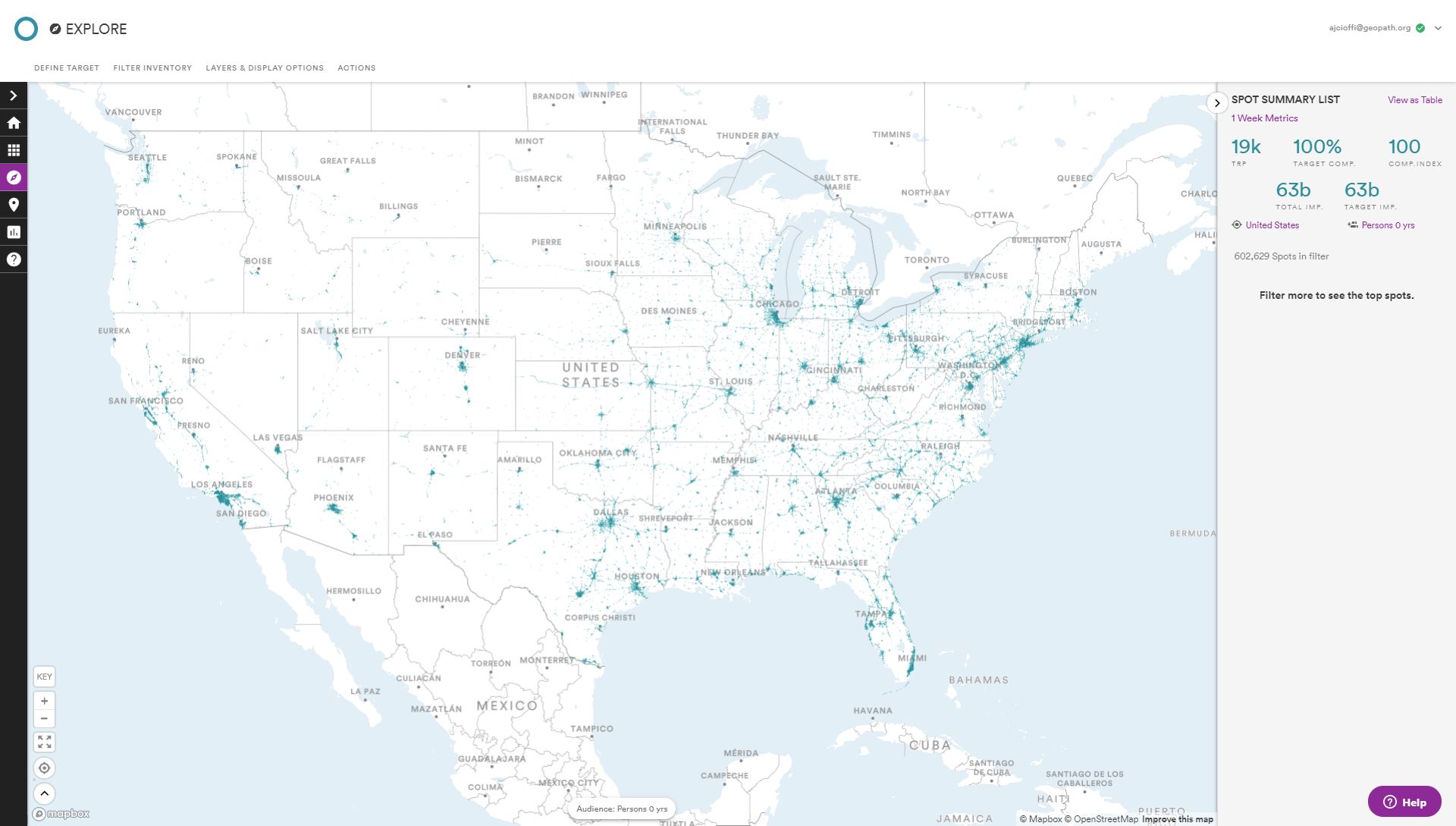 The New Currency
On October 1st, we announced that our Insights platform received approval as the industry currency for OOH measurement. Approved by our Board of Directors during the May board meeting, this defining moment is a reflection of our industry's desire to ensure more effective buying and planning, and to better assess campaign effectiveness.
At a time when OOH is one of the fastest growing segments of advertising, these enhanced data allow buyers and sellers to analyze and target OOH audience on the basis of holistic, transparent, independent metrics. We applaud the OHH industry for listening to the needs of the advertisers and making an investment in the state-of-the-art, accountable metrics needed to power a smarter marketplace.
Rest assured, we are not shutting down our legacy tools until the end of Q1, 2020.
We realize that this is a huge transition for the industry, and as such, we will be leaving our legacy systems (ADS and OOH Plan) up to ensure that those members who are accessing our data through their own proprietary platforms are able to properly ingest our data via their APIs. It will also give advertisers, planners, and buyers enough time to become comfortable with new insights and audiences available.
While the legacy system will still be accessible, the metrics are no longer being maintained and as of December, 31st, 2019, should no longer be utilized for transactions.
Place-Based Measurement
We also announced the integration of place-based measurement into our Geopath Insights this year. Our new measurement capability makes it possible for buyers and sellers, for the first time, to have a more comprehensive view of the total OOH advertising ecosystem, and will provide impressions, reach and frequency, across thousands of audience segments for place-based advertising. These include signage in gyms, bars, amusement parks, stadiums, malls, airports, gas stations, retail environments, cinemas, grocery stores and many other venues.
We want to thank our more than 30 place-based media network pilot participants! To date, there are more than 70,000 audited place-based spots available within our tools with new inventory being added every week.
Introducing the Futures Council
Meet the Council
This past Spring, we announced the establishment of our Futures Council. The council, created to help Geopath and the OOH industry prepare for the future in our quickly evolving advertising ecosystem, is comprised of emerging thought leaders from the OOH industry who have been selected by Geopath's Board of Directors.
Liaisons between our Board of Directors and those using Geopath data in their own organizations, Futures Council members act as ambassadors for Geopath by promoting the importance of OOH measurement to the broader industry.
From the start, our council has been hard at work advocating for enhanced measurement and identifying key initiatives to help our organization navigate the changing advertising landscape.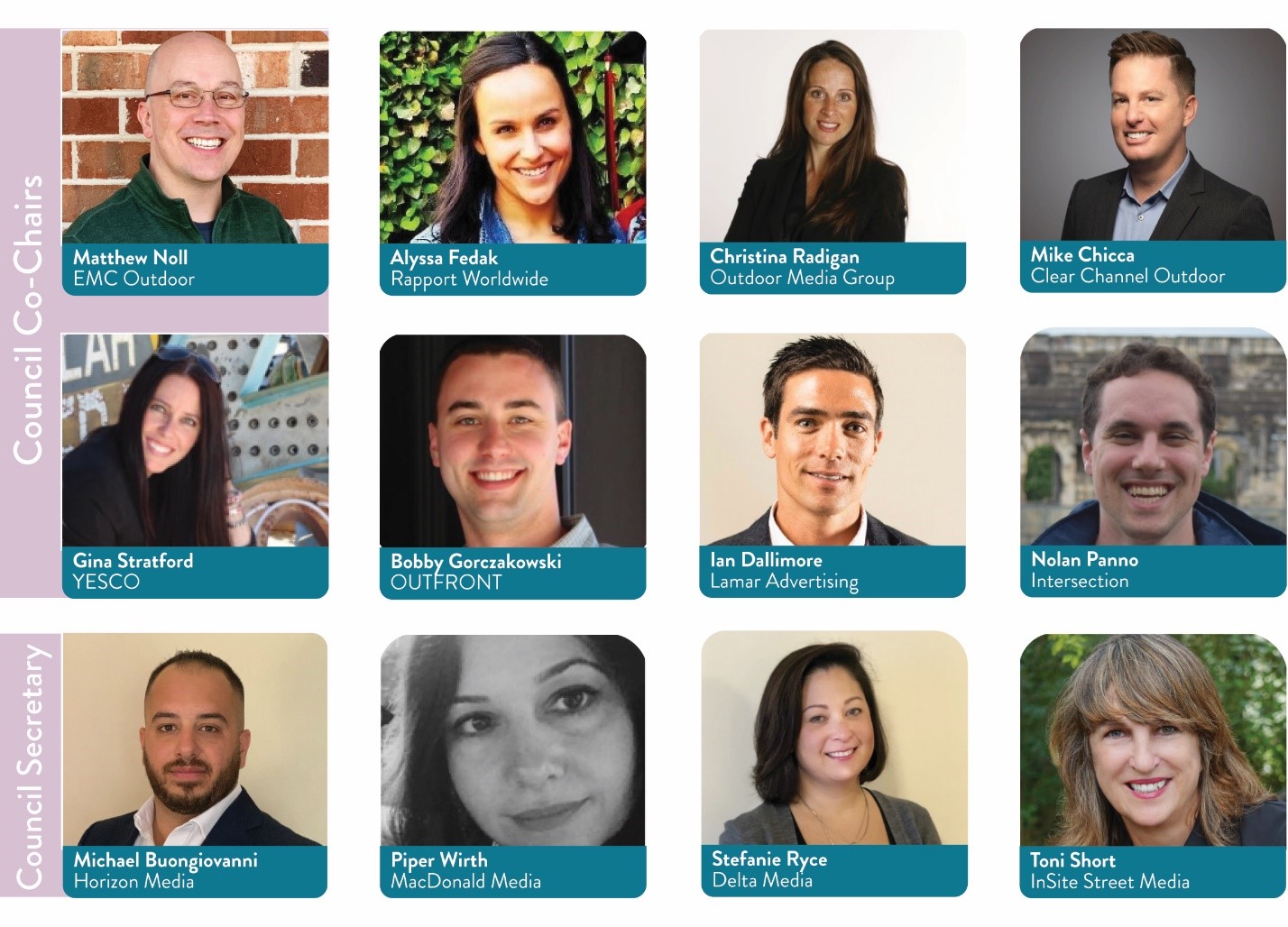 Read more about our Futures Council leadership in our recent Q&A.
Best Practices & Protocols and The Geopath Learning Lab
To assist with implementation of Geopath Insights as the industry's currency and provide an educational resource for our members as we transition to the new Geopath Insights, the Futures Council helped to launch a comprehensive training curriculum, the Geopath Learning Lab, where members can receive training and certification on all of Geopath's offerings.  The set of training materials have been developed internally, with the full curriculum vetted by Geopath's Futures Council. Our ultimate goal was to create a comprehensive, yet flexible and easy-to-use training platform for all of our members.
The curriculum was designed to be beneficial to all members whether they are brand new to the OOH industry, or have been in the industry for years and just want a refresher. It covers three key learning tracts that allow members to learn more about the fundamentals of OOH media measurement, how to use our new tools, as well as how to apply all the new insights available through Geopath.
There have been more than 750 completed certificates issued in less than three months! Click here to access the Geopath Learning Lab.
Additionally, the Futures Council developed a set of Best Practices, Standards, and Protocols for planning, buying, and selling OOH with the new currency.
The goal of this document is to establish broad guidelines across buyers and sellers for how to use the new Insights. It provides a set of agreed-upon standards that can be referenced where the buyers and sellers intersect. This document will serve as a clearly defined roadmap to ensure an efficient exchange of information throughout the buying and selling of OOH media. The guidelines have been viewed and downloaded more than 3,500 times since their launch in September and are available for download here.
Geopath Continues to Grow
Upholding our record growth from last year, we are thrilled to have welcomed 74 new member organizations in 2019, an increase of 25% from 2018. Our new members include organizations of all sizes from the agency, advertiser, OOH, and media industries, helping to bring more insights to markets big and small across the United States. We look forward to working with you and expanding even further in 2020!
Our newest members: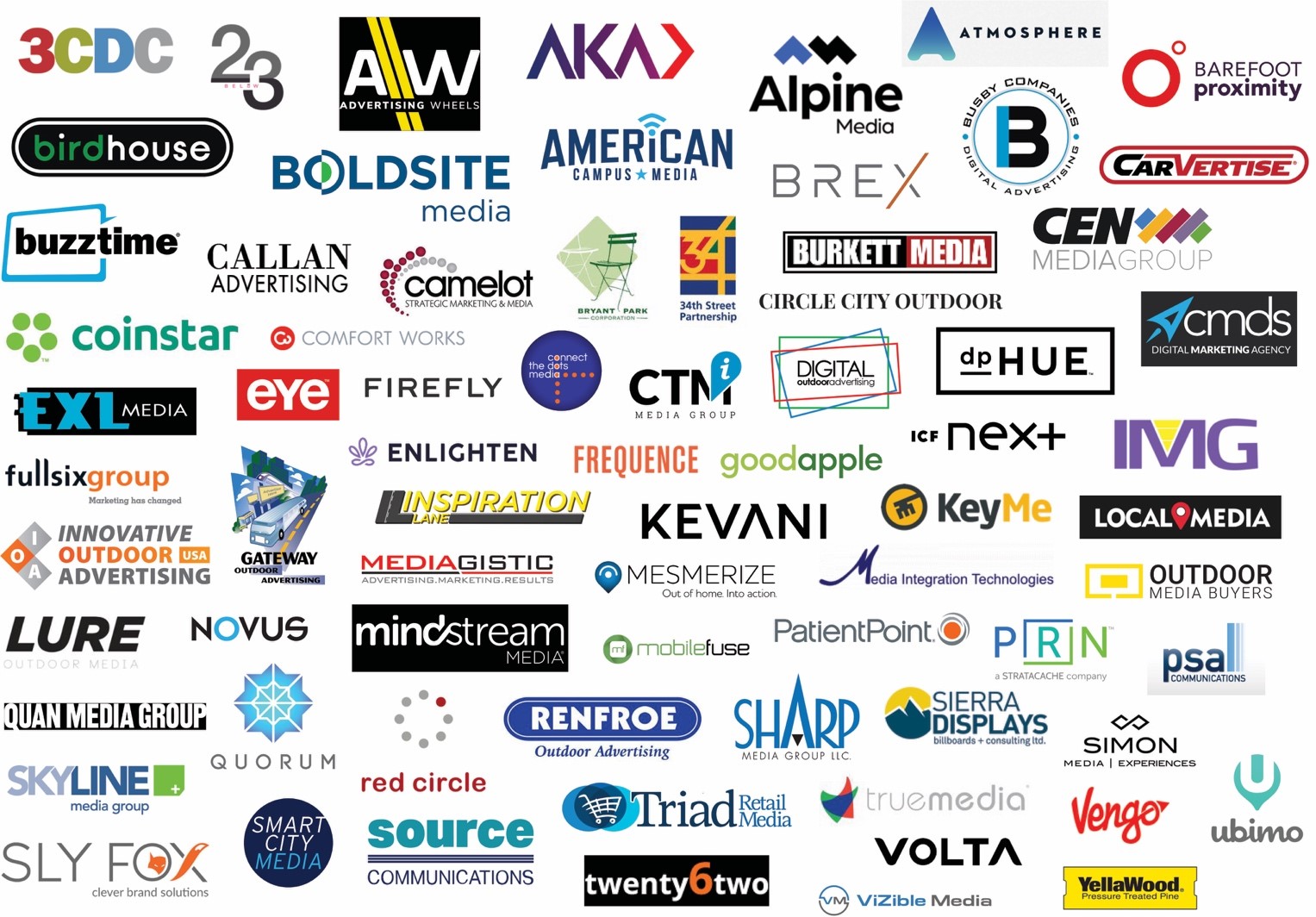 Our Member Spotlights can be found here. If you are interested in participating in our Spotlight Q&A's please reach out to us on geekOUT@geopath.org.
In Case You Missed It…
New Board Members
In June, we welcomed Bernie Shimkus, VP, Director of Research and Consumer Insights of Harmelin Media and Scott Slater, SVP, Agency Integration Director of Haworth Marketing and Media to our Board of Directors.

Street Fight Innovator Awards – Best Analytics Platform Finalist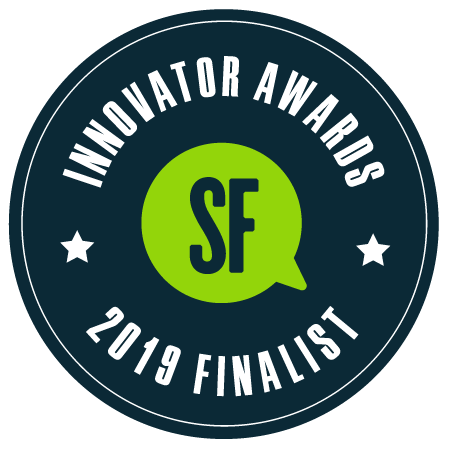 In October, we were selected as a 2019 Street Fight Innovator Awards 'Best Analytics Platform' finalist for its new measurement system, the Geopath Insights Suite.
The Street Fight Innovator Awards acknowledges champions and innovators driving success in local media, advertising and commerce.
Having the capability to bring more granular audience measurement and unified metrics across all formats simplifies OOH planning, buying, and analytics processes, and we are thrilled to be recognized for our innovation.
CIMM membership
We joined the Coalition for Innovative Media Measurement (CIMM) this Fall. CIMM was founded in 2009 by leading television content providers, media agencies and advertisers to promote innovation in audience measurement for television and cross-platform media. We were honored to not only join this organization, but also present to the CIMM members at their membership meeting earlier this year. 
We are very excited to have our CIMM membership and play a role in advancing new methodologies and approaches to audience measurement with the organization and its members. 
Event participation
A few key events we participated in are:
Digital Signage Expo – March

Kym was a keynote speaker at the "Digital Out-of-Home Strategy Summit" held at this year's Digital Signage Expo where she discussed the DOOH measurement ecosystem and the benefits of big data for OOH, including industry best practices.

OOH Media Conference + Expo – May

At this year's event, presented by the OAAA, we held multiple Geopath training sessions, our Board of Directors meeting and both Kym and Dylan spoke discussed the OOH industry and the latest on Geopath's Insights Suite. We look forward to presenting the event in 2020!

Digital Signage Week – October

During DSE this year, we keyed in on privacy, the need for DOOH standards and advances in OOH audience measurement, during a variety of panels and events. Learn more about our participation.

PMD Media & Geopath Present: The Ethical Use of Data in Advertising & Media – October

We co-hosted an evening of networking and a fireside chat with our member, PMD Media, to discuss the responsible use of data in advertising. Our two speakers were Senny Boone of the Association of National Advertisers and Allison Schiff from AdExchanger. Read more about the event.

ANA Multicultural Marketing and Diversity Conference – November

During the conference, the ANA announced this year's Multicultural Excellence Awards, of which Scott was a judge and presented the awards for the Experiential Marketing category. Congratulations to the winners!
Looking to 2020
We can't wait to see what this next year brings for both Geopath and the OOH industry. We will continue to find new ways to move the industry forward and to assist our members in providing the insights they need to thrive. As the competition for consumer attention becomes more fragmented, our role is more important than ever.

Additionally, please consider joining us for the 2020 Out of Home Media Conference & Expo in Phoenix, Arizona taking place in April.
Organized in partnership with the Outdoor Advertising Association of America (OAAA), GO2020 is the premier conference for the OOH industry, bringing together industry leaders to share insights and trends and to discuss challenges and opportunities.
The three-day event will include keynote presentations, multiple workshop sessions covering a breadth of topics and themes relevant to the OOH industry, networking events, and the presentation of the 2020 OBIE Awards. For more information about our agenda and speakers, visit the event site.
We cannot wait to welcome attendees from the OOH industry as well as the rest of the advertising ecosystem and hope to see you there. Click here to register today!
---