Geopath and OAAA Seeking Speakers and Presenters for 2020 Out of Home Media Conference and Expo

Deadline to submit content proposals for breakout sessions is Wednesday, January 15, 2020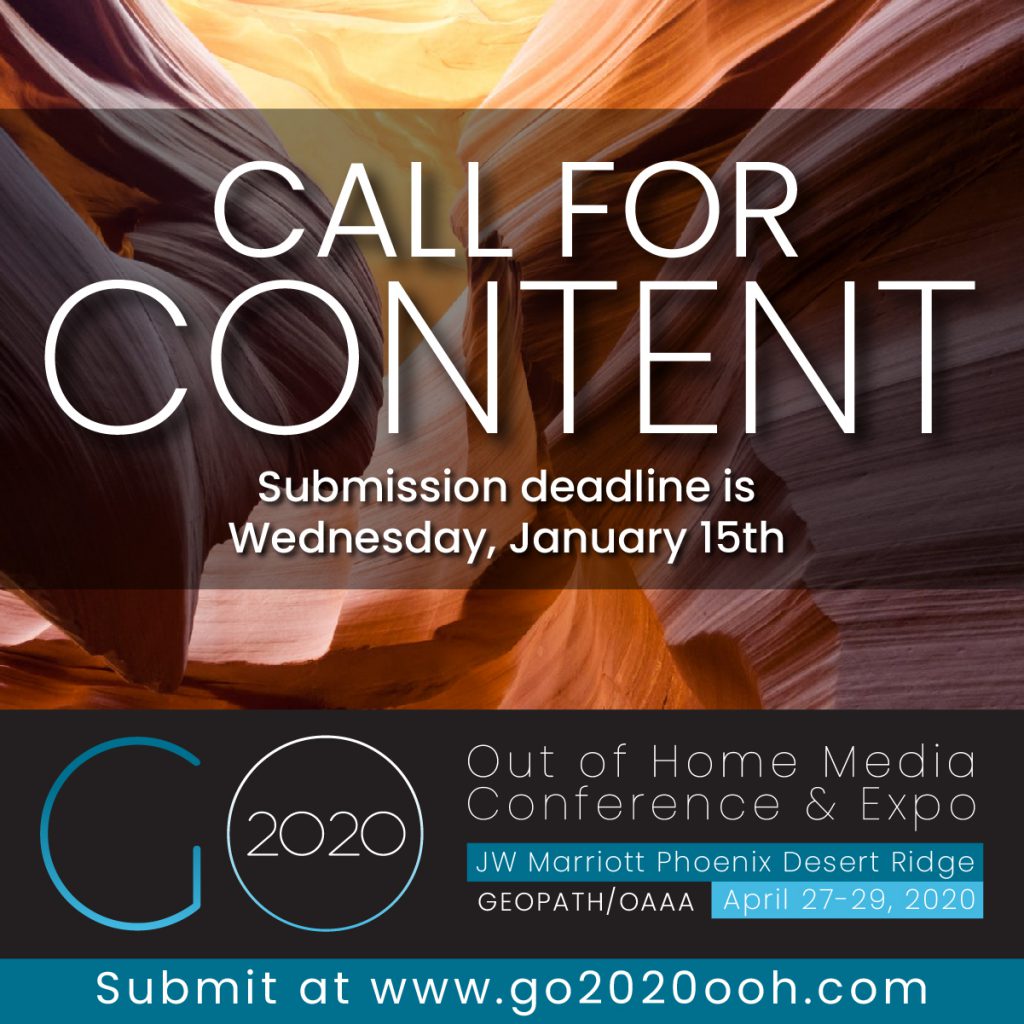 Geopath has officially opened the "call for speakers" for breakout sessions at the 2020 OOH Media Conference and Expo! The conference will be taking place April 27-29, 2020 at the JW Marriott Phoenix Desert Ridge in Phoenix, Arizona.
Geopath is currently inviting speakers from a variety of fields, including but not limited to OOH, who would like to submit content proposals for breakout sessions via the GO2020 website. Presentations will be between 15-30 minutes in length and will take place April 28-29.
This year, Geopath is seeking unique presentation formats from experts in a variety of fields from creative to planning to operations – and every step in between. Presenters are encouraged to channel their inner "presenter persona," such as a collaborator who fosters group thinking, an artist who encourages visual learning, a teacher who is able to break down bigger concepts, or a host, who is able to gamify the experience by engaging with and involving the audience.
Organized in partnership with the Outdoor Advertising Association of America (OAAA), GO2020 is the premier conference for the OOH industry, bringing together industry leaders to share insights and trends and to discuss challenges and opportunities.
The three-day event will include keynote presentations, multiple workshop sessions covering a breadth of topics and themes relevant to the OOH industry, networking events, and the presentation of the 2020 OBIE Awards.
"We can't wait to welcome attendees from the OOH industry as well as the rest of the advertising ecosystem to Phoenix in April." says Kym Frank, President of Geopath. "For this year's conference, we encourage visionaries and leaders from any industry to submit proposals and share content ideas that are engaging and promote out of the box thinking to reflect the rapidly changing OOH industry."
Interested speakers should submit a synopsis and their credentials for review and consideration by Wednesday, January 15, 2020. Registration and sponsorship opportunities to follow.
ABOUT GEOPATH
Founded in 1933, Geopath is the industry standard that powers a smarter OOH marketplace through state-of-the-art audience location measurement, deep insights and innovative market research. The organization is headquartered in New York and governed by a tripartite board composed of advertisers, agencies and media companies spanning the entire United States. For more information, please visit http://www.geopath.org.
---