GEOPATH BEST PRACTICES, STANDARDS, AND PROTOCOLS PRIMER.

A touchstone for the future of planning, buying, and selling OOH with the new Geopath Insights.

As the OOH industry prepares for the launch of the new Geopath Insights, business as usual will no longer be business as usual. To ensure a smooth transition, Geopath worked collaboratively with its Futures Council to develop a set of Best Practices, Standards, and Protocols to serve as guidelines for planning, buying, and selling OOH as the industry begins to adopt Geopath's new insights and measurement.
The goal of this document is to establish broad-level guidelines across buyers and sellers for how to use the new Insights. It provides a set of agreed-upon standards that can be referenced where the buyers and sellers intersect. This document will serve as a clearly defined roadmap to ensure an efficient exchange of information throughout the buying and selling of OOH media.
Please consider this to be a "living" document that will evolve over time. This first version reflects the state of Geopath Insights on October 1st, 2019. As the capabilities of Geopath Insights evolve over the coming months, this document will be updated periodically to reflect the impact of these changes on the buying and selling process.
Thank you, and we hope you find this document useful!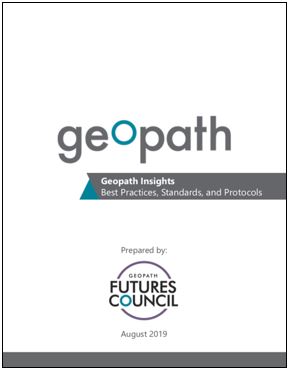 You can also download individual sections:
Section 1: The Evolution of Geopath Insights
Section 3: Responding to the RFP
Section 4: Plan Execution & Post-Campaign Analysis
Section 5: Frequently Asked Questions (FAQs)
For more information about the Best Practices, Standards and Protocols document and the Geopath Futures Council contact geekout@geopath.org or Scott Fiaschetti, SVP of Operations at Geopath (sfiaschetti@geopath.org).
About the Geopath Futures Council
The Futures Council was formed as an advisory group made up of experienced thought leaders from across the OOH industry to help Geopath prepare for the future, and successfully navigate the ever-evolving advertising landscape. The Council's ultimate mission is to advance the understanding, adoption, and use of Geopath's measurement data through education and advocacy across advertisers, agencies, and suppliers. By facilitating collaboration across the OOH industry, the council aims to provide leadership on how to leverage Geopath Insights to power smarter, more strategic OOH media plans.
---