Member Spotlight: FerryAds

A Conversation with Teresa Rampulla

Tell us a little bit about FerryAds
FerryAds is a full-service advertising company based in the New York Metro area that my husband, David, and I founded in 1987. We help businesses connect with commuters on the Staten Island Ferry through high-impact OOH advertising on the ferry boats, in the terminals, and in connected bus tubes and ramps.
How did you get into the out-of-home business? 
Prior to starting FerryAds, David and I both worked in advertising.  David's agency focused on OOH for clients in the healthcare and finance industries, while I worked at BBDO and TBWA.  Dave's agency was supporting large clients around the country and internationally, so it meant he was consistently traveling.  When we married and started a family, the constant travel was taking a toll on our family, especially as we had just welcomed a daughter.
David left for a scheduled cross-country business trip and while he was traveling, I decided to surprise him with a virtual greeting card with our daughter's voice.  This small card made us realize the schedule and constant travel were not conducive to the raising a family.
We started looking for an alternative and it was then that David saw an NYC contract posting about bids being accepted for advertising with the Ferry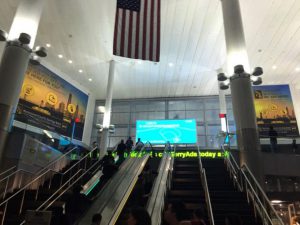 System. The bid process took nearly two years to complete but we were awarded the contract, and this is how FerryAds started. It has been such a wonderful experience since. The small virtual greeting card led us to change our lives and resulted in our being in the position to work for one of the largest cities in the world and, most importantly, the opportunity to be home with our children to see them grow!
What do you see as some of the key opportunities and challenges for the OOH industry?
There are so many opportunities currently within our industry. As an OOH provider, we circulate media around the consumer. Rather than trying to get people to read a newspaper, watch a specific channel on TV or listen to something on air, our industry strategically places key messaging and opportunities within the existing stream of people's lives. These are messages that cannot be turned off or blocked. In a way, we help entertain people on their commute and provide useful information that they might not have seen otherwise. We are there to show them what they can do to eat better, live healthier or to make them aware of what specific services and gadgets are available to help improve their lives.
As far as challenges – there will always be setbacks and disadvantages to everything. However, the main challenge we face is being addressed by Geopath.
While audience metrics and measurement became more granular across platforms, our industry had lagged which impacted the way not only that brands considered OOH, but also how they valued it. Just like the ratings which Nielsen provides for TV, Geopath is helping agencies, buyers and owners better understand the value and impact of OOH through sophisticated audience segments.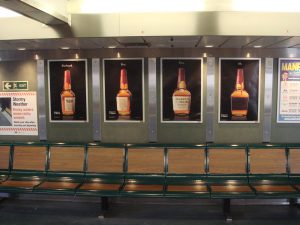 Talk about your engagement with Geopath Ratings. How does being a Geopath member impact your business? 
Today's world is all about metrics. I remember meeting with a media company in NYC and detailing Geopath's measurement platform. The reaction was incredible.
We leverage Geopath's ratings throughout our reporting and in our RFPs. We can now effectively compete with other platforms and recommend with accuracy the best options for our clients by defining how OOH in the ferry environment will secure the greatest number of impressions in the demographics they want to reach. Being able to provide these types of metrics to our clients truly validates our recommendations and capabilities and underscores the full value of the OOH inventory we can secure.
What would you say makes for a highly effective and impactful out-of-home campaign? 
Simply being able to tell a story makes for successful OOH campaigns. It is crucial to find the right words and right messages for targeted audiences. Finding keywords to encourage someone to pick up the phone or to search for you online may be a bit of a challenge, but it's an important piece to the puzzle. To get those words in front of the consumer on a consistent and constant basis is the ideal way to make sure the message is not only heard but retained.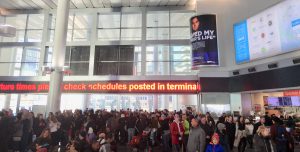 Additionally, new technology has awarded the OOH industry with a variety of capabilities to take advantage of. This has really carried our industry to the next level. Both LED billboards and video campaigns are becoming extremely popular. By delivering movement and excitement, the consumer is engaged. Now that ad is truly memorable, which is something every advertiser aims to achieve.
Also, a consistent story inspires people. Consumers may not act today – or even tomorrow – but over time people will begin to respond. If you have a clear, creative, memorable campaign, it has the potential to impact the decision-making process for people over the long-haul.
What's the biggest myth in OOH?
I would have to say that many still believe OOH advertising is not quantifiable. However, Geopath has changed that forever. Now we have meaningful insights and data to help eliminate this myth and enable both national and local brands to consider, buy and evaluate OOH advertising just as they do for other platforms.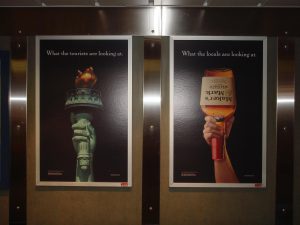 Five years from now, where do you see OOH advertising, and advertising in general?
I think there will be more of a direct response to billboards and campaigns with increased analytics. For example, there has been much discussion about using eye tracking technology in conjunction with games and signage. I participated in a demo where I was playing a game and next to me was a computer analyzing what my eyes were being drawn to.
Knowing how innovative Geopath is, I would not be surprised if at some point they incorporate this into their measurement platform as well.
What is your favorite piece of technology?      
I love our LED billboards – especially because of their ability to catch attention with video, color, light and life!
---