Member Spotlight: EMC Outdoor

A conversation with Betsy McLarney

Tell us about EMC Outdoor:
We were founded in 1991. We specialize in the strategic planning and buying of Out of Home media. We're not a media owner, but we work with over a 1,000 of them. Initially, we specialized in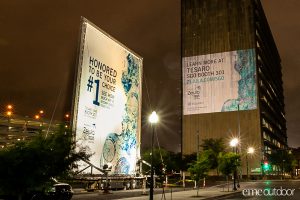 outdoor media placement at major trade shows. Our recommendations started with traditional media at airports and billboards, and we quickly expanded to transportation and other non-traditional options. We grew by expanding these OOH media buys for multimarket, multimedia campaigns nationwide, and in Canada and Western Europe.
Our event marketing expertise has grown as well over the last 19 years by providing clients with the option to engage with their target audiences on a one-to-one basis. These types of programs generally included branded vehicles, brand ambassadors and signage. When OOH is part of the media plan, we're a one-stop-shop for direct clients and agencies. We are a partner, collaborator and advisor. We help clients navigate numerous media options and create strategically placed campaigns. The bottom line: we recommend effective OOH advertising tactics for traditional campaigns, for B2B strategies and for experiential marketing programs.
Any trends or interesting changes in the way OOH is being bought today?
OOH has received greater recognition and more of a seat at the table, in terms of integrating into a robust media plan. In 2017, the industry grew at 3%, faster than any other channel, excluding digital. As the market grows, there is a new recognition that OOH is no longer just about billboards. Today, it entails a broad spectrum of media options fueled by great creative. OOH planners and buyers used to take creative from TV or print campaigns and try to place it on a billboard. The wide diversity of media in Out of Home advertising today calls for more attention to the creative process so the resulting artwork is optimized for each format. Simplicity is key – boiling a message down to a bold, concise statement is critical for an effective campaign.
Another major trend rapidly transforming our industry is the digitization of media assets. Digital OOH is allowing for creative change-outs, speed to market, interactivity and the ability for brands to personalize messaging to a viewer. These developments in digital are allowing advertisers to target specific audiences in ways uniquely suited to those audiences.
How do you use Geopath ratings?
The ratings allow us to build targeted plans for advertisers that deliver messages to their audiences with more precision. Through targeted impressions, reach and frequency, we can assure our clients – agency or direct – that they are going to be more effective and not have wasted impressions. The ratings also allow us to more easily evaluate media, package it up and make recommendations. It streamlines the decision-making process for our clients as well. The ratings put OOH on a similar measurement platform with other media channels. As a result, we're seeing more confidence from planners who include OOH in their media plans.
What are your initial impressions of the new Geopath measurement platform?
The clients are thrilled. They love having additional data and the ability to zero in on target audiences. Now that Geopath is layering-in even more audience and behavioral modeling into the ratings, clients are excited to add audience profile information to the demographic and impression data. It puts the Geopath ratings very high up on the radar screen for planners and brings the data in line with other media. This gives our industry more validation and advertisers the opportunity to continue to grow their OOH spend.
What excites you about the next 2-5 years?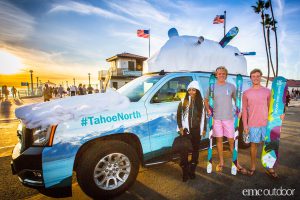 Along with a diverse mix of media, the emerging technologies are some of the most exciting opportunities for brands today – geo-fencing, wireless beacons, persona and facial recognition, virtual or augmented reality, and projection media. The increased interest in combining traditional OOH with these new technologies allows brands to hyper-target audiences and provide immersive experiences. Consumers are inundated with ads daily and are much more open to aligning themselves with a brand that offers an experience.
What makes for a truly effective OOH campaign?
The right combination of OOH formats, how they are placed, in terms of location, and compelling, eye-catching creative that delivers a succinct message or story. Using the right media formats and a highly targeted placement based on data is extremely important. Clients want their campaigns to integrate with location based digital tactics and engaging experiential activation to build a holistic, 360-degree advertising environment. This ensures that advertisers reach the consumer, viewer or audience through multiple channels, at multiple touch points, throughout their daily journey.
---