Geopath Launches New Data-Powered Ratings and Measurement Platform for Out of Home Advertising Industry

Insights Suite Offers Unprecedented Audience Targeting and Measurement Capabilities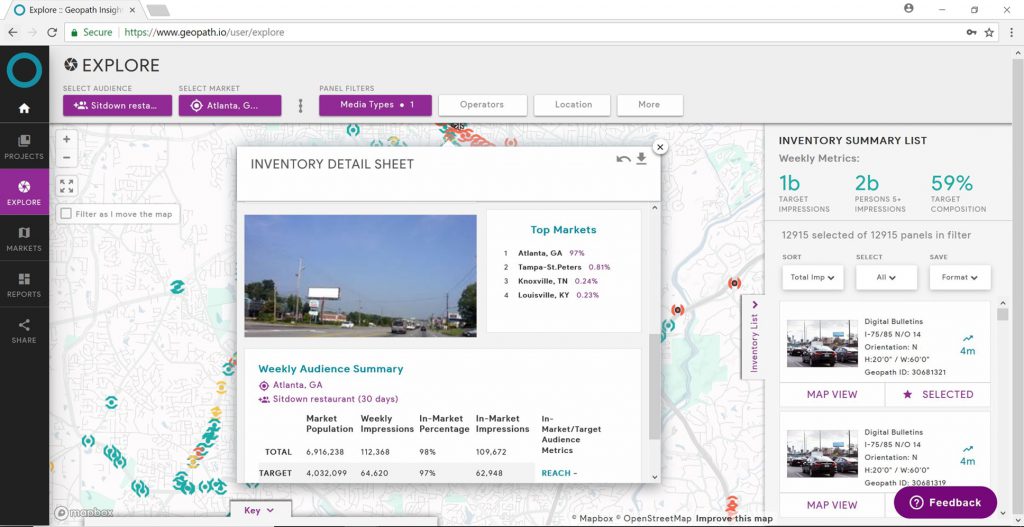 NEW YORK (PRWEB) MAY 08, 2018
Geopath, the not-for-profit organization responsible for providing audience location measurement to the Out of Home (OOH) industry, today announced the launch of the Geopath Insights Suite, a completely new and enhanced ratings and audience location measurement platform that will enable the OOH industry to more precisely profile and target desired audiences and engage those audiences across any OOH format. Geopath is an industry trade body representing all corners of the OOH ecosystem in the United States.
Developed in collaboration with its members, the Geopath Insights Suite incorporates state-of-the-art audience location data, insights and market research. It applies demographic information, consumer behavior and purchase data to population movement models across the entire country to dramatically improve the industry's ability to plan, measure and derive value from OOH campaigns across all of the inventory owned by Geopath's 250 member companies.
"The launch of the Insights Suite marks an exciting new era for the OOH industry," said Kym Frank, President of Geopath. "Geopath has built the most comprehensive population movement simulation ever on behalf of our members. Brand marketers, agency buyers, planners and media owners will now have greater insight into audience movement, enabling more effective OOH campaign planning and execution."
The Geopath Insights Suite leverages aggregated, anonymous data from hundreds of millions of mobile devices, connected cars and GPS sources to enable targeting across thousands of audience segments, comparable with online measurement and surpassing traditional media channels. The data can be seamlessly integrated into planning and buying programs to generate detailed insights on a national and hyper-local level and granular reporting by time, day of week and season. The new software suite is map-based, user-friendly and can be utilized on a PC or mobile device.
"With a greater understanding of the target audience, the Geopath Insights Suite allows brand marketers to engage consumers at multiple points and tell a better story while reaching their marketing goals more effectively," Frank continued. "The ability to map out populations and easily gain access to the inventory that reaches those targets enables media buyers and planners to target and plan with greater precision and impact. Additionally, OOH media owners can more accurately gauge the performance and value of their inventory and understand their ability to reach and impact audiences, including in remote or less populous locations, and price accordingly."
The Geopath Insights Suite will be formally launched at the G02108 Out of Home Media Conference & Expo taking place in Austin from May 7-9.
About Geopath:
Founded in 1933, Geopath is the industry standard that powers a smarter OOH marketplace through state-of-the-art audience location measurement, deep insights and innovative market research. The organization is headquartered in New York and governed by a tripartite board composed of advertisers, agencies and media companies spanning the entire United States. For more information, please visit http://www.geopath.org.
---