GO2018 Out of Home Media Conference & Expo

What To Know Before You GO

We are looking forward to seeing you in beautiful and WEIRD Austin at the GO2018 OOH Media Conference & Expo!
Outlined below is your official "What to Know" guide to help you prepare for your trip!
Event Location
The conference will be held at the JW Marriott in downtown Austin.
The JW Marriott Austin
110 E 2nd St.
Austin, TX 78701
(512) 474-4777
Transportation
The JW Marriott Austin is located 10 miles from Austin-Bergstrom International Airport. Limousines, Super Shuttle, rental cars and taxis are available.
Registration
Event registration will kick off on Monday, May 7th at 1:00 PM in the Expo (Griffin Hall – 2nd Floor). In addition to registering and grabbing your badge, attendees who download the conference mobile app can also claim a free, customized T-shirt printed live on site. You'll have the option to choose from one of four specially made designs.
Meals
Breakfast will be served Tuesday morning in the Expo Hall from 7:30 – 8:30AM.
Lunch will be provided Tuesday in the Expo Hall from 12:00 – 1:00 PM.
Brunch will be provided Wednesday during the "Brunch & Learn" session to held in the Lone Star Ballroom from 8:30 – 10:15 AM.
Dress Code
Business casual is recommended during the conference, the exception being the OBIE Awards where cocktail attire is suggested. Cowboy boots are, of course, welcome throughout.
Activities
City Tours: Austin Courtesy Bus Tours, sponsored by Vector Media, will run on Sunday between 4:00 – 8:00 PM and Monday between 1:00 – 4:00 PM. Tours will start on the hour at the JW Marriott on the corner of 2nd & Congress and feature "Hop-On Hop-Off" service to and from popular downtown locations, including 6th Street, Rainey Street and the Visitor's Center.
Photo Booth: You can get social at our photo booth complete with western props, bat wings and plenty of laughs. The Photo Booth is sponsored by Social Flash Media.
Hipster Bingo: A fun, speed-networking activity to help our exhibitors connect with attendees. Here's how it works: Attendees will be given Bingo cards and encouraged to visit and speak with as many exhibitors as possible within an allocated period of time. Each exhibitor will be given stickers to hand out to attendees they meet. The goal is for attendees to fill their cards with stickers from up to 20 exhibitors. At the end, five or more exhibitors will be chosen at random, and whoever has Bingo (five in a row) will win a great prize! Join us on Monday from 5:00 – 6:00 PM in Griffin Hall for this great networking opportunity where, yes drinks will be served too!
The 76th Annual OBIE Awards: On Tuesday night, get ready to "Steal the Show" at the 76th Annual OBIE Awards, celebrating the best in OOH advertising for 2018. The OBIE Awards Pre-Show Reception will start at 6:00 PM in the Lone Star Foyer. Make sure you are in your seats in the Lone Star Ballroom by 7:00 PM for the start of the awards ceremony. After the show, the fun continues with the OBIE Awards After-Show Celebration, sponsored by Lamar Advertising, in Lone Star F, G and H.
Week At A Glance
Outlined below is the schedule for the week. To see the full agenda, please visit the GO2018 website at https://www.go2018ooh.com/agenda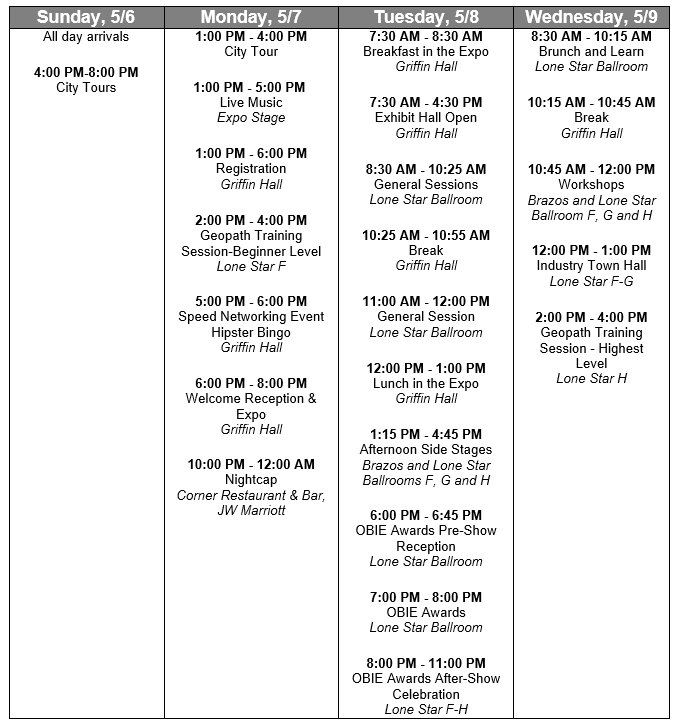 Exhibitor Networking
To set up a private networking session with the exhibitors of your choice, please find our Meeting Concierge desk located in the Expo Hall. There you will be able select a 15-minute timeslot to meet in Room 202 for your private meeting.
Social
Finally, don't forget to use our social media hashtag – #GO2018 – while on site to share your experiences and join in the excitement.
Website
For any other questions, please refer to the GO2018 website, https://www.go2018ooh.com/
---