Geopath and OAAA Seeking Speakers and Presenters for GO2018 Out-of-Home Industry Conference

Deadline to Submit Content Proposals is Wednesday, January 31st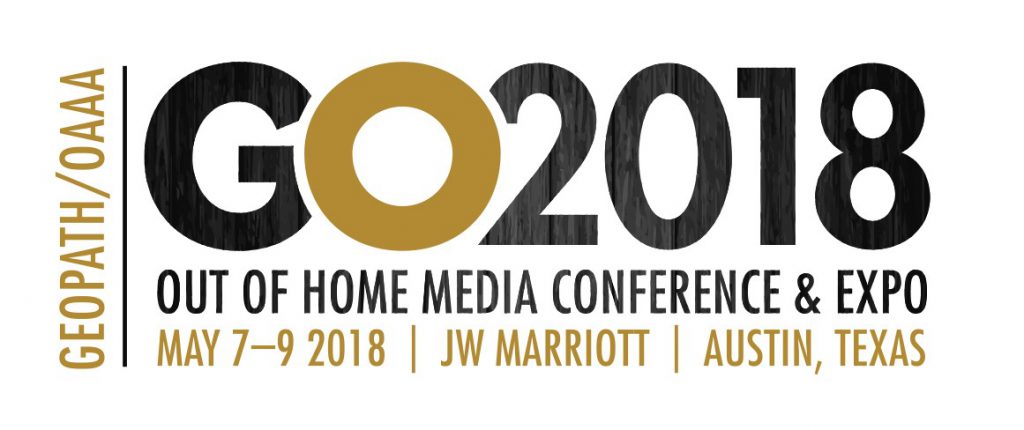 NEW YORK (PRWEB) – December 12, 2017
Geopath, a not-for-profit organization providing audience location measurement to the out-of-home (OOH) industry, today opened the official "call for speakers" for the GO2018 Out of Home Media Conference & Expo, taking place May 7–9 at the JW Marriott in Austin, TX. Geopath is currently inviting experts from a variety of fields, including but not limited to OOH, who would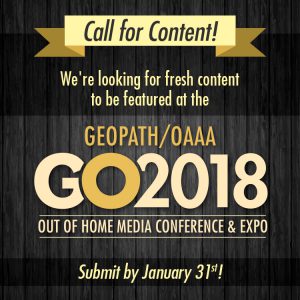 like to present at the conference to submit content proposals via the GO2018 conference website.
Organized in partnership with the Outdoor Advertising Association of America (OAAA), GO2018 is the premier conference for the OOH industry, bringing together industry leaders to share insights and trends and to discuss challenges and opportunities.
"We can't wait to welcome the OOH industry to Austin in May," said Kym Frank, President, Geopath. "In building an agenda that will be informative, educational and entertaining, we encourage visionaries and leaders from any industry, OOH and beyond, to submit proposals and share content ideas that will provide our attendees with valuable information they can immediately put to great use."
Interested speakers should submit a synopsis and their credentials for review and consideration by Wednesday, January 31.
---
ABOUT GEOPATH
Founded in 1933, Geopath is the industry standard that powers a smarter OOH marketplace through state-of-the-art audience location measurement, deep insights and innovative market research. The organization is headquartered in New York and governed by a tripartite board composed of advertisers, agencies and media companies spanning the entire United States. For more information, please visit http://www.geopath.org.
---