The Importance of Hourly Measurement for OOH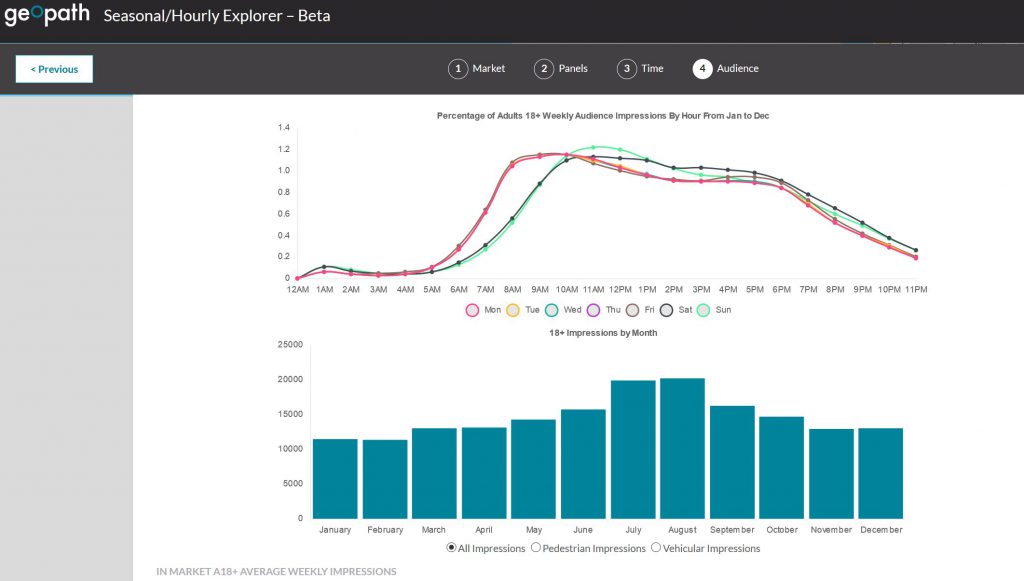 Recently, Geopath's new measurement methodology, MORE, was showcased at the Advertising Research Foundation's Audience Measurement Conference.
While we were there, we bumped into Jim Spaeth and Alice Sylvester, co-founders of Sequent Partners. Jim and Alice have been working closely with the OAAA to ensure that out of home advertising is being accurately represented in ROI models. In fact, Jim presented some of his work at the Look Out OAAA/Geopath Convention in New Orleans this May and was recently awarded the Erwin Ephron Demystification Award.
Sequent Partners was thrilled to hear that Geopath's seasonal and hourly data were made available to members in beta this spring.
Here is what Jim and Alice had to say about the importance of hourly measurement for the OOH industry:
Hourly data will enable attribution modelers to evaluate OOH alongside digital, while other media, like television struggle to provide a quality data source for that purpose.

Hourly data enables anyone with retail traffic data, or other time-based outcomes, to demonstrate the value of OOH through a simple attribution.

Hourly data gives OOH the ability to improve message relevance by time of day.  As in radio, premium dayparts earn premium CPMs, unlike Run of Station placement.

And let's not overlook the fact that new, innovative data will generate interest and open doors at agencies and advertisers with the ability to tell stories about syncing OOH exposure to consumer journeys.
All Geopath members in good standing now have access to beta hourly data for roadside inventory through our new Seasonal/Hourly Explorer -Beta, which can be accessed via our home page, or directly through this link.
---