OUR NEW INVENTORY EXPLORER IS HERE!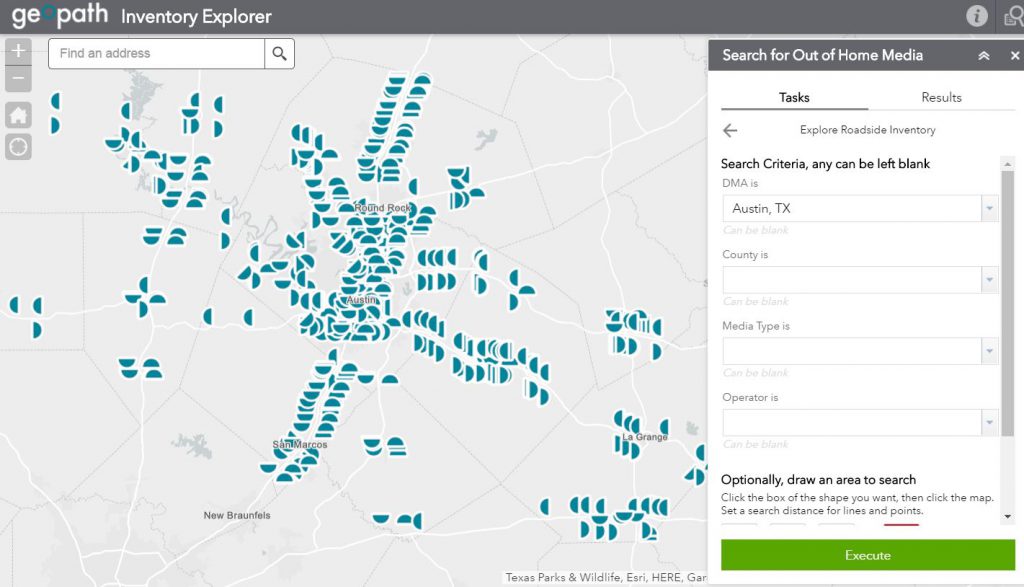 The development of our state-of-the-art measurement system continues to be on time and on schedule, and we are excited about the launch of our new Inventory Explorer!
The tool, which highlights some of the coming capabilities that will be available in the Geopath Insights Suite, is now available on our website.
Members and non-members can now easily map and explore the locations of all Geopath's audited inventory – roadside and transit. Non-measured member inventory will be coming soon. And with more information and capabilities over the old tool, they will have a holistic view of all the audited inventory in a market.
Through this expanded tool users can:
Map all the Geopath audited inventory within any DMA or County
Identify and explore custom market areas using the available drawing tools
Filter inventory by operator and specific media type
See an inventory's facing though new directional iconography
Export data into a CSV file for further analysis
Directly explore the operators via updated links
We are thrilled about all the progress we are making on the development of our new measurement system and are excited about this next step in bringing additional capabilities to the industry.
Please don't hesitate to reach out to us directly at geekOUT@geopath.org if you have any questions. Or join our next Out of Home Office Hours on Wednesday, June 28th at 2:00 PM EST for a demonstration of the tool. You can click here to register.
---