GEOPATH LAUNCHES SEASONAL/HOURLY EXPLORER – BETA!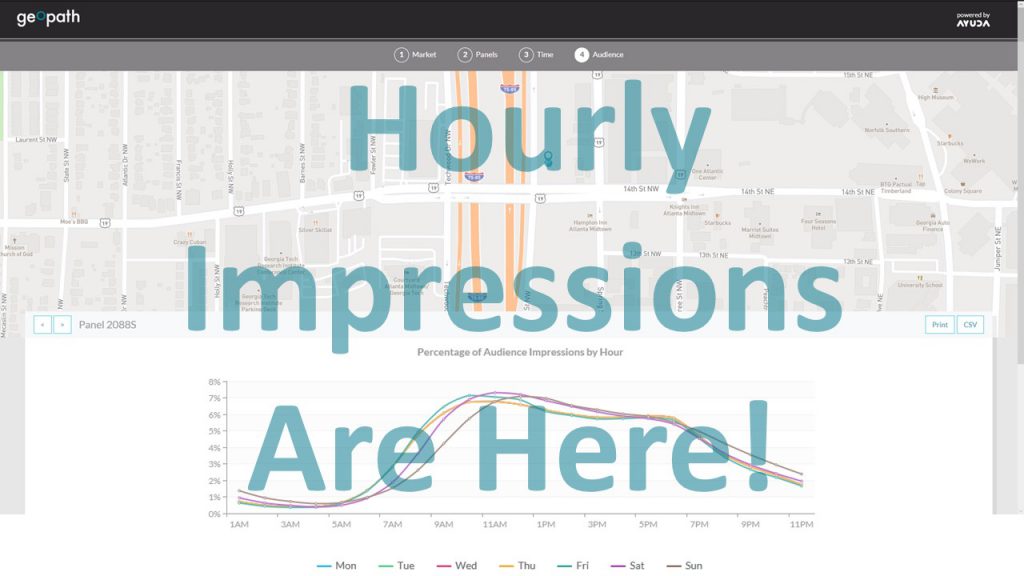 We are excited to announce the launch of our new Seasonal/Hourly Explorer – Beta! This will allow our members to access the recently released hourly impression data before our new state-of-the-art Geopath Insights Suite of measurement tools launches in early 2018.
We are truly excited about this industry changing milestone, and look forward to the many more to come! As our members begin to work with this data, we have put together helpful answers to some frequently asked questions.
What is actually available?
Hourly impression data for an average day of the week for every month throughout the year are available for every piece of measured roadside inventory. Please note, this data is based on 2015 historical data and is for noncommercial use only.

Why is this data being released now?
The purpose of this release is to prepare our members for the launch of the full Geopath Insight Suite in early 2018. The data are supplemental to our existing product and help demonstrate the application of hourly impressions. Having access to this data now empowers our members to explore the capabilities of hourly audience and prepare for how their organizations will want to work with this resolution of information in the future when hourly composition data are available in 2018.
What are the benefits of monthly / hourly impression data?
Precise reporting of impressions by month, day of week, and hour will provide a greater understanding of patterns at the individual panel location. This gives members a quantifiable measurement of peak seasons and prime times for all inventory.
Who has access to this data?
Agency and audited media companies who are Geopath members in good standing will have access to the data in this Beta version.
How do I access this information?
You can access the data here, and log-in using your current Geopath login credentials.
The data are also available through our web services API. Please reach out to Sean McCarthy (smccarthy@geopath.org), for more information and support on how to work with our web services API.
Additional Resources:
For more information on hourly impression data and tutorial on how to access this data, please check out the additional resources listed below:
Seasonal/Hourly Explorer – Beta: Video Tutorial 
Seasonal/Hourly Explorer – Beta: Step-by-Step Users Guide
OOH Office Hours: Hourly Impression Webinar
We hope you are as excited as we are about this more granular data. We look forward to seeing how our members begin to explore all the capabilities this level of data will allow.
Feel free to reach out to us on geekOUT@geopath.org with any additional questions.
---