Last week, I had the privilege of attending an extraordinary event in Charlotte, NC – Adams Outdoor Advertising's "Outdoor is In" gala at the Mint Museum. Much like the famous OOH campaign, I shot these photos on an iPhone 6s. However, unlike the OOH campaign, put them into an overly produced video.
The team at Adams certainly made quite an impression (get it? Geek humor!) on everyone in attendance.  And it wasn't just their signature drink (The Adam's Apple) that had everyone buzzing.
Advertisers were promised an evening of cocktails and couture, but they were in for a big surprise.  The couture was actually upcycled gowns made from their brands' own billboards!
Recently, ArtPop winner, Flavia Isabel Lovatelli, designed a ball gown out of her winning vinyl – which has been on display in the Adams Outdoor Charlotte office.  Her work was the inspiration for the evening – which Lovatelli curated on behalf of Adams.
Six local and regional designers created 18 original designs that were showcased on the runway – garnering "oohs", "ahhs", and many laughs from the audience.
Mike Watson, professor and curator at the Art Institute of Charlotte, emceed the event.  "To be sure, wearable art has been around for decades, but tonight's display of talent and outside-the-square thinking takes it all to a new level.  And I'm honored to be the guy who gets to introduce the newest in sustainable, wearable design."
General Manager at Adams Outdoor Advertising, Jeannine Dodson (who wore a daring red jumpsuit that was worthy of the runway) said, "This is just one more example of the ever-changing and ever-evolving world of billboards.  Really, who would have thought even a couple of years ago that we would be talking about billboard vinyls being turned into couture designs?  It's really phenomenal.  Billboards have always included an artistic side, but now we can add to the list that billboard designs AND billboard materials can provoke fashion design.  I love it!"
And just to add some science to the art…the event proved to be a successful way to garner earned impressions on social media.  In just 5 days, the hashtag #OutdoorIsIn garnered more than 77,000 impressions according to Tweetreach!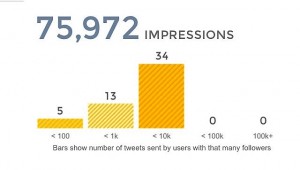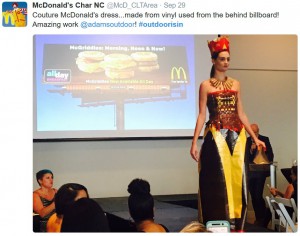 Personally, I hope this is just the kickoff to many events showcasing Outdoor Couture!
---