Millennials: Always On The Go, Always In The Know – With RealityMine TouchPoints Data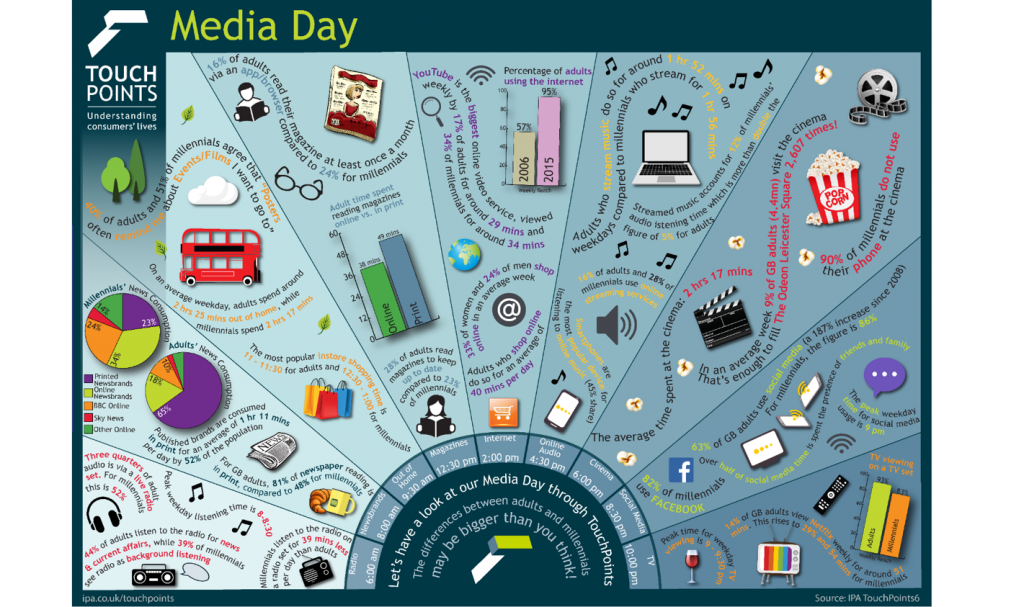 Joanne Van der Burgt and Paul Street of RealityMine, gave a presentation focusing on a day in the life of Millennials during Geopath's thought leadership webinar series, Out of Home Office Hours, on June 9th, 2016.
The study was conducted using RealityMine's TouchPoints methodology.  The approach consists of a unique consumer centric multi-media database that provides insights into how people use media.  Addressing questions such as:
When is media consumed
Where is media consumed
How is media consumed
What are you doing when media consumed
Who are you with when consuming media
How do you feel when consuming media
Context of media leading into purchases
Van der Burgt and Street discussed OOH exposure across formats every half hour of the day, demonstrating how it varies for different age groups.  For example, Millennials are more likely to be exposed to OOH formats in the evening, while older groups outpace them in the earlier hours of the day.

While Billboards, Street Furniture and Transit peak during commuting hours, Place Based spikes at lunch and dinner time.  Millennial exposure in Place Based continues late into the evening.
Van der Burgt and Street displayed Millennial's half-hour by half-hour exposure across media channels, with Billboard exposure exceeding TV at points throughout the day, and even approaching the exposure of mobile.
In fact, when it comes to exposure to media outside of the home, Millennial billboard exposure far exceeds the use of mobile devices.  Van der Burgt and Street found that half of mobile usage occurs in the home, making OOH the ideal channel to reach Millennials when they are on the go, making purchase decisions.
Demonstrating an example of the power of OOH in influencing purchase, Van der Burgt and Street shared a case-study, focusing on Fast Food Consumers.  They identified individuals who visited a fast food restaurant on a Friday and then painted a day in their life, including their location, social setting, activities, media consumption, mood, attentiveness, and emotions.
The study found that many of these key consumers were exposed to OOH formats in the same half hour as their fast food consideration, decision, and purchase windows.
If you missed the Out of Home Office Hours webinar and would like to see a video, it can be accessed on the Geopath YouTube Channel.
If you would like to be notified of future Out of Home Office Hours webinars, please join our mailing list by clicking here.
To contact RealityMine reach out to:
---