Top 100 DMAs Report (Updated Data Through July 3rd)

Significant growth in average daily miles traveled since April Lows.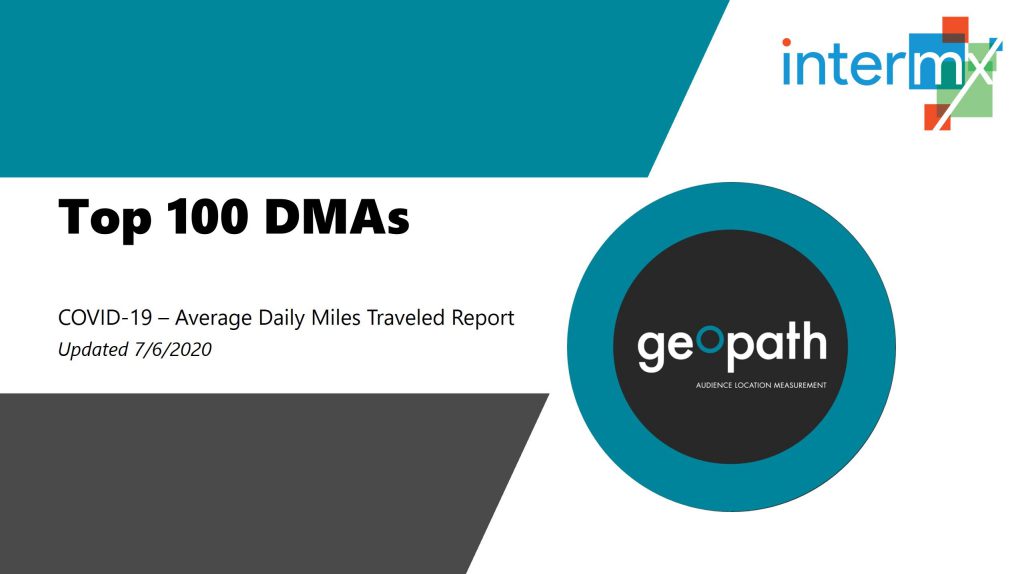 We hope everyone is continuing to read our Blog releases in good health.
Since the beginning of the COVID-19 crisis and the associated regulations that followed, the Geopath and Intermx teams have spent countless hours monitoring population movement data. This has included compiling any relevant information that would be useful to the OOH industry through any of the resources available to us.
As the situation has remained fluid, we will continue to provide the most up-to-date data we have available, in an effort to support not only our members, but the OOH industry at large.
Today we are sharing an updated version of the "Top 100 DMAs" deck, refreshed with data through July 3rd.
Since the April lows, significant growth in average daily miles traveled has been seen in all DMAs analyzed, with some markets nearing pre-COVID traffic levels.
According to the data, double or triple-digit increases in average daily miles traveled have been seen within all of the top 100 DMAs since the April lowpoints. 
To view the full report on this data, please click 
here
.
---